In a defense-dominated game, the Dallas Cowboys (8–4) made four interceptions to hold off the New Orleans Saints (5–7) for a much-needed win on Thursday night 27–17.
Dallas head coach Mike McCarthy, offensive line coach Joe Philbin, assistant offensive line coach Jeff Blasko, right tackle Terence Steele, and rookie cornerback Nahshon Wright, all missed the game for testing positive for COVID-19.
Dallas Defensive coordinator, and former Atlanta Falcons head coach, Dan Quinn took over as interim head coach to get a much-needed win as they had lost three of their last four games.
"I love doing hard things with a group of people and this was one of those moments," said Quinn. "We got great people to get the job done, so we wanted to make sure Mike (Mc Carthy) and all the guys who missed, let them know we got their back."
Quinn is normally sitting high in the booth to call the defensive plays.
"I finally got to see his emotion and expressions down on the sidelines," said Dallas rookie linebacker Micah Parsons. "It was good to see a smile on his face and it was good to see another win on the board."
Dallas receiver Amari Cooper, unvaccinated, returned after missing the last two games having also testing positive. He caught five cases for 43 yards. CeeDee Lamb also returned, after missing one game due to a concussion, led the Cowboys with seven catches for 89 yards.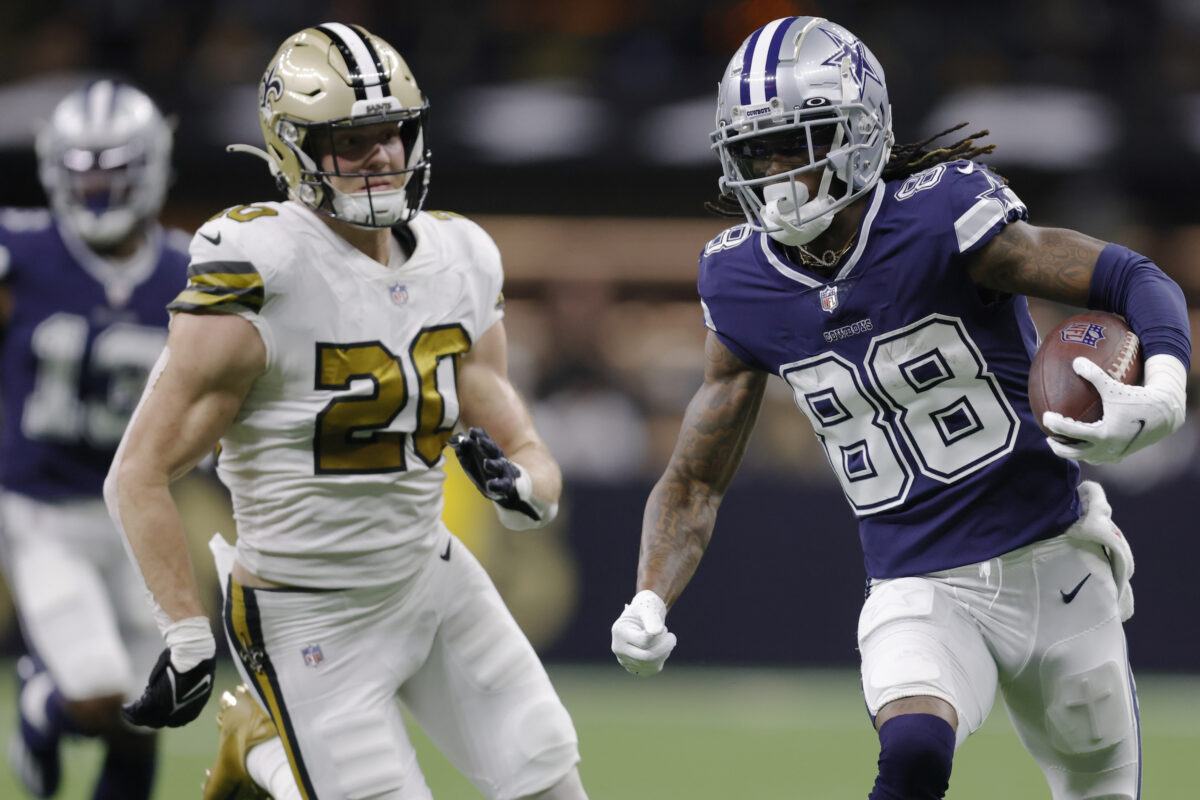 The Saints, having won the NFC South the past four seasons, lost their fifth straight game for the first time since 2005; before coach Sean Payton's arrival. So they gave Taysom Hill his first start as QB this season in hopes of finding success.
Hill was effective in spurts after suffering a first-quarter injury to his throwing middle finger, and was able to pass for two touchdowns on 264 yards, and ran for an impressive 101 yards.
"It's very frustrating. It's unfamiliar territory for us," Hill said. "This is my fifth year and I haven't experienced anything like this since I've been a Saint."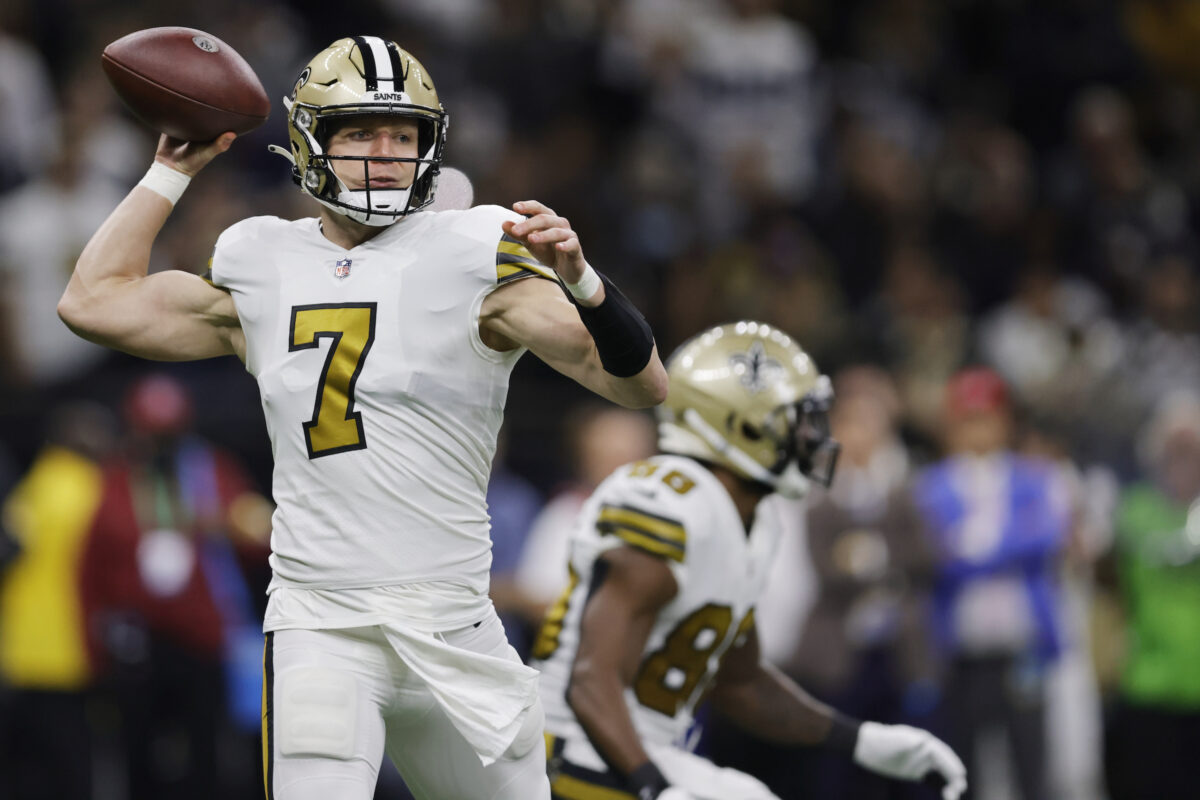 The Saints failed to score in the first quarter for the fifth game in a row. Their second drive resulted in kicker Brett Maher missing a 56-yard field goal attempt wide right with 7:56 in the quarter.
Dallas scored on their third possession, set up by a 41-yard pass from Dak Prescott through the middle to Cooper, and a lateral pass that Lamb ran for 33 yards to the New Orleans one-yard line.
Prescott then threw a fade to the right corner to Michael Gallup who made a beautiful leaping catch over cornerback Bradley Roby while barely able to keep both feet in bounds.
That was Prescott's sole TD pass for the game while completing 26–40 for 238 yards.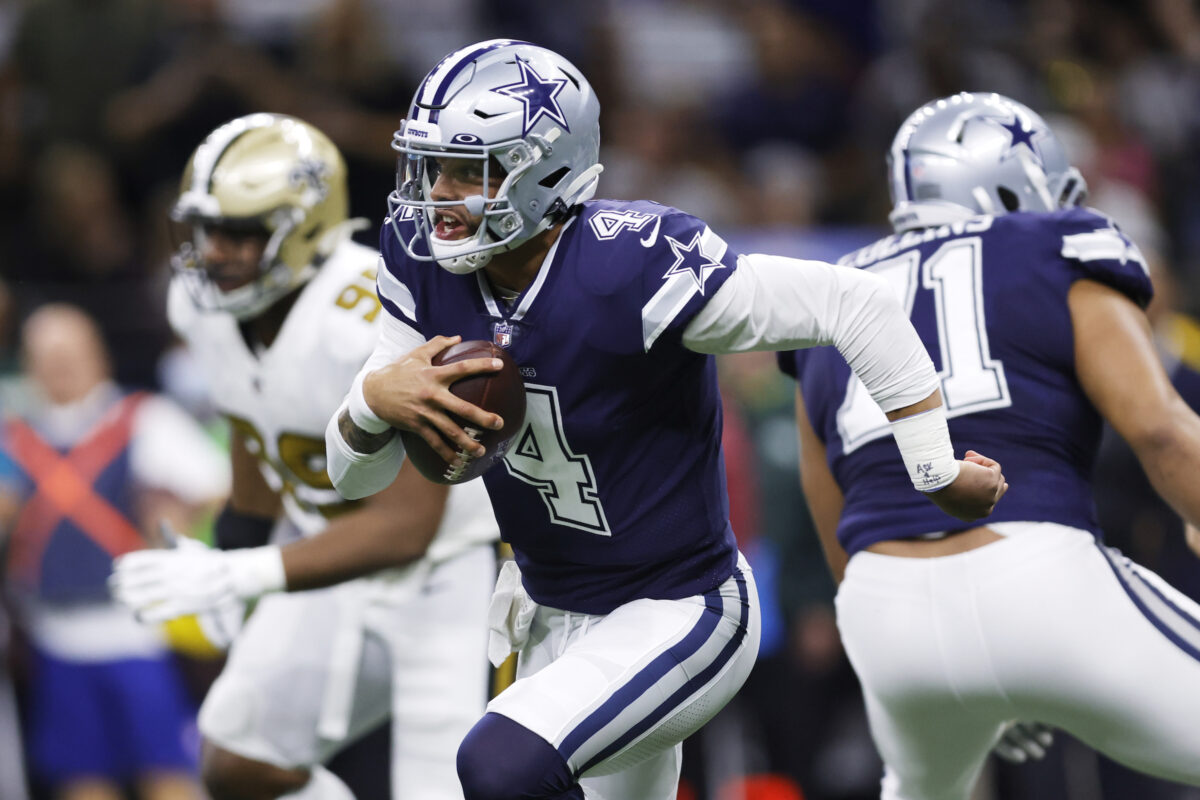 The Saints would come right back for a 7-play drive covering 75 yards to tie the game at seven. Hill found Lil' Jordan Humphrey on a 24-yard touchdown pass play with 12:54 in the second quarter.
Dallas kicker Greg Zuerlein broke the tie with a 55-yard field goal at the end of the following drive to retake the lead 10–7 and added another field goal of 34 yards on the ensuing drive that covered 79 yards on 12 plays.
The Saints defended well in the red zone to not give up a touchdown until late in the third quarter (3:55) when Dallas RB Tony Pollard broke outside for a 58-yard TD run to lead 20–10.
The Saints comeback would fail as Hill threw three interceptions in the fourth quarter. The last one would result in a pick-six by defensive end Carlos Watkins who snagged Hill's pass near the line of scrimmage ran it back 29 yards for a TD with 2:52 left.
The Saints were able to score their last touchdown on the following drive from a short pass that Deonte Harris ran for 70-yards to the end-zone, with 2:32 remaining in the game, for a final of 17–27.
The Cowboys defense gave up 146 yards rushing and 238 yards receiving, so creating turnovers is paramount to their success.
Four different defenders came up with interceptions to seal the game; the other picks came from Anthony Brown, Damontae Kazee, and Trevon Diggs who made his league-leading ninth interception.
Dallas CB Anthony Brown led the defense with 10 tackles and Jayson Kearse had nine.
Dallas rookie linebacker Parsons also contributed with his 10th sack of the season.
"When the ball was in the air, our guys went and got it," said Parsons. "We tried our best to contain them. I mean, he (Hill) was getting outside the pocket and we were finding ways to slow him down and getting the ball back."
The Cowboys will visit Washington on Dec. 12, and the Saints are also away at the New York Jets on Dec. 12.