Since the COVID-19 surge in Hong Kong, the virus has quickly spread across China to Guangdong, Shandong, Jilin, and other provinces, despite the regime's strict "COVID Zero" policy. Four areas in Shanghai are listed as medium-risk areas and under lockdown. More than 10 million residents of Wuhan had to undergo three nucleic acid tests starting last Friday.
Some experts said that the pandemic situation in Qingdao, Shandong Province may have super spread in schools. Since March 1, locally confirmed cases have been found in Huangdao District and Laixi City of Qingdao City in Shandong Province, and all were identified as the Omicron variant.
The outbreak in Laixi City was mainly concentrated in Laixi No. 7 Middle School. The Chinese regime officially announced on March 7 that since the outbreak in Laixi began on March 4, the city has reported a total of 251 cases. Among them, are 116 students and 10 teachers, and most of them are from Laixi No. 7 Middle School. The authorities also announced that since March 4 all middle schools, elementary schools and kindergartens in Laixi have moved to online teaching until April 1.
Jin Dong-yan, a professor of biochemistry at the Li Ka Shing School of Medicine at the University of Hong Kong and an expert in virology, told the media that over 100 infections means the virus may have super spread in schools.
Xing Xiaobo, deputy director of the Qingdao Municipal Health and Health Commission, said that the epidemic had been spreading in schools for some time. Laixi No. 7 is a day school, which means that there is a huge risk of spreading the virus to family members and causing community outbreaks. According to public information, Laixi No. 7 Middle School has more than 3,000 students and nearly 300 teachers.

A COVID-19 outbreak in China's northeast province Jilin has also re-emerged, and the number of cases has continued to rise. Most of the infected people are students in the same classes. Traffic control has been implemented at the entrance and exit points of Jilin City, and railway services have been suspended.
The Jilin Provincial Health and Health Commission reported 35 confirmed cases. Most of them are students in the same classes.
The local authorities issued a notice on March 6 that the passenger trains departing and stopping at Jilin Station will be temporarily suspended, and the Jilin Station waiting room will be closed at the same time. Passengers who have already purchased tickets are required to return the tickets for a refund.
Traffic control has been implemented at all street entrances and exits in Jilin City since March 4. Those who really need to leave the city must report to their workplace and community where they live, hold a negative nucleic acid test result within 24 hour, and have a green health code.
A resident in Jilin city, surnamed Wang, told the Chinese edition of The Epoch Times that schools, transportation, and banks in Jilin are now closed, and all citizens are required to take nucleic acid tests, and the control is very strict. They were told that anyone who didn't have nucleic acid testing will be held legally accountable if they are infected.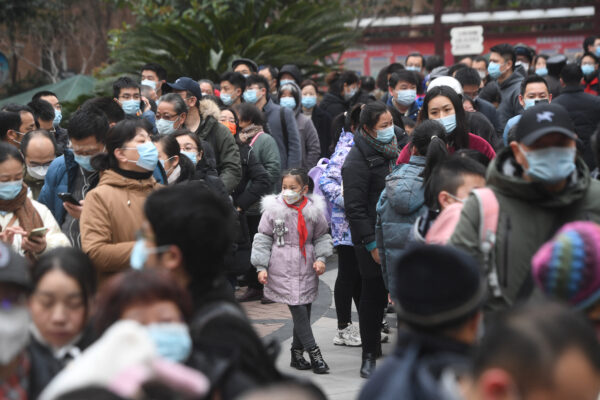 COVID-19 outbreaks are also popping up in other parts of China and increasing quickly. On March 7, Renji Hospital Affiliated to Shanghai Jiaotong University School of Medicine suspended outpatient and emergency and fever clinic services in the East Campus in Pudong district. There are currently four medium-risk areas in Shanghai.
In northwest China, since March 7, the Hyatt Regency Hotel in Qujiang New District, Hanting Hotel in Xincheng District, and the Golden City of Wenbei Second Community in Beilin District in Xi'an city of Shaanxi Province have been upgraded to medium-risk areas.
Since March 7, all classes in primary and secondary schools (including private schools), kindergartens, various training institutions in the urban area of Kaihua County, Quzhou City in China's eastern province Zhejiang have been suspended due to COVID-19 outbreaks. Passenger lines, chartered tours, urban and rural buses, intercity express buses, taxis, and online ride-hailing services within the county are also suspended.
The rise in COVID-19 outbreaks has also been reported in other parts of China, such as Yunnan Province in the southwest.
One mainland Chinese netizen posted on social media: "It's all over the country."
Another post said, "I'm so annoyed by it, I can't go anywhere unless I have nucleic acid negative test result and the green health code. The test has to be done within 48 hours, and I have to wait in line for a day to get tested.
"If everything continues to be blocked like this, what will you do when you need to go to work, go to school, take exams, what will happen to everyone's life, and what will happen to the economy?"
Luo Ya and Gu Xiaohua contributed to the report.