The first man set out on foot. For eight days and seven nights, he walked across snowy mountains, pacing around to warm himself amid the bitter winds and sleeping only when the sun came out—until suspicious villagers tipped off the police.
The second hopped onto a shared bike, cycling for more than 10 hours overnight. But the police got him as well.
The third opted for a water route, jumping into the freezing river in the hopes of swimming away, only to end up stranded for more than six hours.
Compelled by harsh COVID-19 measures in China, some ordinary citizens such as the trio have resorted to desperate measures to flee Xi'an, the city where a severe lockdown policy has barred 13 million residents from leaving their homes.
Best known as the home to the 2,000-year-old Terracotta Warriors, the north-central Chinese city is reporting the country's worst COVID-19 tally in more than 21 months. It's posing a headache to the regime in Beijing as it scrambles to gain the upper hand on the illness just four weeks ahead of the Winter Olympics, which Beijing has pledged to be "safe and grand."
While the caseloads from Xi'an—more than 1,700 as of Jan. 4—pale in comparison with many countries in the West, experts and residents have questioned the authenticity of such figures, because of the regime's routine practice of censoring unfavorable news.
China is the largest country implementing a "zero-COVID" policy, doggedly going after every virus case no matter the emotional or economic costs.
But Beijing's rigid playbook of fighting the virus—relying chiefly on vigorous contact tracing, mass testing, centralized quarantines, and harsh lockdowns—is showing strains amid growing public frustration and anger. With the worsening outbreak in Xi'an, questions are mounting as to how long such stringent COVID measures can last.

Lockdown Pains
Getting the infection figures down to zero has become a political task.
Liu Guozhong, the Party chief of Shaanxi Province where Xi'an is the capital, on Jan. 1 instructed local officials to tap into the "wartime spirit" and quarantine anyone at risk "without a moment of delay." A leaked document circulating on Chinese social media showed that Liu had set Jan. 4 as the date Xi'an needs to achieve zero new cases of COVID. The Epoch Times couldn't verify the authenticity of the memo.
Racing to contain the outbreak, Xi'an has imposed the world's strictest lockdown measures since Wuhan became the initial epicenter of the pandemic.
Overnight, thousands of people identified as close contacts were hauled away by the truckload to other counties and cities to be quarantined. For the rest, the farthest they could go is the metal door enclosing their neighborhood residential compound.
Some districts were put in tighter lockdowns, with residents not permitted to venture past their doorstep. In some neighborhoods, the elevator service was cut off without further notice.
On New Year's Eve, firefighters had to climb the walls to get into a sealed-off neighborhood after a building caught fire.
The abrupt confinement has prompted an outcry as residents struggled to secure basic needs. The hashtag "hard to obtain food in Xi'an" quickly became one of the trendiest phrases on Weibo, China's version of Twitter.
During a recent live stream of a press conference on the outbreak, distraught viewers flooded the channel with pleas in the live comments section.
"Please arrange our neighborhood to buy vegetables." "Where is our food?" The authorities soon disabled the comments.

The price of food has skyrocketed due to the shortage, reportedly forcing some to barter for a bag of rice. In a screenshot that has gone viral, a box of Chinese cabbages, known usually for being dirt cheap, was priced at 438 yuan (about $69).
"Is this robbery?" One resident asked, in apparent incredulity in a group chat on social media. "Are these cabbages made of jade?"
"Don't put on an attitude if you can't afford it. You poor folks can go starve to death," was the reply from the neighborhood committee worker.
For those who break the rules for whatever reason, the consequences have been swift—and sometimes bloody. A video that emerged on social media over the weekend showed a white-shirted man beaten by two pandemic control officers for sneaking out to buy steamed buns.
"I have no food," the man told the officers.
"Who cares if you have food or not," one uniformed officer shouted as he kicked and punched the man, whose half a dozen white buns spilled to the ground.
Another video on social media from New Year's Day showed a man with blood streaming down his face. A local village official had hit him with a brick when the man tried to visit his grandmother in a nearby village over concern that she lacked provisions, he said.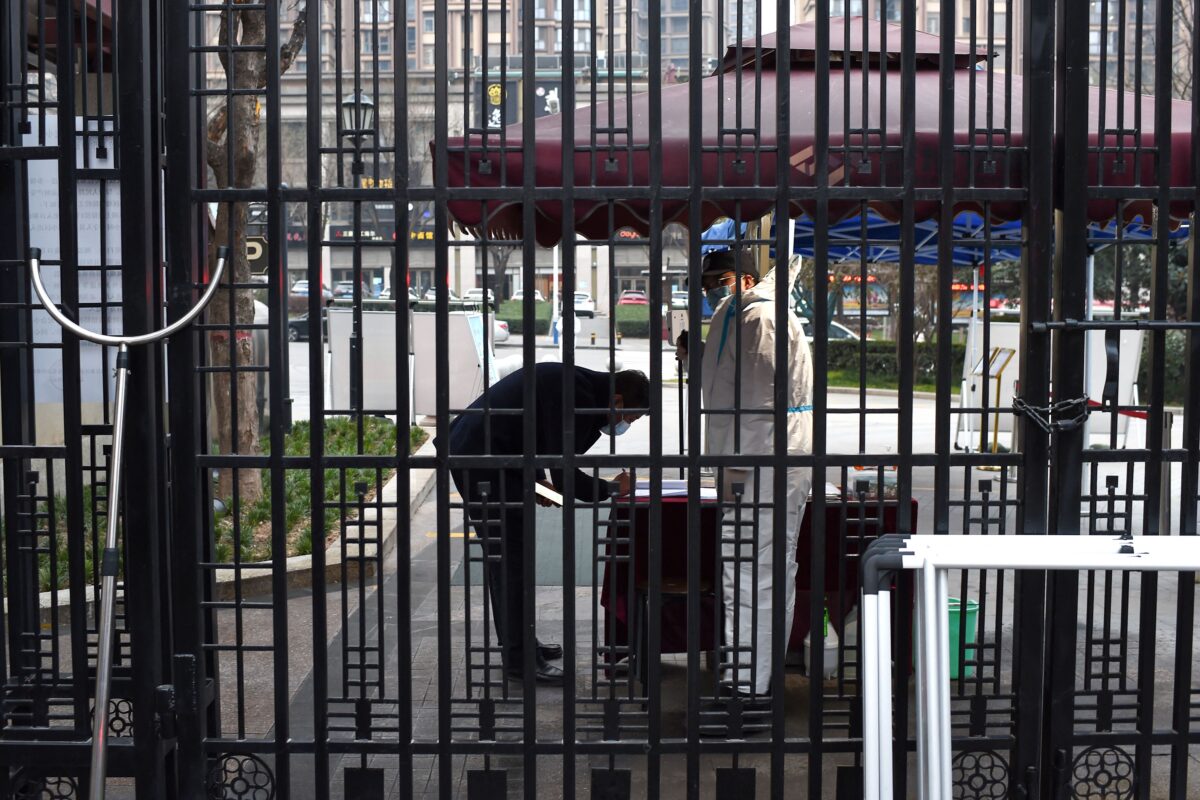 Under Strain
The restrictions in Xi'an follow the same pattern repeated across China throughout much of the past two years. The heavy-handed approach has gone hand-in-hand with an aggressive vaccination campaign, which has resulted in more than 85 percent of the population being jabbed with China-made vaccines as of December 2021.
One city in Henan, a province bordering Shaanxi, has enforced a similar lockdown on Jan. 3 after announcing three asymptomatic cases.
In Guangxi, a southern Chinese province next to Vietnam, officials resorted to public shaming to punish rule breakers. Late last year, four suspected human smugglers were paraded through the streets wearing hazmat suits and a placard bearing their names and headshots, a scene reminiscent of public denouncement episodes decades ago during the Cultural Revolution. The men were later loaded onto hog trucks after officials enumerated their offenses, a witness later told The Epoch Times.
In November 2021, a sudden lockdown in Zhuanghe, a city in northeastern China, over one COVID case caught a visiting delivery driver off guard. He and his wife ended up staying in their truck and living off instant noodles for an entire month until the travel curb was lifted.
With the Beijing Winter Olympics approaching, Beijing has appeared more determined than ever to continue its current course.
The zero-COVID strategy remains the best choice for China, according to Liang Wannian, a top expert overseeing the country's outbreak response.

"Currently, the key to control the outbreak is not about 'adjustment' but 'implementation,'" he told state media The Paper in late December 2021, adding that the rapid transmission of the new Omicron variant, which is more infectious than Delta, means China needs to double down on current measures. China's current policies have focused on controlling the Delta variant.
"I have strong confidence that our country's outbreak control system can handle mutations like Omicron," he said.
But some are questioning whether China will be able to keep it up.
U.S. political risk consultancy firm Eurasia Group on Jan. 3 assessed China's zero-COVID approach as the first of 10 top risks for 2022.
"China's zero-COVID policy will fail," the group stated. "Keeping the country locked down for two years has now made it more risky to open it back up."
The policy won't contain infections but lead to larger outbreaks, in turn causing more severe lockdowns, it stated.
"This will in turn lead to greater economic disruptions, more state intervention, and a more dissatisfied population at odds with the triumphalist 'China defeated COVID' mantra of the state-run media."
In Xi'an, some residents are already speaking with a sense of fatigue.
"Preventing the outbreak is not the same as war," a resident who gave his last name as Zheng told The Epoch Times. "We can't use wartime measures to treat commoners."