Eleven residents at a Newcastle aged care facility in the New South Wales (NSW) Hunter region tested positive for the CCP virus on Wednesday.
Ten of the COVID-positive residents at the RFBI Hawkins Masonic Retirement Village Aged care facility were reportedly fully vaccinated but were taken to the hospital as a precaution.
Meanwhile, under 40 percent of the facility's staff were vaccinated due to difficulties in getting access to supply.
"When the vaccinators came out to administer the vaccine, they only brought enough for the residents," Price told the ABC. "Staff were told that they would have to access it themselves, but the issue with that was they were in the same queue as everyone else."
Three workers in different aged care facilities have also been infected with the CCP virus.
One of the two infected staff at the Masonic Retirement Village had received his first Pfizer dose and was scheduled to get his second dose on Sunday.
Another staff member who worked at HammondCare had been working with residents while COVID-positive.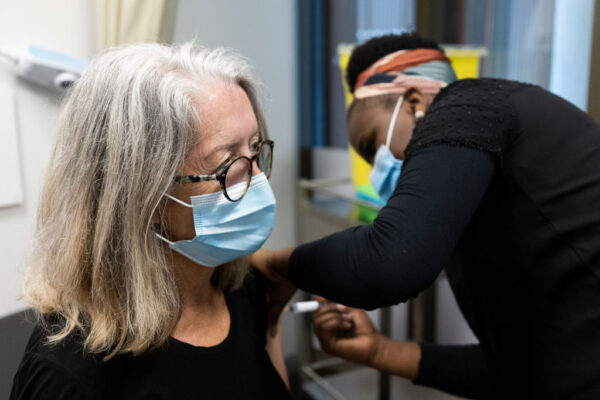 HammondCare CEO Mike Baird said the infected staff and close contacts had been stood down for 14 days of isolation at their homes, while the cottages the staff worked were in full lockdown.
"While we are doing all we can for the residents, our thoughts are also with the staff member who is passionate about resident care and distressed about what has taken place," Baird said.
The Hunter region's one-week lockdown was scheduled to end today, but NSW Premier Gladys Berejiklian announced that it would be extended for another week.
"I think given what the area is experiencing, the community would understand," Berejiklian told reporters.
The Newcastle region recorded 24 new daily cases of COVID-19, half of them from the aged care centres.
Price told the Newcastle Herald that these new cases were a "major blow" to the village because they were already struggling to find enough staff to look after all the residents at the nursing home.
"We are trying to get workforce from other places, but they have no one, either," Price said. "The number of aged care workers the industry is short of at the moment is in the tens of thousands."
A recent study found that the aged care sector needed over 17,000 additional aged care workers every year to meet a minimum level of care.