As the COVID-19 pandemic in Shanghai still runs rampant, causing deaths, the virus has started spreading in Beijing through multiple transmission chains.
On April 22, it was stated in a meeting of the leading group for pandemic control held in Beijing that there have been sudden outbreaks in the city recently, involving multiple transmission chains such as tour groups, home remodeling businesses, and schools. The authorities also said that the risk of continued and hidden transmission is high. "The situation is urgent and the situation is severe."
On April 22, Beijing reported a number of newly infected cases appeared in Chaoyang District and Shunyi District. Among them, the activity trajectory of the cases in Chaoyang involved two tour groups which went to scenic spots in Huairou and Pinggu districts. In addition, an elderly tour group of 140 people traveled to the ancient city of Yongning and a restaurant in Gucheng village, Jiuxian town.
Meanwhile, many people in a school in Chaoyang District, Beijing, were infected with the virus, and the school was closed for 7 days for temporary control. In Shanghai, the number of infected people remains high, and there were consecutive deaths.
Among the cases in Chaoyang district reported on April 22, 10 of them are students in the same class from the Chuiyangliu branch of Beijing Huiwen Middle School. At present, all classes in the school are suspended for 7 days and the school is temporarily under pandemic control.
In addition, on April 23, Chaoyang District, Beijing suspended all in-person courses and group activities of various off-campus training institutions.
Beijing officials announced on April 23 that since April 22, a total of 20 cases of infection have been reported in the city. It has been spreading undetected for a week now. The infected people are diverse and have a wide range of activities. At present, schools, tour groups, and many families have been involved, and more cases are expected.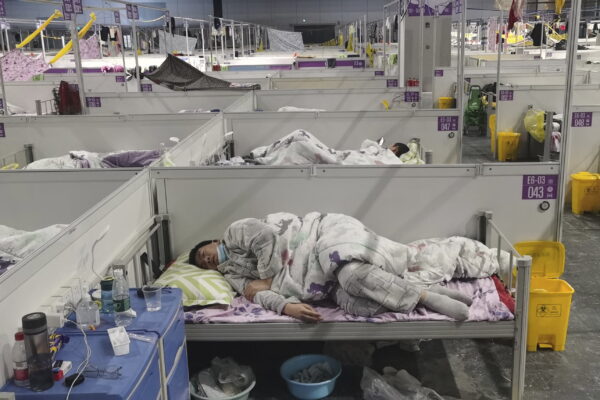 On April 23, the Chinese communist regime reported that on April 22, there were 24,326 newly infected cases in 31 provinces and cities in mainland China, including 23,370 new local infections in Shanghai, 157 in serious condition, and 18 in critical condition.
Since April 17, Shanghai reported the first COVID-19 death, as of April 22, there had been 48 deaths in the current round of the epidemic in Shanghai for 6 consecutive days. However, the authorities emphasized that "the direct cause of death is caused by underlying diseases."
On April 23, Shanghai officials announced that the current number of positive cases in Shanghai is huge and remains at a high level.
China's released data throughout the pandemic has been deemed highly unreliable, as political pressure compels authorities to underreport deaths and cases.
Gu Qing'er and Hong Ning contributed to the report.