The Epoch Times shall refer to the novel coronavirus as the CCP virus owing to the origin of the global pandemic.
Country singer Brad Paisley and his wife, actress Kimberly Williams-Paisley, are delivering free groceries to senior citizens in self-isolation during the pandemic. The Paisleys will deliver food from their free, non-profit grocery store in Nashville, The Store, in order to make sure no elderly members of the community go without in this time of crisis.
As per The Tennessean, while The Store had originally planned to open in April 2020, the outbreak of the CCP virus necessitated a change of plan. With support from their community, the Paisleys opened for business on March 14, 2020.
It's easy to feel overwhelmed right now. But here is a little bit of good news. Due to the hard work of many dedicated volunteers, partners and donors, The Store has been able to open earlier than anticipated. We can now serve the needs of the community beyond the initial scope of our original mission. In conjunction with our referral partners, we are now also offering aid to those affected by the recent tornadoes and/or the coronavirus outbreak. The Store will be open tomorrow, Saturday from 11:00 to 5:00pm. To volunteer services or resources please visit Thestore.org . THANK YOU!! @thestore_nashville #nashvillestrong 💚

Опубликовано Kimberly Williams-Paisley Пятница, 13 марта 2020 г.
Brad and Kimberly announced The Store's early opening in a video posted to the couple's social media. "We wanted to let you know that due to some really hardworking volunteers, staff, and some incredible donors, we have an exciting announcement," Kimberly began. "We were able to open The Store much earlier than anticipated."
"I can't think of a better time for this to be open and serving this community," added Brad, standing beside his wife to make the big announcement. The Store's early opening, in light of the CCP virus outbreak and consequent instruction to practice social distancing, quickly turned into a food drive for Nashville's elderly.
So, in light of changing times, The Store is mobilizing delivery of a week's groceries to our elderly neighbors in Edgehill and Berry Hill on Wednesday's/Thursdays. If anyone needs to be included on this list, we urge them to contact info@thestore.org Also We will continue to operate regular hours 1-7 Th/F 11-5 Sat for walk ins but please bring ID and either proof of income, proof of residence, or statement of unemployment for our recently unemployed neighbors. #nashvillestrong

Опубликовано Brad Paisley Вторник, 17 марта 2020 г.
As per the World Health Organization, the elderly represent one of the most "at risk" groups due to preexisting conditions and immunodeficiencies. The Paisleys responded by making it their mission to deliver a free week's worth of groceries to all senior citizens who sign up to The Store's delivery list online.
In a second video, Brad shared the details of the couple's outreach to the elderly. "In light of how times have changed," the singer began, "we're mobilizing a group of volunteers to deliver groceries, one week's groceries, to elderly people that should not be out shopping on their own in these times."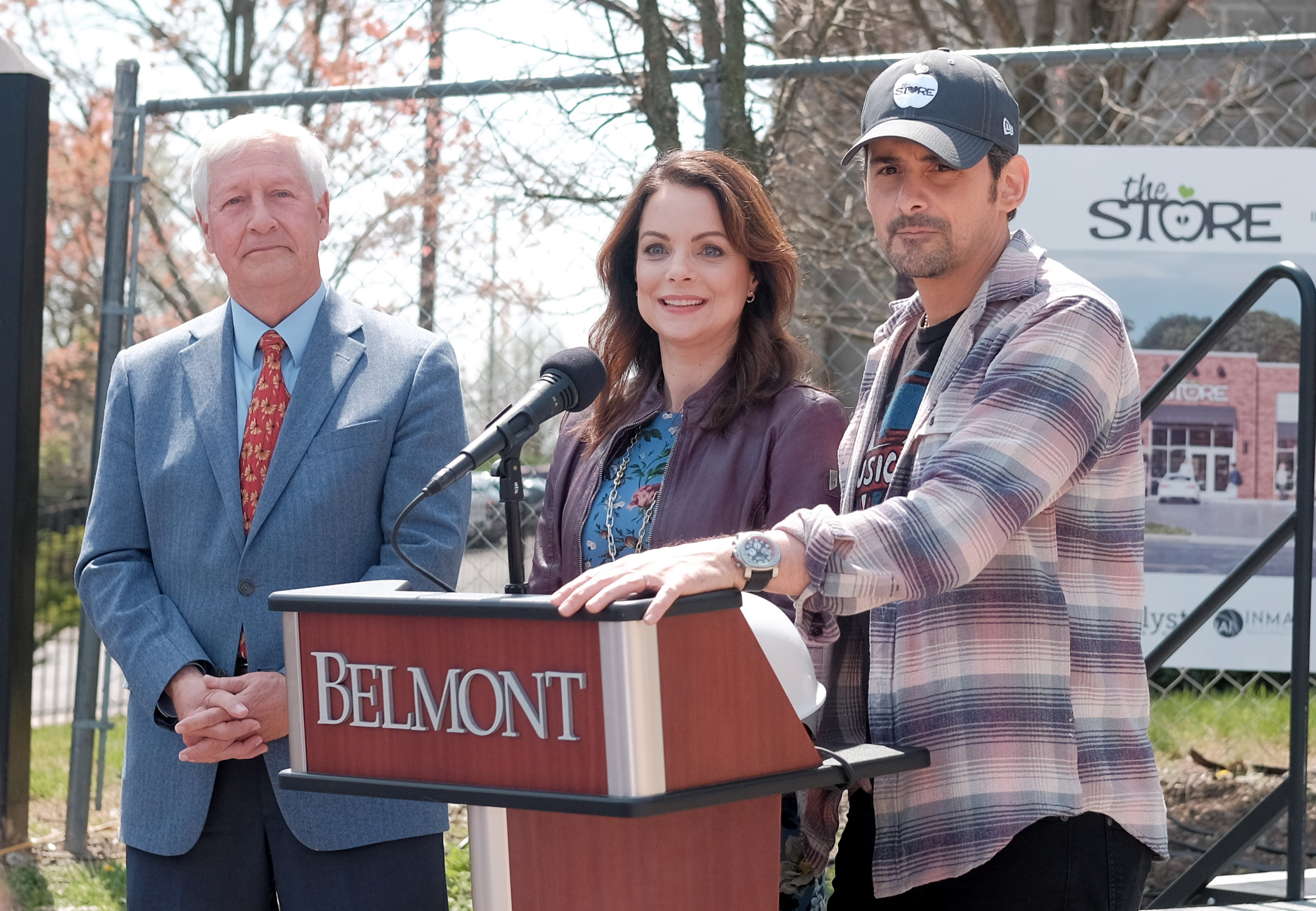 "We have a list of seniors that we're basically dropping off what they need," Brad confirmed, adding that The Store's team of volunteers were prepped and ready to follow all protocols to make sure that deliveries are conducted according to the health and safety regulations in place during the outbreak.
"They don't need to be out," said the singer, referring to the elderly population. "Let's get through this," he added, for the benefit of his audience as a whole.
As per KCTV-5, Kimberly explained at the groundbreaking of The Store's site in April 2019 that as many as one in seven Nashville residents, and one in five children, deal with "food insecurity." The Paisleys' free grocery store, built in partnership with Belmont University, was their contribution to the solution.
The Store is accessible by public transport and is built next to the university's ministry center. Belmont University is Brad's alma mater, per CBS News,
"All of us are one unforeseen disaster away from rock bottom," Brad told The Tennessean back in October 2018, speaking on The Store's mission. "It's nice to think about a place where when that happens to someone, they can use it to get back on their feet."
As the 2020 pandemic has forced innumerable senior citizens into their homes, The Store and the Paisleys are shouldering part of the burden in solidarity with their community; Nashville's most vulnerable citizens are at the very top of the grocery store's delivery list.