LOS ANGELES⁠—In Southern California, healthcare professionals are working to catch any other potential cases of coronavirus after two confirmed cases in the region.
Health officials confirmed both patients—one in Los Angeles County and one in Orange County—had traveled to Wuhan, China, the center of the outbreak. The outbreak corresponded with peak travel season in Asia as people celebrated the Chinese New Year on Jan. 25.
"We have signs out that [say] if you have been traveling to the Wuhan Province, please alert us right away," said Jim Keany, a specialist in emergency medicine at Mission Hospital in Mission Viejo, on Jan. 27. "That way we can even go above and beyond and take those people out of the general population right away."
The symptoms of coronavirus—including fever, coughing, and wheezing—are similar to common cold symptoms, which makes the virus challenging to diagnose.
"At this early stage, we really don't have any unique features identified yet," Keany said. "It's just cold and flu-like symptoms. The only differentiation is the travel to China, at this point."
If patients come into the emergency room with symptoms and they have traveled to China, they will be isolated immediately, he said.
Anyone with especially intense cold or flu symptoms should see a doctor or go to an emergency room right away, Keany said. That includes those who are not able to hold down fluids, are disoriented or confused, have difficulty breathing, or have pain that's keeping them up at night.
"Coronavirus is special because—a lot like SARS, back in 2003—it actually has a relatively high concentration rate and it kills people," Keany said.
So far, the disease has caused 81 fatalities in China.
"That's a very high death rate from a virus," Keany said. "It's something that we need to keep a close eye on. We don't want [it] to get out there into the wild and escalate to an epidemic."
Over 8,200 individuals have been infected in China, according to Johns Hopkins University. Cases in the single digits have been reported in Thailand, Hong Kong, Australia, Macau, and Taiwan.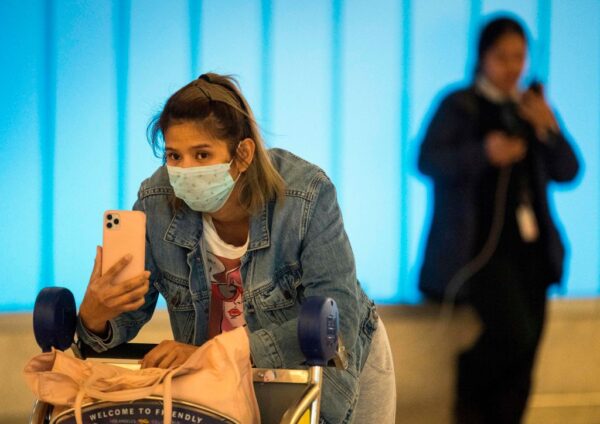 Risk of public infection in Orange County is low and there is no evidence of person-to-person transmission, according to the Health Care Agency. But many counties in the region remain vigilant.
Riverside County, part of the Greater Los Angeles Area, is coordinating an effort between the Department of Public Health, schools, hospitals, and the emergency medical system to ensure a uniform and fast response if a case is identified, according to a statement released by Public Health Officer Dr. Cameron Kaiser on Jan. 27.
In the United States, three cases besides those in California have been reported, one each in Washington, Illinois, and Arizona.
The spread of coronavirus has caused a number of unforeseen impacts.
The Wall Street Journal reported that three indexes—the Dow Jones Industrial Average, the S&P 500, and the Nasdaq Composite—recorded their worst day since October. Heightened concerns over the virus have also caused crude-oil and copper prices to plunge.
The stocks of several major cruise lines could also be impacted. To prevent the virus from spreading, international cruise operators Costa Crociere, Genting Cruise Lines, MSC, and Royal Caribbean have suspended service.
The CDC encourages clinicians to obtain a detailed travel history from patients experiencing fever and acute respiratory illness. As a preventative measure, the CDC has been screening passengers traveling from Wuhan at airports in Atlanta, Chicago, New York City, San Francisco, and Los Angeles.
Travel from Wuhan is now restricted, but the incubation period for the coronavirus is up to two weeks, said China's National Health Commission Minister Ma Xiaowei during a press conference broadcast Sunday. She said the virus may be infectious before symptoms appear.