Countries around the world are taking measures to stem the spread of the new coronavirus, COVID-19, as the death toll continues to rise.
This page has updates from Feb. 13. For updates from Feb. 14, click here.
Experts Fear China Reluctant to Accept WHO Ground Mission
China is dragging its heels in accepting help on the ground from international health specialists, diplomats and experts said on Thursday.
The World Health Organization (WHO) advance team landed on Monday. Three days passed with no word before Dr. Mike Ryan, a top WHO official, said the rest of the team was slated to touch down over the weekend.
Still, most team members aren't known to the public and no details have been released on the team's full mission, including where they will travel to in studying COVID-19.
An "advance team" of three experts, led by Dr. Bruce Aylward, a WHO official and public health emergency expert from Canada, as well as WHO's Dr. Maria van Kerkhove, arrived in Beijing on Monday.
"Our advance team in China has made good progress in working out the composition of the team and the scope of its work. We hope to have more news to announce soon," Tedros told reporters on Wednesday night. He said the team and their Chinese counterparts were free to decide where to go and what to study.
"It would obviously have been better if the (mission) team had arrived without delay," a senior Western diplomat in Geneva said, though he added they could still do effective work with Chinese colleagues when they arrive.
"It's just been very worrying and troubling and we are not seeing as much of a substantive and independent role that we would expect at this point," he added.
The U.S. Centers for Disease Control and Prevention (CDC) said on Wednesday it had not yet been invited to send experts to China to assist with the WHO investigation. China has repeatedly rebuffed offers from America to send experts who are considered among the best in the world.
"Not only was China very late in inviting international partners to help with the response, but we still only have a skeletal advance team in Beijing, and not Hubei province," Lawrence Gostin, professor of global health law at Georgetown Law.
Gostin questioned whether Chinese authorities would accept experienced personnel from CDC—thereby setting aside "political and trade differences."
"It appears that China has not accepted the U.S. offer of on the ground CDC experts, which is unfortunate. CDC has among the most experienced first responders," he added.
Gostin voiced doubts that China would allow WHO experts to verify independently crucial information about the epidemic's trajectory.
"Will they have complete access to epidemiologic, virologic real-time data? Will they have the freedom to go into homes and communities…? Will they be full partners in surveillance and public health response?" he said.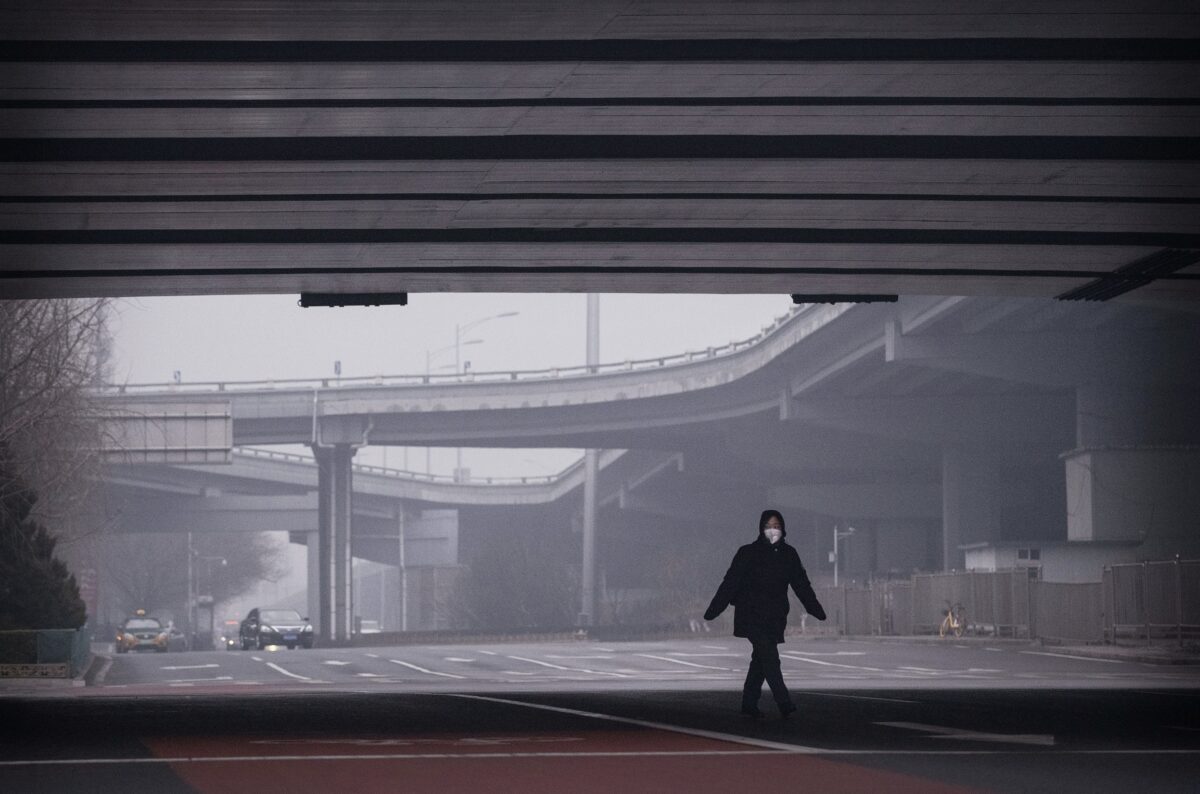 US Military Preparing for Coronavirus 'Pandemic'
U.S. Northern Command is preparing for the potential spread of the new coronavirus among U.S. personnel.
According to a Marine Corps message, commanders have to "review, update, and validate existing disease containment plans and policies in order to implement procedures for response, isolation, quarantine, restriction of movement, and community-based intervention."
Officials also have to "become familiar" with the authority to "declare a public health emergency, restrict movement, quarantine, and isolate," said the message. Military officials also need to coordinate with federal, state, local, and military facilities.
WHO Official: 'How Big is the Iceberg'?
A WHO official wondered on Thursday about how many cases of the new coronavirus there actually are after China reported a spike in cases and deaths.
"How big is the iceberg?" Dr. Mike Ryan, head of the WHO's emergencies program, told reporters at a press conference at the organization's headquarters in Geneva.
"We do know, and we all accept, that there is transmission occurring at some level in communities. We've all seen those clusters, we've all seen those super-spreading events," he added. "The question mark is how much is happening outside what we see?"
Figures from the Chinese Communist Party are widely considered to be unreliable, but the even the official numbers show a stark jump in the number of cases and deaths, prompting WHO officials to work on the scope of the outbreak.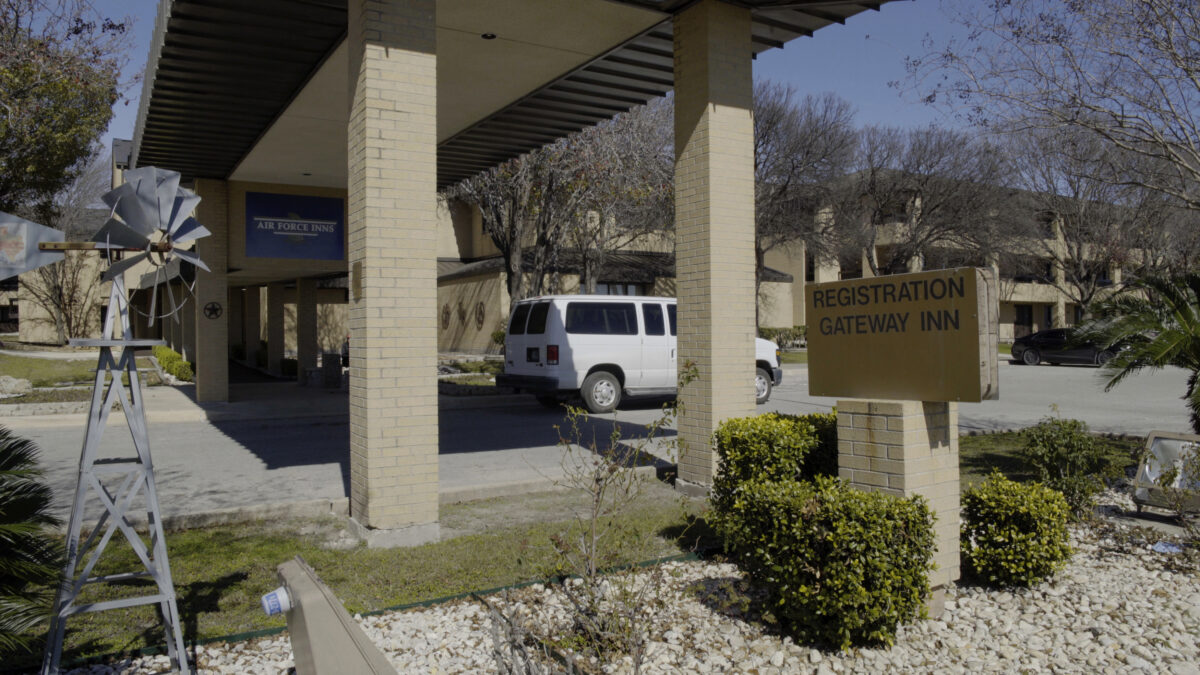 First Case in US State of Texas
The first confirmed coronavirus case in Texas was confirmed by U.S. officials on Thursday.
The patient who tested positive was part of a group evacuated from Wuhan, China, the epicenter of the new virus, officially known as COVID-19. The patient was under federal quarantine with the rest of the group of evacuees at Joint Base San Antonio-Lackland.
After showing symptoms, the patient was taken to a hospital and isolated before testing positive.
It's the 15th case of the new virus in the United States.
Japan Confirms First Death From New Coronavirus
Japanese authorities on Thursday confirmed the first death in the country from the new coronavirus that started in China.
The victim was a Japanese woman in her 80s.
Test results came back as positive after her death, Heath minister Katsunobu Kato said at a press conference in Kyodo, according to the Japan Times.
Kato told reporters that the woman was being treated at a hospital near Tokyo since early February after showing symptoms of the new virus, known as COVID-19.
The woman is the country's first confirmed fatality and the second reported outside of China. The first took place in the Philippines. That person was a 44-year-old Chinese man from Wuhan, the epicenter of the virus.
Hong Kong Has 51 Confirmed Cases
One new case of coronavirus has appeared in Hong Kong on Thursday, according to Chuang Shuk-kwan, head of the Communicable Disease Branch of the Center for Health Protection, bringing the city's total to 51.
The case involves a 43-year-old man working in the local insurance sector. He lives in Tuen Mun and has no recent travel history outside of Hong Kong.
The man began coughing on Jan. 29. The following day, he had a meal with 12 other family members, one of whom has since tested positive for the virus.
The man tested positive on Thursday.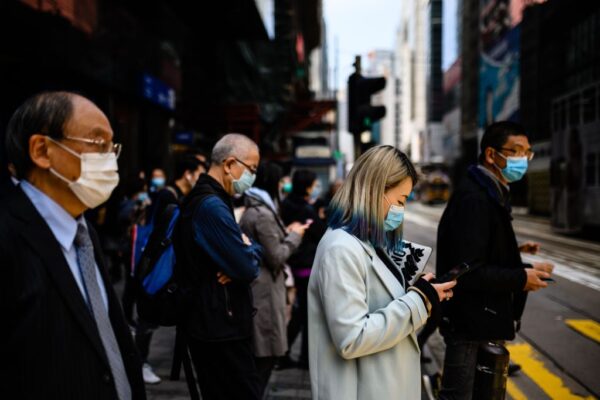 More than 1,000 People Asked to Self-Quarantine in California
More than 1,000 people who recently traveled to China have been asked to self-isolate for 14 days, regardless of whether they have any symptoms of the new coronavirus, the Los Angeles Times reported on Feb. 12, citing recent comments made by local Department of Public Health Director Barbara Ferrer.
All of them have been assigned a public health nurse and asked not to go to school or work for two weeks.
"This is an aggressive effort to touch all the people who've come into L.A. County," Ferrer said, according to the L.A. Times. 
Infections Suspected on Cruise Ship in Cambodia
At least 20 passengers aboard a cruise ship that was stranded for days in the South China Sea are suspected to be infected with COVID-19, local newspaper Khmer Times reported on Thursday.
The Westerdam cruise ship, operated by Holland America, is now docked in Sihanoukville, a port city in Cambodia, after it was turned away by Thailand, the Philippines, Taiwan, and the U.S. territory Guam amid coronavirus fears.
The Khmer Times reported on Thursday that they are set to be tested for the virus.
"We suspect that 20 of the passengers may be infected with Coronavirus and their blood specimens will be air-flown to Phnom Penh to expedite matters," Major General Chuon Narin said, the paper reported.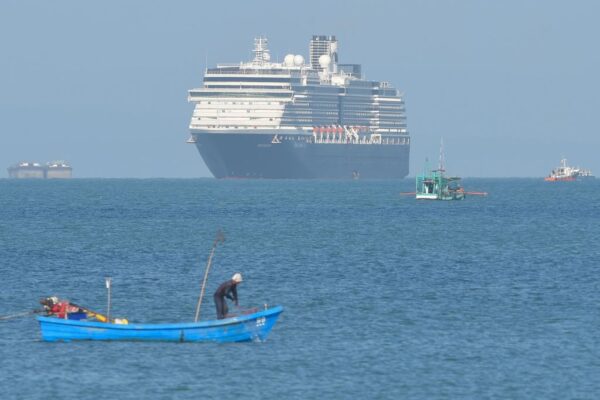 Chinese Authorities Controlling Sale of Medicine
Jilin, a province in northeastern China, announced on Feb. 13 that all pharmacies in the province must take down the names of customers who purchase fever medicine.
Xiantao, a city in Hubei province, and Changfeng County, which is located in Anhui province, also announced on Thursday that pharmacies in their region must take down the names, ID number, address, and phone numbers of customers who purchase fever and cough medicine.
Meanwhile, local authorities in Jiangdu District of Jiangsu, a city in coastal China's Jiangsu province, announced that all pharmacies must remove fever and cough medicine from their shelves and suspend their sale.
The same sale ban is also announced by Nanjing, the capital of Jiangsu province.
Both Jiangdu and Nanjiang authorities have urged citizens with a fever and cough to seek treatment at a hospital instead.
Some netizens have expressed concern about the sale ban on a post made to Nanjing's official Weibo account.
One netizen questioned: "Should he try to ride out a normal fever if he had one at home [without any medicine], or going to a hospital for treatment and putting himself at risk [of contracting the coronavirus]?"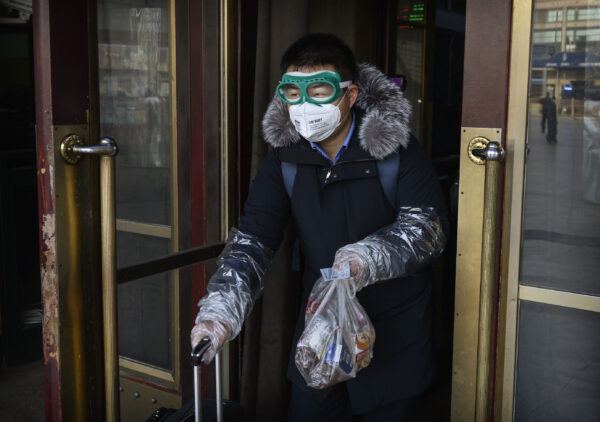 Experts: US Must Prepare for Thousands of Cases
Leading health experts warned on Feb. 12 that the United States could see thousands of cases of the new coronavirus, or COVID-19, and a significant surge in the spread of the virus in the coming weeks.
Speaking at the Senate Homeland Security and Governmental Affairs Committee on Wednesday, Asha George, executive director of the Bipartisan Commission on Biodefense, said that the United States should be preparing ahead for cases of coronavirus in the thousands.
"I don't think we should be planning for the onesie-twosie cases that we've been seeing thus far in the United States," George said. "We have to plan for the possibility that we have thousands of cases."
George, one of five panelists, warned of a large scale outbreak nationwide.
Vietnam Reports 16th Case, Triggering Lockdown of Town
A 50-year-old man in Son Loi, a Vietnamese town in Vinh Phuc Province's Binh Xuyen District, has tested positive for COVID-19, local newspaper VnExpress reported on Thursday, citing the local health ministry.
The infected man is the father of a 23-year-old woman who has already tested positive for the virus. She was one of eight Vietnamese workers of the Japan-based company Nihon Plast sent to Wuhan for training last month.
Since the group returned to Vietnam on Jan. 17, six have tested positive for the virus.
The woman has infected other members of her family, including her mother and younger sister, as well as a neighbor.
The neighbor has also passed the virus to her 3-month-old granddaughter.
Currently, Vietnam has 16 known cases of coronavirus, with eight of them in Son Loi.
Authorities announced that as of Feb. 13, Son Loi is on lockdown for 20 days, the Bangkok Post reported. Local authorities are also increasing the number of disease control checkpoints in the town from five to eight.
Son Loi, a farming town made up of several villages, is about 25 miles (40 kilometers) from the country's capital city of Hanoi.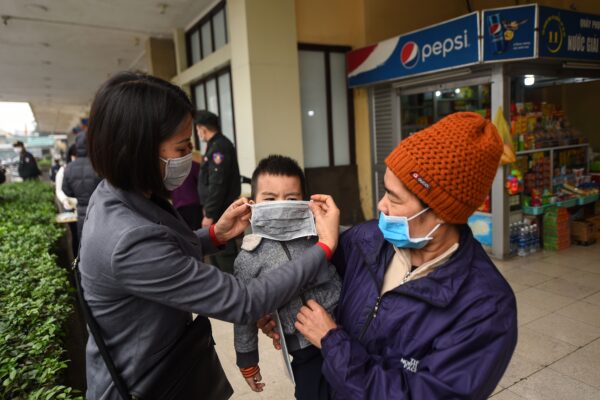 Beijing Shakes Up Leadership in Virus Epicenter
Former Shanghai Mayor Ying Yong has been named to replace Jiang Chaolinang as the new party secretary in Hubei province, the epicenter of the novel coronavirus outbreak, Communist Party mouthpiece Xinhua reported on Feb. 13.
Hubei's capital city of Wuhan will also have a new party secretary, Wang Zhonglin, the former party secretary of Shangdong Province's Jinan. Wang will replace Ma Guoqiang, according to the report.
Ma will also be removed from his post as Hubei's deputy party secretary. Xinhua did not name anyone to take up the provincial deputy party secretary position.
Xinhua gave a vague explanation for the sudden leadership shakeup, saying that Ying's appointment was necessary for "the needs of epidemic prevention."
Beijing Removes Top Official
China's State Council on Feb. 13 announced the demotion of the current director of the Hong Kong and Macau Affairs Office, Zhang Xiaoming, who has been Beijing's highest official managing Hong Kong affairs.
Xia Baolong—current vice-chairman and secretary-general of China's political advisory body, the Chinese People's Political Consultative Conference (CPPCC), and the former party secretary of eastern China's Zhejiang Province—is to take over from Zhang's post.
Zhang will take on a new position as deputy director alongside Luo Huining, who is also currently the director of Beijing's liaison office in Hong Kong, and Fu Ziying, who is the director of Beijing's liaison office in Macau.
44 More Infections Reported on Cruise Ship in Japan
Another 44 people on board the Diamond Princess cruise ship docked off Yokohama, Japan, have tested positive for coronavirus, now named COVID-19, the country's health ministry announced on Feb. 13.
Health Minister Katsunobu Katō said the 44 new cases followed another 221 new tests that had been conducted by health officials. Of the newly diagnosed infections, 43 are passengers, and one is a member of the crew.
It brings the number of infections detected on the Diamond Princess to 218, in addition to an official who participated in the initial quarantine checks the night the ship returned to Yokohama Port near Tokyo on Feb. 3. The quarantine official is being treated in a hospital.
Princess Cruises and Japanese officials said some people will be allowed to leave the ship to finish the quarantine period on land.
Those allowed to leave include passengers 80 years or over with a chronic medical condition, who test negative for the virus; passengers 80 years or over staying in an inside cabin, who test negative for the virus; and other passengers under 80 who have been given a test for any other reason, and tested negative.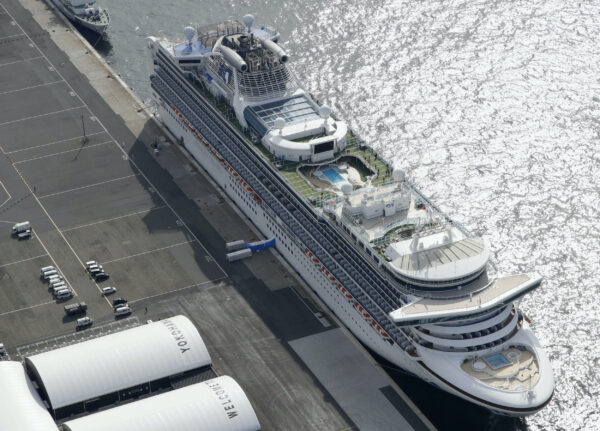 Hong Kong School Closures Extended
Hong Kong's Education Secretary Kevin Yeung announced in a press conference on Thursday that all schools in the city will remain closed until at least March 16.
Previously, the Hong Kong government had postponed returning to school until Feb. 17 following the Chinese New Year holiday, before extending the delay until March 2.
District in Hubei Announces 'Wartime Regulation'
Health officials in Zhangwan, a district in the city of Shiyan in Hubei province, announced on Wednesday eight measures to enforce "wartime regulation" of the district. The measures take effect at midnight on Thursday for at least 14 days.
One measure calls for "complete seal-off management" of all buildings. Except for medical personnel, health officials, and people in the sectors of water, electricity, telecommunications, and basic living necessities, all others are forbidden from entering and leaving these buildings.
As part of the "wartime regulation," government officials are in charge of buying living necessities, including drugs, for local residents.
All cars, with the exception of medical vehicles, police cars, firefighting vehicles, trucks, and government vehicles, will be forbidden from going in and out of local residential areas.
People will be detained for trying to enter any sealed-off areas.
All members of the Chinese Communist Party are also told they should "unconditionally obey" the orders given by the government officials at local villages and residences.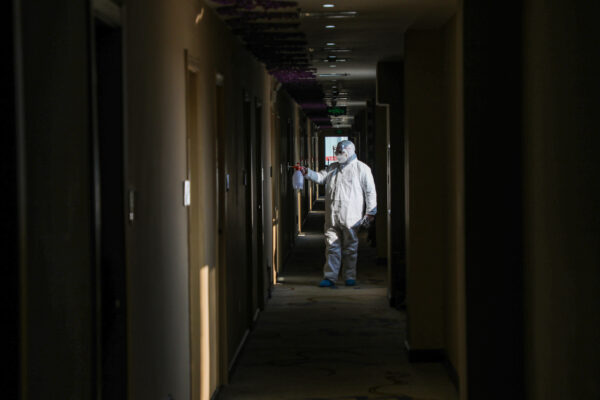 United Airlines Extends Service Suspension
In a statement on Feb. 12, United Airlines said its services to Hong Kong, Beijing, Shanghai, and Chengdu, which is the capital of southwestern China's Sichuan province, will be further suspended until April 24.
"We will continue to monitor the situation and will evaluate our schedule as we remain in close contact with the CDC and other public health experts around the globe," the statement said.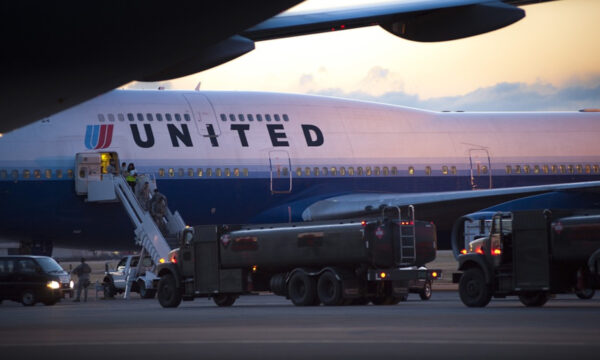 New York City Clears Final Suspected Case
The Department of Health and Mental Hygiene in New York City announced on Feb. 12 that the 7th person it was testing for the novel coronavirus has been given the all-clear.
"We now have zero cases pending," the department said.
According to the U.S. Centers for Disease Control and Prevention (CDC), there are currently 14 known cases in the United States, with eight of them in California.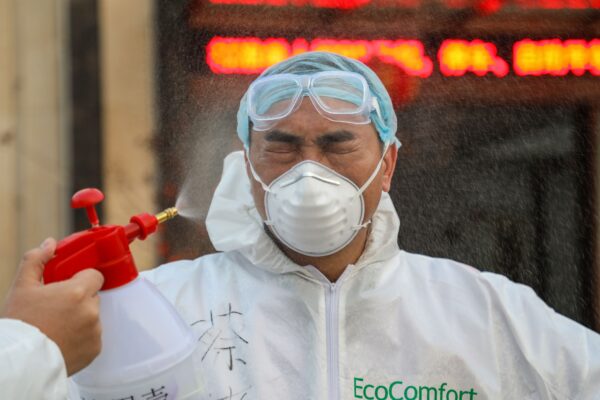 What We Know and Tips to Stay Safe
While health experts say there is still no clear indication of how potent the virus is, there are some things that we do know about COVID-19.
The carrier of the virus can be infectious before showing symptoms. The most common symptoms associated with the virus include fever, coughing, and difficulty breathing. But Chinese researchers are saying that patients have also displayed other symptoms such as fatigue, diarrhea, chest pains, and headaches.
The incubation period—or amount of time from exposure to the onset of symptoms—is thought to be up to 14 days. A recent study from Chinese researchers says it may be as long as 24 days.
According to preliminary research on how fast the coronavirus strain is spreading, scientists say COVID-19 is moderately infectious. Each patient could infect between 1.5 to 3.5 people in the absence of containment measures—similar to SARS.
According to the U.S. CDC, most human transmission cases thus far have occurred among those with close contact to a patient—likely spread through airborne particles when an infected person coughs or sneezes. Chinese scientists say there is evidence that the virus could also spread through fecal contamination.
It's unclear how long the coronavirus can survive on inanimate surfaces, but an expert with China's National Health Commission recently put the duration at several hours to up to five days.
To stay safe, it is recommended that you do not travel to China and avoid contact with infected patients. It is also recommended that people adhere to good personal hygiene practices, and wash their hands often with soap and water for at least 20 seconds when visiting public places.
Currently, there is still no need for the general public to wear face masks in the United States, the CDC said.
For updates from Feb. 12, click here.
Frank Fang, Eva Fu, Zachary Stieber, Katabella Roberts, Isabel Van Brugen, the Associated Press, and Reuters contributed to this report.