Countries around the world are taking measures to stem the spread of the new coronavirus disease, dubbed COVID-19, as the death toll continues to rise.
This page has updates from Feb. 19. For updates from Feb. 20, click here.
Two Passengers From Cruise Ship Die
Two passengers from a coronavirus-hit cruise ship moored near Tokyo have died, public broadcaster NHK said on Thursday, as a second group of passengers began disembarking after two-weeks quarantined onboard.
More than 620 of the passengers on the Diamond Princess liner have been infected on the ship, which has been quarantined since Feb. 3, initially with about 3,700 people on board.
NHK, citing a government source, said the passengers were a man and woman in their 80s.
The rapid spread of the disease—Japan has well over half of the known cases outside China—has sparked criticism of authorities just months before Tokyo is due to host the Summer Olympics.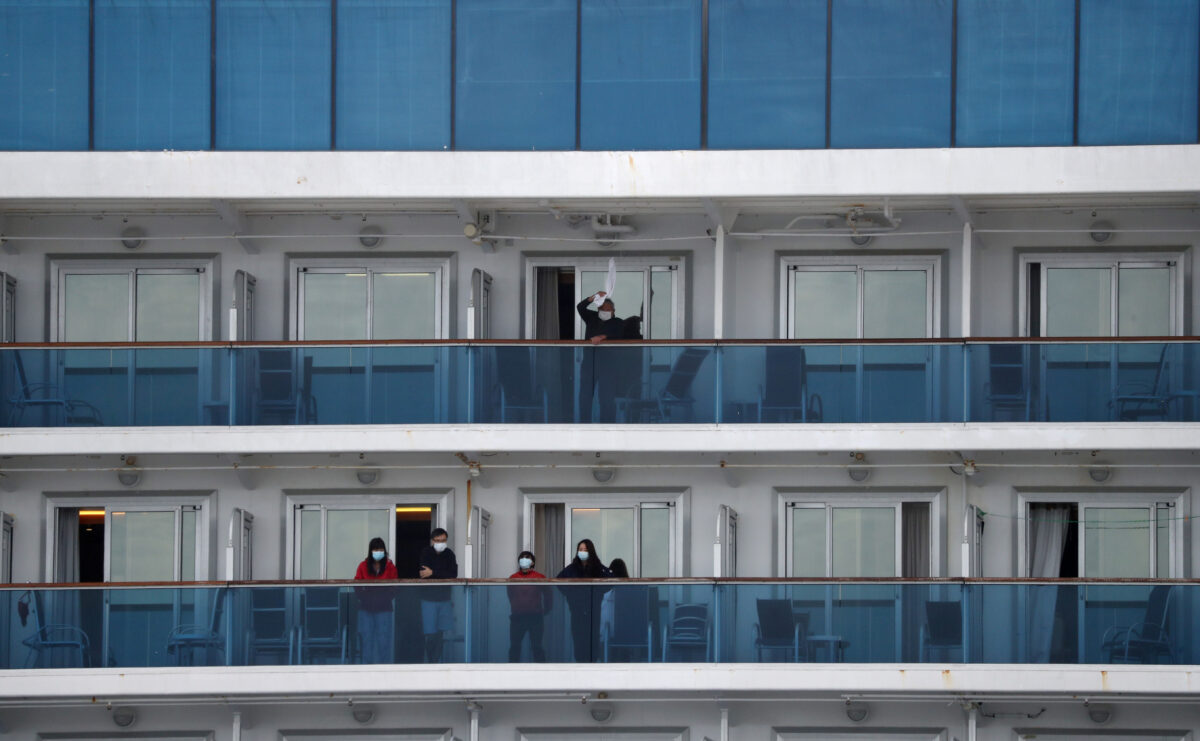 Beijing Expels 3 Reporters Over Virus Coverage
China announced that it revoked the press credentials of three Wall Street Journal reporters on Feb. 19, marking the country's largest expulsion of foreign media in decades.
Beijing made the decision in retaliation over the publication's Feb. 3 column headlined "China Is the Real Sick Man of Asia," Chinese foreign ministry spokesperson Geng Shuang said on Wednesday.
The agency's deputy bureau chief Josh Chin, and reporter Chao Deng, both U.S. nationals, as well as reporter Philip Wen, an Australian, were told to leave the country in five days, according to the paper.
The three reporters, all stationed in Beijing, had no involvement with the commentary piece.
Russia to Let in Some Chinese
Russia's entry ban for Chinese nationals will be partial and only affect those who travel with tourist, private, student and work visas, the country's Foreign Ministry said Wednesday, clarifying the conditions of a sweeping entry ban for Chinese citizens announced the day before.
Visitors with official, business, humanitarian, and transit visas will still be allowed into the country, the Ministry said.
The ban goes into effect on Thursday at midnight Moscow time (2100 GMT). It was announced by the Russian government on Tuesday amid the new coronavirus outbreak centered in China that has infected tens of thousands of people worldwide.
The measure is one of many Russia has taken to keep the virus from spreading. The country so far has reported three confirmed cases of the COVID-19 disease—two Chinese citizens in Russia who were treated and released, and a Russian national infected on the Diamond Princess cruise ship.
Russia suspended all trains to China and North Korea, shut down its land border with China and Mongolia, and extended a school vacation for Chinese students until March 1. Hundreds of Russians who returned from China this year have been hospitalized as a precaution, and medics continue to monitor more than 14,000 people in total.

Nearly 800 Cruise Ship Passengers Test Negative
The nearly 800 remaining cruise ship passengers in Cambodia have tested negative for the new coronavirus, the Cambodian Ministry of Health said.
The 781 people sailed on Holland America Line's Westerdam ship. Some other passengers were released and flew out of the country but the ones still in Cambodia were held and screened after an American woman who flew to Malaysia late last week tested positive for the new COVID-19 virus.
In a statement, Holland America Line said no more tests will be done on the hundreds of passengers still in Cambodia.
"This completes the guests' testing. These results provide the required clearance for remaining guests in Cambodia to begin their onward journey home. The company is working to finalize arrangements for everyone. Those who traveled home previously will be contacted by their local health department and provided further information," the company said.
The cruise ship will stay in the waters alongside Sihanoukville for at least a few more days until testing is complete on the 747 crew members on board.
Virus May Be Detectable Before Symptoms Emerge: Study
Testing can confirm patients have the new coronavirus before they show symptoms, according to a new study.
Multiple countries have confirmed cases of the virus among people who are not showing symptoms.
The new report in the New England Journal of Medicine examined 126 people from Germany who were quarantined after being evacuated from Hubei Province in China, where the virus emerged in December 2019.
Researchers said it's not clear whether people who have the virus but aren't showing symptoms can pass on the virus, a process known as asymptomatic transmission. U.S. officials are among those who have said it's clear asymptomatic transmission of the new virus is happening.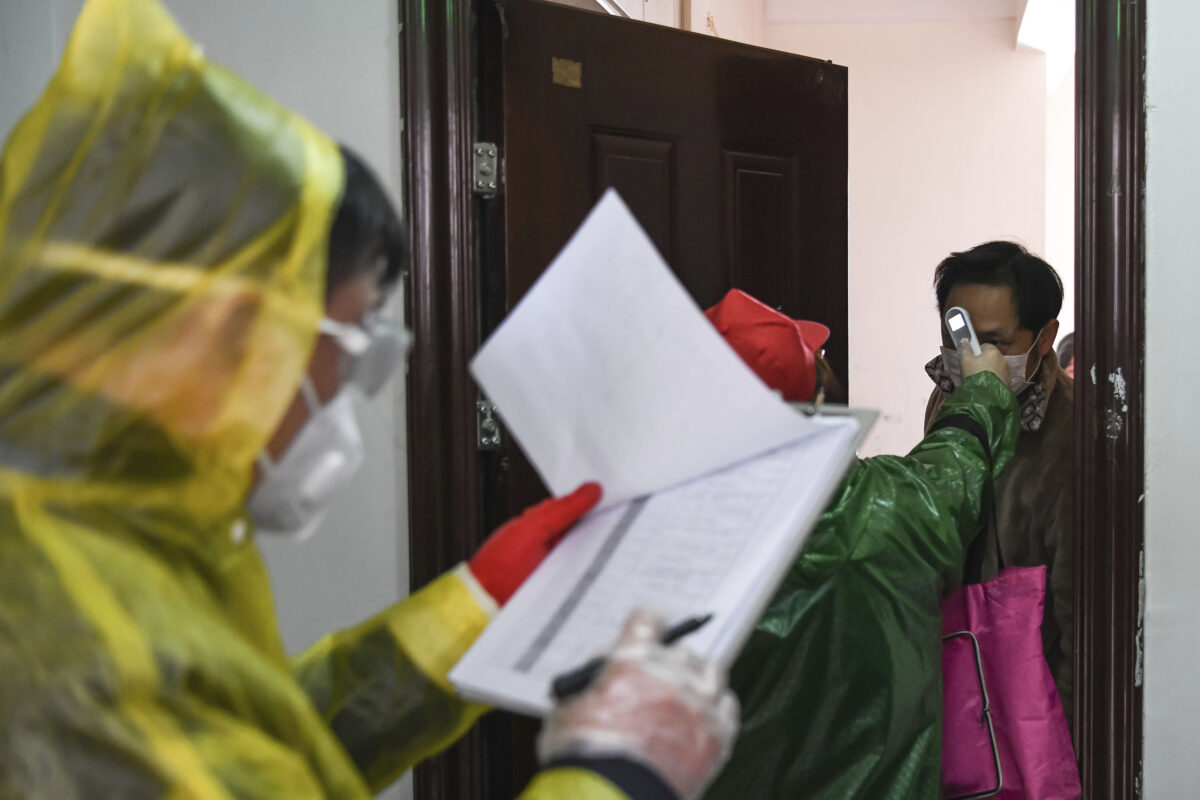 Iran Reports First Cases, Then Deaths
Iranian authorities confirmed on Wednesday two cases of the new coronavirus.
Later in the day, officials said the two patients died.
IRNA quoted Alireza Vahabzadeh, an adviser to the country's health minister, as saying that both of the victims had been carrying the coronavirus and were located in Qom, about 140 kilometers (86 miles) south of the capital Tehran. Iran's Mehrs news agency said the the patients were both Iranians.
ISNA quoted an official in the country's health ministry, Kiyanoush Jahanpour, as saying that "since last two days, some suspected cases of the new coronavirus were found."
Trump Might Attend 2020 Olympics
U.S. President Donald Trump said he might attend the 2020 Olympics, which are scheduled to take place in Tokyo, Japan, in July.
Trump told reporters in Los Angeles on Wednesday that he was invited by Japan's Prime Minister Shinzo Abe.
"We'll make that determination. We haven't made it yet, but we might. We're going to try, if we can," he said.
The Tokyo Olympics are at risk of happening at a limited scale, or not happening at all, due to the new coronavirus that has continued spreading worldwide since emerging from China in December 2019. But organizers have thus far said the games will still take place as scheduled.
Trump was speaking during a briefing with the U.S. Olympic and Paralympic Committee. Los Angeles is slated to host the Olympics in 2028.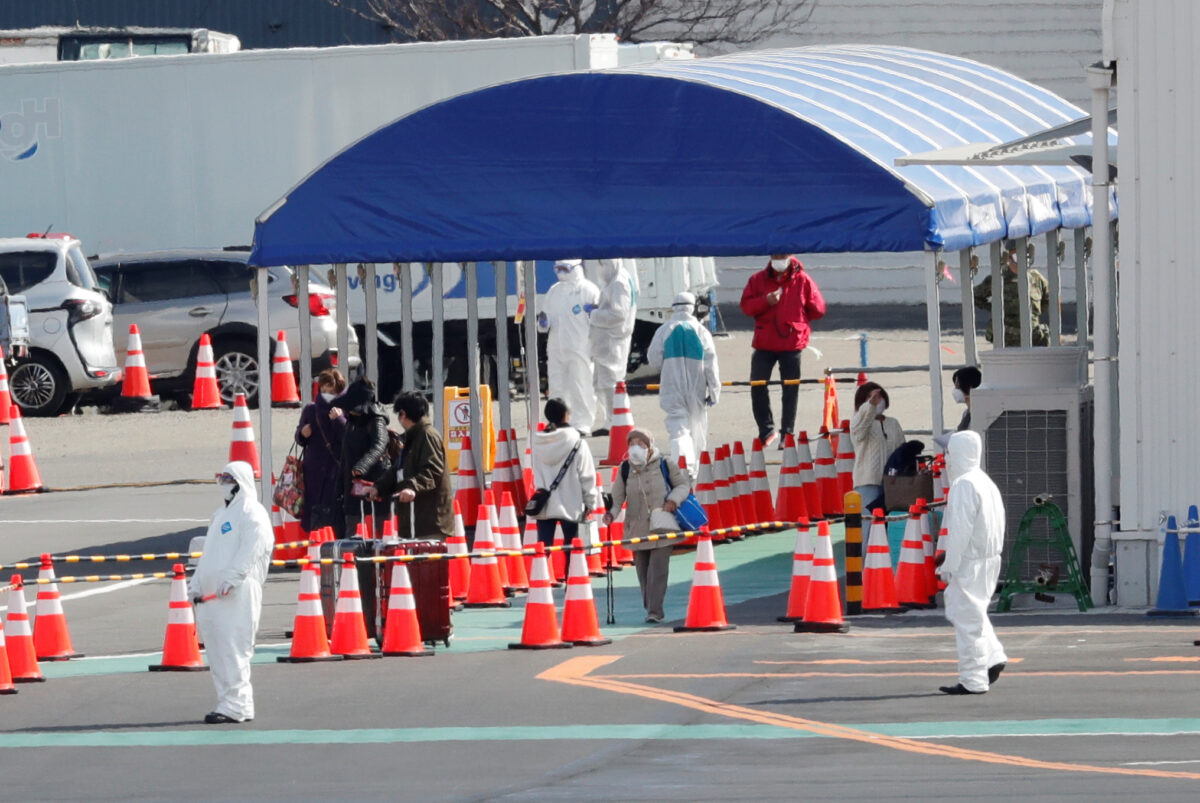 Japan and South Korea Report Big Jump in Cases
The Novel Coronavirus crisis has deepened in both Japan and South Korea, after both countries reported a large number of new confirmed cases of the virus on Feb. 19.
Japan's Ministry of Health, Labor, and Welfare said that 79 cases were confirmed after testing 607 people aboard the Diamond Princess cruise ship, which sees its 14-day quarantine at Yokohama end today.
Of the 79 cases, 68 do not have symptoms of the virus.
Meanwhile, South Korea's Centers for Disease Control and Prevention (KCDC) reported 20 new cases of the virus on Wednesday, raising the country's total from 31 to 51. Fifteen are contacts of a 61-year-old woman, including 14 who attend the same church.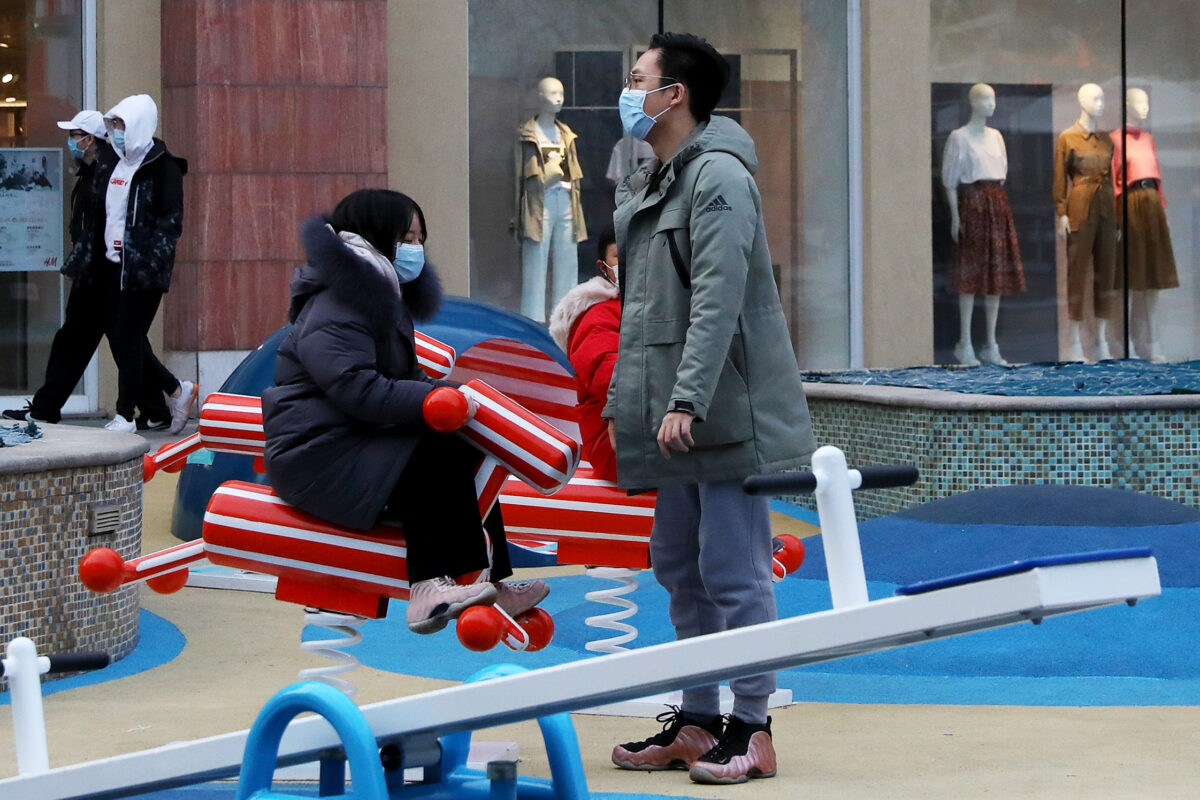 North Korea Has Quarantines in Place: Envoy
North Korea has imposed a strict quarantine around foreigners or returning nationals who display fever on entering the country, but has found no cases of coronavirus yet, its envoy to the United Nations in Geneva claimed on Wednesday.
Earlier, the World Health Organization (WHO) said it had no indications that the new coronavirus had spread to North Korea, after South Korean media suggested there were cases and deaths there that were being covered up by the Pyongyang authorities. North Korea shares hundreds of miles of border with China, where the virus emerged in December 2019.
Han Tae Song, the Democratic People's Republic of Korea (DPRK) ambassador to U.N. organizations in Geneva, said its officials had extended the quarantine period to some 30 days—double the 14-day incubation period for the virus.
"(There has been) no case of the outbreak of coronavirus," Han said in Geneva. "We have a strict quarantine in certain areas for certain times." Asked about suspect cases, he said: "The main suspects could be travelers who visited other countries—North Korean as well as foreigners.
"I was informed that we extended the quarantine, actually it was 14 days, but according to scientific results, coronavirus could break out even 3 weeks later. That is why we extended to 30 days quarantine … Prevention is less cost than cure."
Virologist: Tokyo Olympics Probably Couldn't Be Held Now
A respected Japanese virologist on Wednesday said if the Tokyo Olympics were tomorrow, the games probably couldn't be held because of the fast-spreading virus from Wuhan, China.
"We need to find the best way to have a safe Olympics," Dr. Hitoshi Oshitani said, speaking at the Foreign Correspondents Club of Japan. "Right now we don't have an effective strategy, and I think it may be difficult to have the Olympics [now]. But by the end of July we may be in a different situation."
The local Tokyo Olympic organizing committee and the International Olympic Committee have repeatedly said over the last few weeks that they are following the advice of the World Health Organization and that the games will go on.
But with every passing day, the impact of the virus seems to spread and so does the fallout: Olympic qualifying events are canceled or postponed, travel gets difficult, and athletes and families are left wondering. Not to mention sponsors and broadcasting networks that have invested billions of dollars in the Olympics.
The modern Olympics dating from 1896 has only been canceled during wartime, and in 1980 and 1984 it went on with boycotts.
Oshitani, a former adviser with the WHO who worked on the SARS outbreak almost 20 years ago, was hopeful but sowed some uncertainty about the July 24-Aug. 9 Olympics.
"I'm not sure [of] the situation in Japan at the end of July," he said, answering in English. "But probably we will not have large outbreaks in Japan in July."
Oshitani said he was most concerned about a "Wuhan-type" outbreak taking place in Africa or other parts of Asia and having cases imported into Japan. He said if that happened "it may get difficult to have" the Olympics. But he also suggested Japan might be able to handle it.
"So what we have to do now is try to prevent such a thing from happening," he added, saying the Japanese government should support countries so they don't have "that kind of situation."

Hong Kong, Taiwan Report New Infections
An 83-year-old Hong Kong woman has been infected with the Novel Coronavirus, according to Chuang Shuk-kwan, head of the Communicable Disease Branch of the Center for Health Protection.
The woman is the mother of Hong Kong's 60th confirmed case, and the mother-in-law of the city's 57th confirmed case.
With the new case, Hong Kong now has 63 known cases of coronavirus.
Lau Ka-hin, chief manager of quality and standards at Hong Kong's Hospital Authority, provided more insight into the city's second death, which was widely reported by Hong Kong media earlier today.
Lau said that the dead man had been suffering from diabetes, high blood pressure, and poor kidney function before being infected with the virus. The man passed away at around 7 a.m. local time on Wednesday.

Taiwan's Centers for Disease Control announced on Wednesday one new infection case, bringing the island's total known cases to 23.
The new case involves a 66-year-old woman, who is the younger sister of Taiwan's first death due to coronavirus—a taxi driver who had picked up many Taiwanese businessmen returning from Macau, Hong Kong, and China before passing away.
Aside from the younger sister, three other family members of the taxi driver have been infected with the virus.
Quarantined Passengers Disembarking Ship in Japan
Hundreds of people began disembarking a quarantined virus-hit cruise ship off Japan on Wednesday.
About 500 passengers were due to leave the virus-hit Diamond Princess cruise ship docked at Yokohama near Tokyo, NHK reported. The entire process is expected to be completed by Friday, Reuters reported.

The ship was quarantined on Feb. 3 after a former passenger was diagnosed with the virus in Hong Kong. More than 540 people have since been infected out of about 3,700 passengers and crew on board, culminating in the largest concentration of infections outside mainland China.
The United States has flown home more than 300 American evacuees from the ship. Other countries are lining up to collect their citizens, including Australians, whose flight was due to arrive in Japan later on Wednesday.
Only passengers who had tested negative for the virus and did not show symptoms during quarantine would be allowed to leave the ship. Those who tested negative but were in cabins with infected people would remain on board for additional quarantine, Japanese officials said.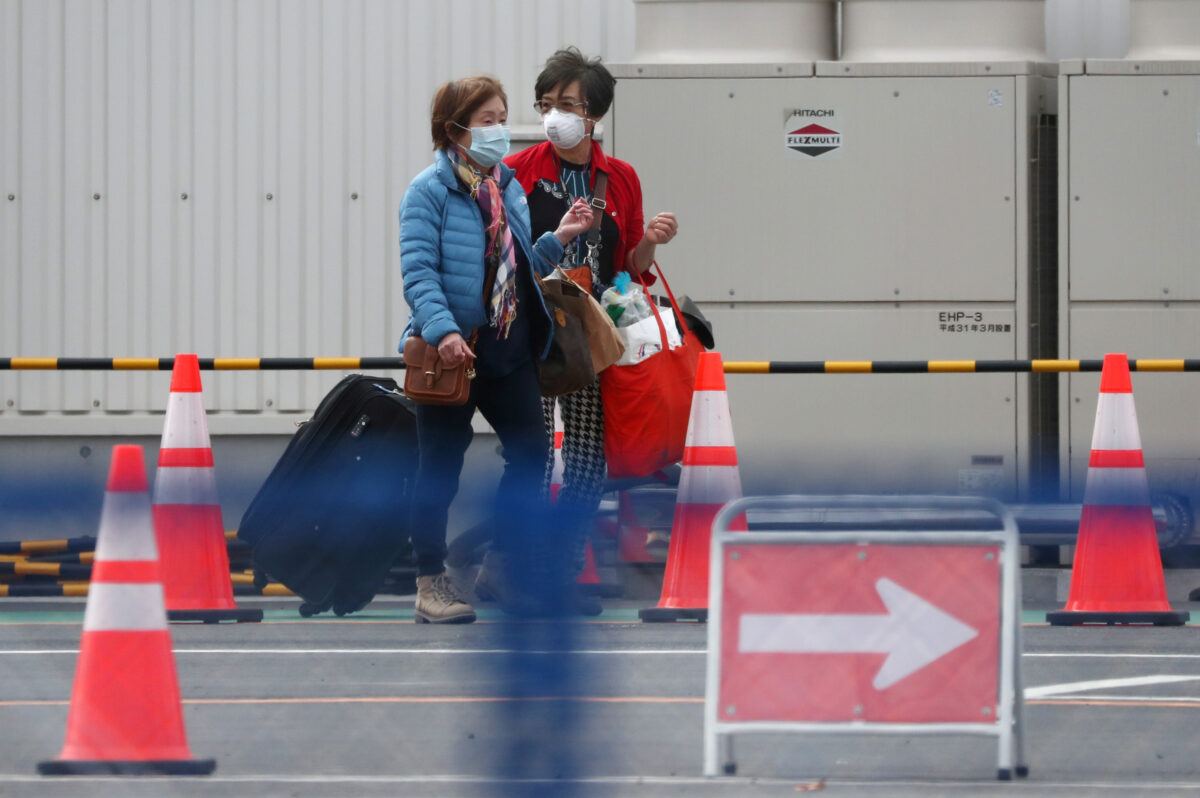 South Korean Plane Evacuates 7 From Japan
A South Korean government plane returned from Japan with seven evacuees early Wednesday.
According to South Korean media reports, the seven evacuees on the chartered flight were six South Koreans and a Japanese spouse.
They were among 14 South Koreans aboard the Diamond Princess cruise ship, docked off Japan—the site of the largest known outbreak of the new coronavirus outside China. The ship has been quarantined since early Feb. 3, but it is set to end Wednesday.
The Air Force VCN-235 touched down in western Seoul's Gimpo International Airport at 6:27 a.m., about four hours after leaving Tokyo's Haneda Airport, according to KBS World. The aircraft earlier arrived at Haneda Airport on Tuesday afternoon.
The evacuees are set to undergo isolation in South Korea for 14 days at Incheon International Airport's quarantine office, according to the international broadcasting service.

Hong Kong Reports Second Death
A 70-year-old man in Hong Kong has died of the Novel Coronavirus on Wednesday morning, bringing the total number of COVID-19-linked deaths in the city to two.
The man was hospitalized at the Princess Margaret Hospital on Feb. 12 after he fell ill at home, Hong Kong media RTHK reported. He was then tested positive for the virus. He had already been suffering from a cough and shortness of breath for more than 10 days.
South Korea Reports Leap in New Cases
South Korea reported on Wednesday 15 new cases of the new coronavirus, raising the country's total to 46.
The country's Centers for Disease Control and Prevention (KCDC) said in an update that 13 of the new cases were confirmed in Daegu city in North Gyeongsang province, 185 miles southeast of Seoul.
Of the new cases, the KCDC said that 11 are contacts of the 31st coronavirus case in the country—a 61-year-old South Korean woman who lives in Daegu. Ten of the new cases attend the same church as the woman.
The woman was confirmed to have the coronavirus on Tuesday but had developed a fever as early as Feb. 10. According to AFP, she had reportedly refused to be tested for the new coronavirus as she had not recently traveled abroad.
Also among the new cases in South Korea is a 77-year-old man who has not been abroad. Another case involves an 11-year-old daughter of the country's 20th confirmed case—a 41-year-old Korean female who tested positive for the virus on Feb. 5 while in self-quarantine.
4 New Cases in Singapore
Singapore's Ministry of Health on Tuesday announced four new cases of coronavirus.
Three of the new cases are linked to a cluster of cases at the Grace Assembly of God church, which already had 16 confirmed cases. The other case is a family member of a previous case in Singapore.
All four are in critical condition, reported Channel News Asia.
The Tuesday update also noted that the country's 76th case—a 1-year-old child who contracted COVID-19 after he was evacuated from Wuhan on Feb. 9 without symptoms—has since "fully recovered from the infection" and was "discharged from the hospital."
Chinese Regime Deploys 1,600 Internet Trolls
The propaganda department in virus-stricken Hubei Province has engaged over 1,600 censors to scrub the internet of "sensitive" information relating to the coronavirus outbreak, according to an internal document obtained by The Epoch Times.
The internal report, dated Feb. 15, detailed the agency's efforts to ramp up censorship measures. It was drafted after a speech given by Chinese leader Xi Jinping via video link on Feb. 10 to "frontline responders" of the coronavirus outbreak in Wuhan, the capital of Hubei, where the virus first broke out.
The revelations come as the Chinese regime tightens information controls over the worsening outbreak, as netizens have increasingly turned to the Internet to vent their frustrations about the authorities' response, or document what is happening on the ground.
Mimi Nguyen Ly, Frank Fang, Cathy He, Eva Fu, Zachary Stieber, the Associated Press, and Reuters contributed to this report.
For updates from Feb. 18, click here.