The new coronavirus and the disease it causes, COVID-19, has spread to dozens of countries around the world.
Below are news updates from March 1. Click here for March 2 updates.
Second US Death Confirmed in Washington State
Health officials in Washington state said on Sunday a second person infected with the coronavirus had died the Seattle area. The man in his 70s had underlying health conditions.
The Washington death was in EvergreenHealth Medical Center in Kirkland and was reported on the website of the Seattle and King County public health department. On Saturday, the same officials reported the first death from coronavirus in the United States.
New York State Confirms First Coronavirus Case: Governor Cuomo
New York state confirmed its first positive coronavirus test, Governor Andrew Cuomo said on Sunday night.
Cuomo said in a statement that a woman in her 30s contracted coronavirus during a recent trip to Iran and was in quarantine in her home. He did not say where the woman lived.

France Closes the Louvre
France had closed the world-famous Louvre Museum on Sunday as the deadly outbreak that began in China sent fear rising across Western Europe, threatening its tourism industry.
Dominican Republic Confirms First Case
Health officials in the Dominican Republic and France on Sunday reported the first confirmed cases of the new coronavirus in the tourist-rich Caribbean, while British cruise ship passengers who had been trapped at sea due to virus fears were finally set to come home.
Dominican Public Health Minister Rafael Sánchez Cárdenas said a 62-year-old Italian man had arrived in the country on Feb. 22 without showing symptoms. He was being treated in isolation at a military hospital and "has not shown serious complications."
France, meanwhile, reported a case on the Caribbean island of Guadeloupe, the first in one of France's overseas territories.
The announcements came shortly before the Braemar cruise ship, which had been denied entry to the Dominican Republic due to the virus fears, at last found a place to dock—the Dutch terrritory of St. Maarten.
UK Cases Rise to 35, Czech Republic Sees First 3
British health authorities on Sunday confirmed 12 more cases of the new coronavirus, bringing the country's overall tally to 35, while the Czech Republic announced its first three infections.
Authorities said the total number of people infected in Italy had risen to 1,694, a 50 percent jump from just 24 hours earlier. Five more people infected with the virus have died, bringing the deaths in Italy to 34, while 83 people have fully recovered.
Elsewhere in Europe, France raised its number of reported cases to 130 on Sunday, including one in the French Caribbean island of Guadeloupe, the first in France's overseas territories.
The spreading virus epidemic shut down France's Louvre Museum on Sunday, with workers who guard its famous trove of artworks fearful of being contaminated by the museum's flow of tourists from around the world. Almost three-quarters of the Louvre's 9.6 million visitors last year came from abroad.
Czech Health Minister Adam Vojtech said Sunday that two COVID-19 patients were hospitalized in Prague and another in northern city of Usti nad Labem. All three had travel ties to northern Italy.
Spain said it now has 71 virus cases, many of them linked to Italy.
The Dutch health minister announced three new virus cases, bringing the country's overall tally to 10, while new cases elsewhere brought national totals to Norway 19, Sweden 14 and Finland six.
Rhode Island Confirms First Case
The Rhode Island Department of Health has announced the first positive case of the COVID-19 coronavirus in the state, saying that a person who had traveled to Italy in mid-February contracted the illness.
The patient, who is in their 40s, had limited travel in Rhode Island and hasn't returned back to work since arriving in the United States, according to state health officials on Sunday.
US to Screen Travelers From High-Risk Countries
President Donald Trump on Sunday wrote that passengers traveling from certain high-risk countries will be screened before boarding as well as when they arrive in the United States.
"In addition to screening travelers 'prior to boarding' from certain designated high-risk countries, or areas within those countries, they will also be screened when they arrive in America," Trump wrote on Twitter on Sunday.
Coronavirus: In addition to screening travelers "prior to boarding" from certain designated high risk countries, or areas within those countries, they will also be screened when they arrive in America. Thank you! @VP @SecAzar @CDCgov @CDCDirector

— Donald J. Trump (@realDonaldTrump) March 1, 2020
The administration on Saturday expanded travel restrictions on Iran, where dozens of deaths have been reported in recent days, and raised an advisory that Americans should refrain from going to parts of Italy and South Korea, where the COVID-19 coronavirus has triggered quarantines.
Fed Signals Possible Rate Cut
Federal Reserve Chairman Jerome Powell has signaled the central bank's readiness to slash interest rates to cushion the economy against the effects of a widening global slowdown and potential health emergency due to the spreading coronavirus.
In a statement Friday, Powell said the Fed will "act as appropriate" in the face of risks posed by the epidemic, though he said the economy remains in good shape overall.
"The fundamentals of the U.S. economy remain strong," Powell said. "However, the coronavirus poses evolving risks to economic activity. The Federal Reserve is closely monitoring developments and their implications for the economic outlook. We will use our tools and act as appropriate to support the economy."
Pence: US Schools Can Shut Down Over Virus
Vice President Mike Pence said the Trump administration will defer to local governments on their decisions regarding the COVID-19 coronavirus outbreak, including school closures.
"I think the president would respect any decisions that are made at the state and local level," he said Sunday on NBC's "Meet the Press."
Pence, the former governor of Indiana, was placed in charge of the Trump administration's coronavirus response efforts after the president made the announcement on Wednesday evening.
During the Sunday interview, Pence made it clear that the federal government is attempting to walk a fine line, allowing for local government and businesses to implement restrictions when necessary. But at the same time, Pence called on Americans not to panic and overreact.
Illinois Announces 3rd case
A third person in Illinois has tested positive for COVID-19, the Illinois Department of Public Health (IDPH) announced on Feb. 29.
Officials said that tests from the unidentified individual resulted in "presumptive positives," and the sample is now being tested for confirmation by the federal Centers for Disease Control and Prevention (CDC) lab.
The patient is currently hospitalized in isolation and health officials are also working to identify and actively monitor anyone who may have come into contact with them in an effort to reduce the risk of additional transmission.
South Korea Reports 3 Additional Deaths, Over 500 New Cases
South Korea reported 586 new cases of the novel coronavirus and three additional deaths on March 1, bringing its nationally tally to 3,736 known cases and 20 fatalities.
The Korea Centers for Disease Control and Prevention (KCDC) reported 376 new cases of the virus on Sunday morning, before reporting 210 more cases in the afternoon.
One death involved an 83-year-old man in the city of Daegu, who had a stroke and suffered from hypertension before being infected with the virus, according to local outlet Yonhap News Agency. Daegu is about 186 miles southeast of the capital Seoul.
An 86-year-old woman who had the disease died of dyspnea early Sunday. She also had diabetes and hyperlipidemia. The third death involved an 80-year-old man who had long been suffering from hypertension.
Iran Raises Death Toll to 54
Iran's health ministry raised on Sunday the nationwide death toll from the new coronavirus to 54 as the number of confirmed infected cases jumped overnight by more than half to 978 people.
The ministry's spokesman Kianoush Jahanpour said new cases were confirmed in a number of cities, including Mashhad, which is home to Iran's most important Shiite shrine that attracts pilgrims from across the region. Calls by Iran's civilian government to clerics to close such shrines to to the public have not been uniformly followed. The shrine in Mashhad is among those that have remained open.
Washington State Declares Emergency
Washington state governor Jay Inslee declared a state of emergency to "prepare for what could likely be a worldwide pandemic," hours after the nation announced the first victim of the deadly coronavirus.
"This is a time to take common-sense, proactive measures to ensure the health and safety of those who live in Washington state," Inslee said in a Feb. 29 statement.
He said the declaration will allow the state to mobilize all necessary resources to assist affected communities, including utilizing the Washington National Guard.
"Our priority now is to slow the spread of this virus," he said.
South Africa to repatriate citizens stranded in Wuhan
South Africa is set to evacuate 151 citizens from the Chinese city of Wuhan, the epicenter of the new coronavirus that continues to spread across the globe, authorities said Sunday.
The South Africans will be evacuated in a military operation that will see them quarantined for 21 days after they arrive in the country, Health Minister Zweli Mkhize said.
All of the South Africans returning are healthy and have tested negative for the virus, but as a safety precaution they will be under quarantine upon their arrival in South Africa, Mkhize said. The airlift would take place in about 10 days, he said.
South Africa is the first country in sub-Saharan Africa to evacuate its citizens from China and affected areas.
In-Hospital Infection Suspected in Another Death in Japan
A man in his 70s died on Japan's northernmost island of Hokkaido on Saturday night after testing positive for COVID-19, the disease caused by the coronavirus called SARS-CoV-2, local authorities said on Sunday.
The municipal government of Hokkaido said the patient was hospitalized on Jan. 17 for another disease, but started to show flu-like symptoms a few weeks later and tested positive for the coronavirus on Feb. 25.
Public broadcaster NHK and other local media said authorities suspect the man may have caught the virus at the hospital.
The man's death marks the sixth fatality from COVID-19 in Japan, excluding six deaths among those aboard the cruise ship Diamond Princess.
Thailand Records First Coronavirus Death
Thailand has recorded its first coronavirus death, a 35-year-old man who also had dengue fever, died from the virus, Suwanchai Wattanayingcharoen, director-general of the Department of Disease Control, said in the news conference on Sunday.
Thailand has recorded 42 coronavirus cases since January. Of those, 30 have recovered and gone home and 11 are still being treated in hospitals, according to the department.

South Korea Reports 376 New Coronavirus Cases
South Korea reported 376 new confirmed coronavirus cases on Sunday, raising the country's total number of infections to 3,526, the Korea Centers for Disease Control and Prevention (KCDC) said.
Sunday's new cases follow the 813 infections recorded on Saturday, the biggest daily jump in South Korea, which is grappling with the largest outbreak of the virus outside China. KCDC said it will update numbers later in the day.
The death toll stood at 17, unchanged from the day earlier, KCDC said.
Of the new cases, 333 were from the southeastern city of Daegu, the location of a church at the center of the outbreak, and 26 from the nearby province of North Gyeongsang, KCDC said.
Health authorities have urged South Koreans to refrain from attending religious services and political events and stay indoors this weekend, saying it was a "critical moment" in the country's battle against the virus.
Armenia Reports First Coronavirus Infection
Armenia reported its first coronavirus infection on Sunday, in a citizen returning from neighboring Iran, Prime Minister Nikol Pashinyan said in a post on Facebook.
The 29-year-old, who arrived in the former Soviet nation on Friday, went to a doctor because he was not feeling well, the prime minister added.
"He is now in good condition," Pashinyan said, adding that authorities planned to isolate those had been in contact with him.
Armenia closed its border with Iran for two weeks and suspended air traffic a week ago. Iran is the epicenter of the outbreak in the Middle East, with several regional nations reporting cases stemming from Iran.
Neighboring Georgia and Azerbaijan reported infections this week, with three in each country.
First Coronavirus Death in Australia
Australia reported its first death of a coronavirus patient in a hospital in the western city of Perth early on Sunday, health official Andrew Robertson said.
The 78-year-old had been in quarantine after being evacuated from the Diamond Princess cruise ship in Japan, among more than 150 Australians taken off the vessel.
"Our condolences are with his family and unfortunately he's the first death we've had from coronavirus in Australia," Robertson, the chief health officer of Western Australia, told journalists.
The man's wife also caught the virus, but is in stable condition, authorities said.
Australia's tally of virus infections stands at 25, the latest government figures show.
On Saturday, Australia said it would deny entry to all foreigners traveling from Iran because of the spreading virus in the Islamic republic.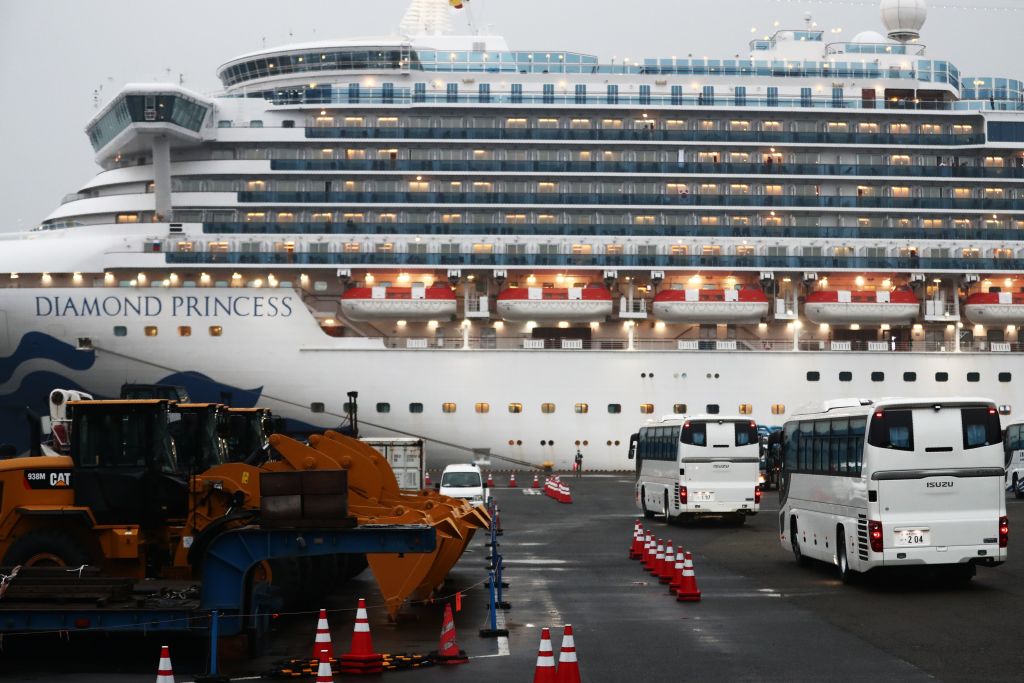 For updates from Feb. 29, click here.
Reuters and The Associated Press contributed to this article.