The novel coronavirus that originated in Wuhan, China, and the disease it causes, COVID-19, has spread to more than 100 countries and territories around the world, killing thousands.
Below are March 13 updates. Click here for March 14 updates.
New Zealand Memorial for Mosque Shooting Canceled
A national memorial in New Zealand to commemorate the 51 people who were killed when a gunman attacked two mosques one year ago has been canceled due to fears over the new coronavirus.
Thousands of people were expected to attend the Sunday service in Christchurch to mark the anniversary of the March 15 shooting.
New Zealand has had just five confirmed cases of COVID-19, and so far there haven't been signs of a local outbreak.
Prime Minister Jacinda Ardern said the decision announced Saturday was pragmatic and precautionary.
Election Officials: Tuesday Primaries on Despite Virus Concerns
Elections officials in the four states holding presidential primaries next week say they have no plans to postpone voting amid widespread disruptions caused by the coronavirus outbreak. Instead, they are taking extraordinary steps to ensure that voters can cast ballots and polling places are clean.
They have been scrambling to recruit replacements for poll workers dropping out over fears of contracting the virus, providing cotton swabs for voters to use on touchscreen machines and extending absentee voting deadlines. Only one state, Louisiana, announced plans to postpone its primary, from April to June.
"Americans have participated in elections during challenging times in the past, and based on the best information we have from public health officials, we are confident that voters in our states can safely and securely cast their ballots in this election," top election officials from Arizona, Florida, Illinois and Ohio said in a joint statement Friday that also encouraged healthy poll workers to show up.

Pelosi Says House, Trump Admin Reach Deal on Coronavirus Bill
House Speaker Nancy Pelosi (D-Calif.) late Friday said that House Democrats have reached a deal with the Trump administration on an emergency stimulus package to address the economic impacts of the coronavirus outbreak.
"We are proud to have reached an agreement with the Administration to resolve outstanding challenges, and now will soon pass the Families First Coronavirus Response Act," Pelosi wrote in a letter to Democrat colleagues.
However, House Majority Leader Rep. Steny Hoyer (D-Md.) told reporters that a deal has yet to be reached.

Death Toll in Italy Rises by 250
Italian civil protection authorities say the number of coronavirus infections has soared by more than 2,500 in the last 24 hours while virus-related deaths make largest single-day jump of 250.
That brings the total number of infected in Italy to 17,660 since the outbreak began on Feb. 21, and the number of related deaths to 1,266.
Italy is the epicenter of the virus outbreak in Europe.
The United States banned travel from Italy and other Schengen Area countries because of the spread in the region.

Trump Declares National Emergency
President Donald Trump declared a national emergency on Friday to curb the spread of the coronavirus pandemic after more than 1,700 cases were confirmed in the United States.
His action will provide up to $50 billion in disaster relief funds to state and local governments in response to the outbreak of COVID-19, the disease the new coronavirus causes.
"We will overcome the threat of the virus," Trump said.
Trump also waived interest on all student loans held by federal government agencies and ordered the Energy Department to purchase large quantities of crude oil for storage. He also called on states to set up emergency centers, hospitals to activate emergency preparedness plans, and provided new powers to the Department of Health and Human Services.
The Federal Emergency Management Agency (FEMA) will use the billions of dollars in funding to mobilize health centers, patient transportation, and other needs in the event that hospitals and healthcare providers are overwhelmed with patients amid a spike in coronavirus cases. The virus emerged late last year in Wuhan, China, after authorities there failed to curb its spread, and has now reached more than 100 countries.
Strengthening the Immune System With Chinese Medicine
As the Wuhan coronavirus dominates the news cycle and doctors race to find a treatment for COVID-19, it may be worth investigating the role that Traditional Chinese Medicine (TCM) can play in helping to prevent the disease.
There are currently "no approved diagnostics, vaccines, or treatments for COVID-19," the U.S. Department of Health & Human Services said in a press release on Friday. Avoiding exposure to the virus is the most effective way to prevent the illness.
Aside from following the government agencies' recommendations to prevent COVID-19, TCM may be of benefit to help strengthen the immune system and better defend against the illness.
Chinese Regime Ramps Up Global Propaganda
The Chinese Communist Party has ramped up its propaganda efforts to control the narrative surrounding the novel coronavirus—by slapping away criticism and painting a picture that Beijing is effectively handling the outbreak.
The regime's propaganda has gone through several phases, first ignoring the severity of the outbreak, then creating positive coverage, and now, blaming the United States.
Internal government documents obtained previously by The Epoch Times highlighted how the regime bungled its data tracking and censored discussions of the outbreak, fuelling the virus's spread.
Trump Says He 'Most Likely' Will Be Tested for COVID-19
President Donald Trump said Friday that he will "most likely" be tested for the coronavirus, coming days after a Brazilian official that he had met over the weekend in Florida tested positive for the disease that emerged in mainland China last year.
Trump, speaking at the White House after declaring the epidemic a national emergency, told reporters that he has exhibited no signs of COVID-19, the disease caused by the virus, and wasn't told to undergo testing by White House medical staff.
When he was asked by a reporter about not being tested, the president responded: "I didn't say I wasn't going to be tested." Pressed further, Trump said that he will "most likely" be tested but "not for that reason, but because I think I will do it anyway."

Corporations Join Government in Nationwide Coronavirus Testing Operation
Several of the largest corporations in the United States are working together with the government to soon offer large-scale testing for the Wuhan coronavirus across the nation, according to details released during a press briefing at the White House on Friday.
Approximately 1,700 engineers at Google are developing a screening website which would allow users to enter their symptoms and, if necessary, provide them with a local drive-thru location for rapid testing.
Walmart, Walgreens, Target, and CVS have agreed to allow for parts of their parking lots across the nation to be used as drive-thru testing sites.
LabCorp and Quest, the nation's largest clinical laboratory companies in the United States, will be ready to process a high volume of tests within 24 to 36 hours.
And Roche, a Swiss pharmaceutical giant, has received the fastest regulatory approval for a new coronavirus test and will make 500,000 kits available. President Donald Trump said millions of tests can be made available in the near future.
National Guard to Deploy 1,000 Troops in 6 States
The National Guard announced that it is will deploy 1,000 troops across six states by the end of Friday in response to the COVID-19 coronavirus pandemic.
Components of the Army and Air National Guard are activated in Florida, Iowa, Louisiana, New York, Rhode Island, and Washington state as of Friday morning, according to a statement obtained by Fox News. About 400 Guard members are in those states.
"As other states are requested to support civil authorities, those numbers will change rapidly. By the end of the day we expect that number to approach 1,000," according to the National Guard, reported Stars and Stripes.
Senate Hearing on Coronavirus Crisis Exposes Dangers of US Drug Dependence on China Sourcing
Millions of Americans depend on drugs that are made in part or wholly in China because U.S. manufacturers moved their supply chains and much of their manufacturing facilities to that country, the Senate Committee on Small Business and Entrepreneurship was told Thursday.
"Thousands of our generic drugs and even some of the brand name products and perhaps even new therapies for coronavirus may depend on the chemicals that are sourced primarily in China," Rosemary Gibson, a senior adviser to the Garrison, New York-based Hastings Center Bioethics Research Institute, told the committee.
The hearing's focus was on "Coronavirus and America's small business supply chain."
Rhode Island to Close Schools
Rhode Island Gov. Gina Raimondo announced Friday that classes will be canceled next week. The move will be accomplished by moving spring break from April to March 16 to 21.
"Closing school for a week now will allow us not only to slow the spread of the virus but it'll also allow us to get organized and put plans in place," Raimondo said in a statement.
A number of U.S. states and counties have closed schools because of the new virus, including Maryland, Michigan, and Washington state's three most populous counties.
Universities across the nation have canceled classes or moved them online, with many asking students not to return after spring break. College spring break was already slated to start on March 16.
AT&T Asks Employees to Work From Home
U.S. carrier AT&T Inc on Friday asked its employees to work from home amid rising fears of the coronavirus, joining a list of tech majors working to curb the spread.
"Starting Monday and continuing until further notice, I'm asking that everybody who can get their job done from home … do so," Chief Executive Randall Stephenson said in a message to employees.
"We will be taking additional safeguards and implementing new procedures and policies to help protect you from the virus."
Earlier, tech giants including Microsoft, Twitter, Alphabet' Google, Amazon, and Apple had asked employees to work from home.
Brazilian President Tests Negative
Brazilian President Jair Bolsonaro announced he tested negative for the new coronavirus on Friday.
The announcement came after some reports claimed he tested positive.
Bolsaonaro's spokesman tested positive for the virus this week.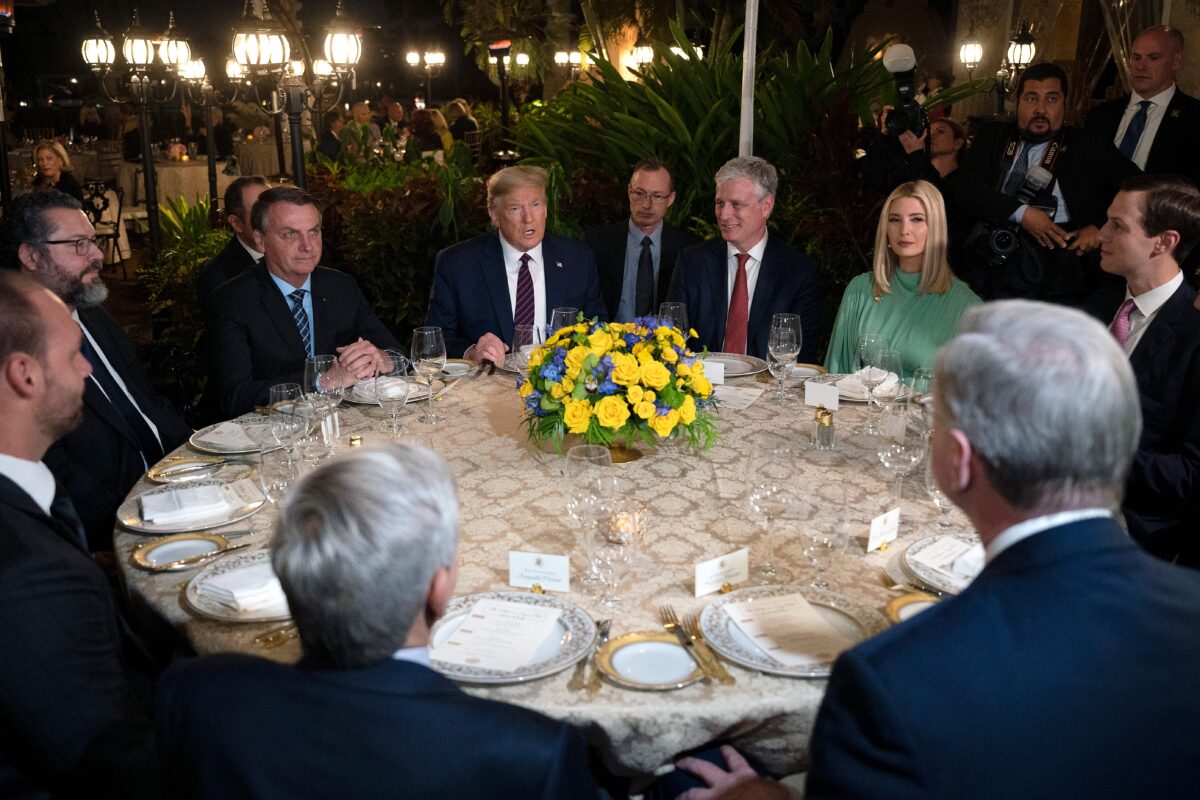 US Official Promises Widespread Testing Soon
Widespread testing for the new coronavirus will arrive in the United States in a week or two, a top U.S. public health official said.
"What is clear now is we need to blanket the country," Dr. Anthony Fauci, director of the National Institute of Allergy and Infectious Diseases at the National Institutes of Health, told reporters on Thursday.
The old system for testing for infectious diseases worked well in the past but doesn't work any longer, he said.
Dutch Infections Rise by 190 to 804, Deaths Double to 10
The number of coronavirus deaths in the Netherlands has doubled to 10, Dutch health authorities said on Friday.
The number of infections rose to 804 from 614 a day earlier, the Dutch National Institute for Public Health (RIVM) said in a statement.

Buffett Cancels Annual Shareholders Meeting
Warren Buffett's annual shareholder meeting for Berkshire Hathaway draws professional-sporting-event sized crowds every year to Omaha, Nebraska.
But like the NBA, NHL, and MLB, there will be no one in the stands for the big event this year because of concerns over coronavirus.
Buffett said Friday that the May 2 event will stream live on Yahoo and there may be a select number of journalists on hand to ask questions.
Buffett appeared crestfallen about shutting down the public portion of the two-decade-old event, which is usually a staid, but still carnival-like event. Last year in the traditional auction for the opportunity to have lunch with Buffett, the winning bid was more than $4.5 million.
He wrote that the event has become a high point each year for him and his business partner, Charlie Munger.
"It is now clear, however, that large gatherings can pose a health threat to the participants and the greater community," Buffett said. "We won't ask this of our employees and we won't expose Omaha to the possibility of becoming a 'hot spot'' in the current pandemic."
The event will be attended by Buffett, Munger, and several employees who will deliver proxy votes from shareholders.
Boston Marathon Postponed
The Boston Marathon, the world's most celebrated footrace, was postponed until Sept. 14 because of the pandemic.
Boston Mayor Marty Walsh announced the decision Friday. The Boston Athletic Association, which oversees the marathon, had held off deciding the fate of the April 20 race even as other high-profile sports events were canceled or postponed around the globe.
But pressure had mounted in recent weeks from officials in Boston and the seven cities and towns along the 26.2-mile course. Some had expressed worries not only for the health of the 31,000 registered runners but also the estimated 1 million spectators who traditionally line the route, giving athletes hand slaps and even kisses as they pass.
Walsh, making the announcement with race organizers and other officials outside City Hall, drew on the city's rallying cry in the aftermath of the bombings that killed three and injured scores of others at the marathon finish line in 2013.
"We've shown before that whatever the challenge to our marathon and to our city, we are Boston Strong," he said. "The marathon is Boston. It connects us. It reflects us. It brings out our community spirit and our resiliency."
Walsh acknowledged postponing the race is a big undertaking, but that canceling it outright would have been even more harmful. The marathon pumps $211 million a year into the city's economy and about $40 million charities, he said.
And there was never a consideration to run the race with a limited field of elite runners, Walsh added.

Trump Administration Considering Suspending Student Debt Payments
The Trump administration is considering a temporary suspension of student debt payments amid the coronavirus outbreak, Treasury Secretary Steven Mnuchin said on Friday.
The proposal is part of a package meant to address the economic fallout of COVID-19, the disease the coronavirus causes.
"That's on our list of 50 different items we're bringing to the president for a decision. That will be something we're looking at," Mnuchin said during an appearance on CNBC's "Squawk Box" after being asked if he would consider a three-month suspension of payments.
"The president is all about action, action, action," he added.
English Premier League Suspended
All elite soccer matches in England, including the Premier League, were suspended until April 4 due to the coronavirus pandemic, English soccer's governing bodies said.
"Following a meeting of shareholders today, it was unanimously decided to suspend the Premier League with the intention of returning on April 4," the Premier League said in a joint statement.
The English Football League (EFL), which oversees all professional tiers of English soccer below the top-flight, had announced the suspension of all football activity earlier in the day.
The Football Association said the professional game in England would be postponed until April 3 at the earliest.
England's upcoming friendly internationals against Italy and Denmark at Wembley on March 27 and 31, respectively, will not take place, the FA said in a statement.
The men's and women's FA Cup competitions have also been suspended.
The decision to suspend all football activity in the country had been jointly taken by the Premier League, the FA, the EFL, and the Women's Super League, it added.
Nepal Closes Mount Everest
Nepal has closed all of its Himalayan peaks, including Mount Everest this climbing season, because of fears of the coronavirus outbreak, a government minister said on Friday.
Nepal, home to eight of the world's 14 highest mountains, including Mount Everest, gets more than four million dollars in permit fees for the world's highest peak and other mountains every year.
Tourism Minister Yogesh Bhattarai said expeditions to all peaks in the March-May spring season had been suspended.
"Climbing this season has been closed," Bhattarai told Reuters.
"It is as a precaution for that," he added when asked, it was because of the coronavirus.
Nepal has confirmed just one case of the coronavirus—a student studying in China on a trip home—out of 450 people tested.

Alaska, Maine Report First Cases
The first cases of COVID-19, the disease caused by the new coronavirus, were confirmed in Alaska and Maine.
The states were two of the few left in America that had yet to confirm cases of the new illness.
The patient in Alaska is a foreign national, Gov. Mike Dunleavy said. The nationality wasn't specified.
The patient developed a fever and respiratory symptoms shortly after arriving in Anchorage on March 11. The person is hospitalized at Alaska Regional Hospital.
Spain Orders First Mandatory Lockdown
Spain has ordered its first mandatory lockdown, confining over 60,000 people to four towns as COVID-19 infections increase sharply.
The rise is straining health services and putting more pressure on the government to act faster to fight the pandemic.
The country had more than 3,800 cases by Friday morning and at least 84 deaths. The Spanish capital, Madrid, has nearly 2,000 cases alone, many linked to nursing homes.
The government has closed museums and sports centers, sent home nearly 10 million students, asked people to work remotely and limited crowds at public events in high-risk areas. But questions are rising whether the measures are enough.
Madrid's vice president said Friday that the region is in dire need of medical supplies, despite announcing an unprecedented plan to pool intensive care units from both public and private hospitals and to use hotel rooms for medical needs.

Bulgaria Declares State of Emergency
The Bulgarian parliament voted unanimously on Friday to declare a state of emergency until April 13 to contain the spread of coronavirus after the number of confirmed cases in the country more than tripled to 23.
The state of emergency will allow for travel bans to and from countries with large coronavirus outbreaks, the closing of schools and universities, and permit police to intervene when imposed isolation of infected people is not observed.
Prime Minister Boyko Borissov appealed to Bulgarians to follow the rules, saying that on Thursday alone 14 people that were supposed to be under quarantine did not observe it.
"We want this state of emergency for one month," Borissov told parliament. "We need it for those who violate quarantine."
Australian Official Tests Positive, Spanish Royalty Tests Negative
Australian Home Affairs Minister Peter Dutton is in isolation at a hospital after testing positive for the coronavirus. He returned to Australia on Sunday from Washington, where he met U.S. Attorney-General William Barr and President Donald Trump's daughter, Ivanka, last week.
Dutton also attended a conference with other representatives of the Five Eyes intelligence network, which includes the U.S., Canada, Britain, Australia and New Zealand.
Dutton said Friday he was in isolation in a hospital after confirmation he has the virus.
Australian authorities have stepped up their response to the outbreak by recommending people avoid nonessential gatherings of 500 or more and to reconsider all international travel.
Australia has more than 120 confirmed cases.
The Spanish royal palace, meanwhile, said King Felipe VI and Queen Letizia have tested negative for the coronavirus.
The royal couple took the test on Thursday after the government confirmed the infection of Equality Minister Irene Montero, who had attended an event with the queen last week.
Another Cabinet member was also confirmed to be infected after all the Cabinet was tested.
In a statement on Friday, Spain's Royal House said the queen will suspend all her activities and her temperature will be regularly checked.
Former Tokyo Governor Says Olympics 'Almost Certainly Have to Be Canceled'
The former governor of Tokyo from 2014 to 2016 who oversaw the early planning for the Tokyo Olympics has told The Times that the 2020 games will " almost certainly have to be canceled because of the worldwide coronavirus pandemic."
Asia editor Richard Lloyd Parry from The Times posted his full interview.
"Don't you care for the health of athletes?" says Mr Masuzoe. "That's a big contradiction. The Games without spectators is not an option."

ends

— Richard Lloyd Parry (@dicklp) March 13, 2020
US National in Taiwan Becomes Island's 50th Case
Taiwan's Centers for Disease Control (CDC) has announced the island's 50 confirmed case on Friday after a male U.S. national living in central Taiwan tested positive for the virus.
The U.S. national, who works from home, welcomed four American friends to Taiwan on Feb. 24. He began showing symptoms of the virus three days later. The four friends, who are two couples, left Taiwan on Feb. 26.
In one of the couples, the first individual began coughing on Feb. 24, followed by the other, who started showing symptoms of the virus on Feb. 26. A family relative of the couple in the United States tested positive for the virus on March 10.
Taiwan's CDC suspects that the 50th patient contracted the virus from his friends.
Italy's Coronavirus Outbreak Puts Spotlight on China Ties
The worsening coronavirus outbreak in Italy has led its government to re-evaluate its relationship with Beijing and align more with Washington, an expert said.
Almost a year after Italy became the first G7 country to sign on to the Chinese regime's flagship foreign policy project, the Belt and Road Initiative (BRI, also known as One Belt, One Road)—drawing criticism from its Western allies—the country's initial handling of the outbreak indicated a shift in relations.
Italy's decision to join the BRI in March 2019 sparked concern from the United States and Western allies. Italy defended its decision, with Foreign Minister Luigi Di Maio last month saying that it signed on to the initiative for "commercial reasons" and "economic advantages," Bloomberg reported.
But according to data compiled by the RWR Belt and Road Monitor, which tracks Chinese investments under the initiative, Italy hasn't attracted many projects in the past year, except for a deal between Jetion Solar (China) Co. and Eni SpA to invest about $2.2 billion and develop new solar projects.
"The outbreak of the coronavirus in Wuhan has led the Italian government to reassess its approach to China, while also sending a message to the Trump administration," Nicola Casarini, senior fellow and head of research for Asia at Rome-based think tank Istituto Affari Internazionali, told The Epoch Times in an email.
Universal Studios to Close Theme Parks
Comcast Corp.'s Universal Studios is closing its theme parks in Hollywood and Orlando until the end of the month.
The theme park near Los Angeles will close on Saturday with plans to reopen on March 28.
The Orlando park said it is closing from March 16.
Update from Universal Orlando Resort pic.twitter.com/Usrhi57dZD

— Universal Woahlando Resort (@UniversalORL) March 13, 2020
Its hotels and the Universal CityWalk will remain open, a statement said.
Disney has also announced closures following numerous states banning mass gatherings of over 500 people.

Prime Minister Scott Morrison speaks to media during a press conference in the Blue Room at Parliament House in Canberra, Australia on March 3, 2020. (Tracey Nearmy/Getty Images)
Australia to Ban Mass Gatherings, Raises Travel Alert
The Australian government has banned all non-essential gatherings of more than 500 people from Monday to limit the spread of the coronavirus.
Prime Minister Scott Morrison made the announcement after receiving advice from health officers on Friday.
In a press briefing, Morrison advised that the ban means that people can "go about their normal essential business they do each day," while avoiding large crowds from Monday.
"That, of course, doesn't include schools. It doesn't include university lectures. It doesn't mean people getting on public transport or going to airports or things of that nature," Morrison told reporters.
He said the ban was part of the government's incremental response to the pandemic.
"I do have still plans to go to the football on Saturday. This is an arrangement we are putting in place for next week as a precaution. This is an early-stage action that we are undertaking to make sure we get ahead of this. I would be going on Saturday because I had previously planned to, and these are measures we are putting on from next week, and there are further measures that will come in over time, I would expect," he said.
He also said that he was raising Australia's travel warnings to Level 3, advising Australians to reconsider their travel overseas unless it is essential amid the coronavirus crisis.
The government raised the level of travel advice for all countries, regardless of people's destination, age, or health.
"This is done to protect their health and to limit their exposure, given we have so many countries now that are affected by the coronavirus. Only essential travel should be considered if you are going overseas from this point forward," Morrison said.
76-Year-Old Man is India's First Fatality
A 76-year old man who passed away on Wednesday from suspected COVID-19 has been confirmed to have contracted the disease, the Karnataka state government health department said on Friday, according to local media reports.
Mohammed Hussain Siddiq was being treated at a hospital in the Indian city of Kalaburagi after suffering from breathlessness and other cold-and-flu symptoms after returning from Saudi Arabia on Feb. 29, where he had been visiting for a month.
He was tested at a Kalaburagi hospital on March 9 and diagnosed with "mid-zone Viral Pneumonia" while being identified as a "suspected COVID-19″ case. However, when his family insisted he be discharged from the hospital, authorities let him leave, and he was taken by family members to Hyderabad, Telangana, only to be admitted to a private hospital there later.
"The necessary contact tracing, isolation, and other measures as per protocol are being carried out. Telangana government has also been informed since he went to a private hospital there," the health department said.
Hong Kong Records Fourth Coronavirus-Related Death
An 80-year-old man became the fourth patient in Hong Kong to die due to the coronavirus, a Nethersole Eastern Hospital spokeswoman said on Friday.
Hong Kong has so far confirmed around 130 coronavirus cases.
Africa Countries Report First Cases
Gabon, Kenya, and Ghana confirmed their first cases of coronavirus, becoming the ninth, tenth and eleventh countries in sub-Saharan Africa to register positive cases.
The region has so far been less badly hit by coronavirus than Europe or China. Ivory Coast, Nigeria, Senegal, Cameroon, Togo, South Africa, Burkina Faso, and the Democratic Republic of Congo have also registered cases.
In a statement, Gabon's government said its case was a 27-year-old Gabonese man who had returned from France on March 8.
Ghana's health ministry said its two cases were people who had returned recently from Norway and Turkey.
"These are imported cases of COVID-19. Both patients are currently being kept in isolation and are stable," the ministry said in a statement.
Muhahi Kagwe, Kenya's health secretary, told reporters on Friday that a Kenyan woman who recently traveled from the United States via London tested positive.
Ghana Minister of Health Kwaku Agyeman-Manu said two people who returned from Norway and Turkey tested positive and are in isolation.
Sub-Saharan Africa did not confirm its first coronavirus infection until Feb. 28 in Nigeria, but experts warn that rising cases could test already fragile health systems.

Prime Minister Justin Trudeau and his wife Sophie Gregoire-Trudeau attend the Remembrance Day ceremonies at the National War Memorial Ottawa, on Nov. 11, 2015. (Annie Wu/Epoch Times)
Wife of Canadian Prime Minister Justin Trudeau Tests Positive
The wife of Canadian prime minister Justin Trudeau has tested positive for the novel coronavirus.
The prime minister's office said in a statement released Thursday night: "Following medical recommendations, Sophie Grégoire Trudeau was tested for COVID-19 today. The test came back positive," Canada's Global News reported.
The statement added, "She [Sophie] is feeling well, is taking all the recommended precautions, and her symptoms remain mild."
Both the prime minister and Mrs. Trudeau are in isolation for the disease.
First Case Detected at UN Headquarters
The United Nations New York headquarters has detected its first case of the virus after a diplomat with the Philippines mission tested positive on Thursday, according to Reuters.
"As of today, the Philippine Mission is in lockdown, and all personnel are instructed to self-quarantine and to seek medical attention should they develop the symptoms. We are assuming that all of us have been infected," wrote Philippines acting U.N. Ambassador Kira Azucena, according to a note sent to U.N. missions seen by Reuters.
The infected diplomat was last known to be at the U.N. headquarters on Monday for a period of about half an hour before she started noticing flu-like symptoms on Tuesday and contacted the doctor who proceeded with testing for the virus.
The Filipino mission is on 5th Avenue in Midtown Manhattan.
Mormon Church Cancels Services Around the World
The Church of Jesus Christ of Latter-day Saints is suspending all worship services around the world due to the spread of the COVID-19 coronavirus, it said in a statement on Thursday night.
The Salt Lake City, Utah-based group made the decision just hours after the state's governor recommended against all group gatherings of more than 100 people for at least two weeks.
"Beginning immediately, all public gatherings of Church members are being temporarily suspended worldwide until further notice," the Mormon church wrote in a statement. That includes conferences and large gatherings, public church services, and branch activities.
National Hockey League Freezes Play
National Hockey League (NHL) commissioner Gary Bettman has announced that this season's play will be put on hold in line with efforts to prevent the spread of the novel coronavirus.
In a statement, Bettman said, "In light of ongoing developments resulting from the coronavirus, and after consulting with medical experts and convening a conference call on the Board of Directors, the  National Hockey League is announcing today that it will pause the 2019-2020 season beginning with tonight's games.
Given that the league's players share many facilities and locker rooms with the NBA, which recently had a player test positive for the virus, "it is no longer appropriate to try to continue to play games at the time," Bettman said.
Arsenal Head Coach Tests Positive for Virus
Arsenal said in a statement that its head coach Mikel Arteta has tested positive for COVID-19.
The club has closed its London Colney training center after the test results.
"Arsenal personnel who had recent close contact with Mikel will now self-isolate in line with Government health guidelines," the statement read. "We expect this to be a significant number of people from Colney, including the full first-team squad and coaching staff, as well as a smaller number of people from our Hale End Academy, which we have also temporarily closed as a precaution.
"We expect those who did not have close contact with Mikel to return to work in the coming days. In the meantime, our Colney and Hale End training centers will undergo a deep clean, and our other club sites are operating as normal."
Raul Sanllehi, head of football, added: "Mikel and the full first-team squad, players and staff, will be fully supported, and we look forward to getting back to training and playing as soon as medical advice allows. Obviously, Mikel's full recovery is the priority now for us all."

Fernando Alonso drives into parc ferme after winning the Chinese Formula One Grand Prix at the Shanghai International Circuit in Shanghai, China on April 14, 2013. (Vladimir Rys/Getty Images)
Formula One's Australian Grand Prix Called Off
The Australian Formula One Grand Prix was canceled on Friday due to worries about the coronavirus outbreak after a McLaren team member tested positive before the first practice session was scheduled to get underway at Albert Park.
"At 9 a.m. today, the Australian Grand Prix Corporation (AGPC) was advised by Formula 1 of their intention to cancel all Formula 1 activity at the Formula 1 Australian Grand Prix," the AGPC said in a statement.
"In light of this decision and updated advice this morning from the Chief Health Officer of the Victorian Government's Department of Human and Health Services, the Australian Grand Prix Corporation confirms the Formula 1 Australian Grand Prix is canceled immediately."
There were big question marks over the season-opening race after McLaren withdrew late on Thursday night when a member of their team tested positive for the virus.
The fourth round of the championship in Shanghai in April has already been postponed, while organizers of the Bahrain Grand Prix said last weekend that their race would go ahead without spectators on March 22.
Confusion reigned earlier on Friday, with fans flocking to the lakeside race-track and local broadcaster Channel Nine reporting that the AGPC chairman had said they would plow on with the race.
Hundreds of fans milled around closed entry gates before Victoria state Premier Daniel Andrews announced that none would be permitted to enter even if the race went ahead.
There was pressure from Formula One teams, with Mercedes saying they had requested organizers call it off and that they had started to pack up and leave the circuit.
Mercedes world champion Lewis Hamilton on Thursday also weighed in, saying it was "shocking" that organizers wanted to push on even with the NBA and other major sports suspending matches and competitions.
Chinese State Media Threaten the US
The Chinese Communist Party-run Global Times published an article on March 11 saying that China "could ban the export of face masks and other medical gear to America which are in acute shortage," over recent actions by the United States to restrict market access to Chinese telecommunications company Huawei, which was founded in 1987 by a former People's Liberation Army engineer.
The United States is "dramatically dependent" on China for medical supplies that include among them masks, scans, prescription drugs, and their ingredients, according to Rosemary Gibson, a senior adviser at the Hastings Center, a bioethics research institute, and the co-author of "China RX: Exposing the Risks of America's Dependence on China for Medicine."
"Our dependence is a risk to our national security," she told The Epoch Times. "For prescription drugs, 90 percent of the core ingredients, the chemicals, and other ingredients depend on China."
For March 12 updates, click here.
Bowen Xiao, Melanie Sun, Zachary Stieber, Jack Phillips, Cathy He, Mark Tapscott, the Associated Press, and Reuters contributed to this article.