The novel coronavirus that originated in Wuhan, China, and the disease it causes, COVID-19, has spread to more than 100 countries and territories around the world, killing thousands.
Below are March 16 updates. Click here for March 17 updates.
Dollar General to Make First Hour of Shopping Seniors Only
Dollar General announced it is adjusting hours during the COVID-19 coronavirus pandemic.
The company that starting on Tuesday, it is "strongly encouraging that the first hour of operations each day be dedicated solely for the shopping needs of senior customers, who are one of the groups most vulnerable to the COVID-19 coronavirus."
The stores will close an hour early to give employees the ability to clean stores and restock.
Amazon Seeks to Hire 100,000 Workers as Online Orders Spike

Amazon said on Monday that it will need 100,000 more people in new full and part-time positions across the United States to meet a surge in orders amid the new coronavirus outbreak, which has seen more people shop online.
"We are seeing a significant increase in demand, which means our labor needs are unprecedented for this time of year," Dave Clark, who oversees Amazon's warehouse and delivery network, wrote in a blog post.
The new job openings positions include delivery drivers and warehouse workers, who pack and ship orders to shoppers, Amazon said.
McDonald's Will Shut Down Dining Rooms
McDonald's announced on Monday that it close seating areas in all of its company-owned restaurants in the United States in an attempt to limit the spread of the coronavirus, coming after President Donald Trump urged Americans to avoid crowds of 10 or more people.
The firm said that it will use its drive-through, take-out, and delivery services in lieu of the closures.
SAT, ACT Exams Postponed Due to Coronavirus
High school students across the United States once again find their academic plans interrupted, as key college entrance exams are being postponed because of the coronavirus outbreak.
The College Board wrote on Twitter that the May 2 SAT and SAT Subject Tests as well as the March makeup exams have been canceled.
"In response to COVID-19, we're canceling the May 2 SAT, as well as March makeup exams," said the New York-based testing company, adding that registered students will receive a refund.  "We will provide additional SAT testing opportunities as soon as feasible in place of canceled administrations."
CCP's Demands for Chinese People's Gratitude Has Met With Backlash
More than 40 days after Wuhan started its lockdown, Wang Zhonglin, secretary of the Wuhan municipal committee of the Chinese Communist Party (CCP), said in a televised briefing from the epidemic prevention and control headquarters that "gratitude education" would be carried out for citizens in the city.
"Grateful to the general secretary, grateful to the Communist Party, listen to the Party's words, go with the Party," he said.
The ludicrous demand sparked a backlash online, forcing the CCP's official media to take down the story.
Here's how Wuhan's residents responded.
Dow Plunges Nearly 3,000 Points Amid Coronavirus Market Shock

The stomach-turning ride on financial markets continued on March 16, with Wall Street suffering its biggest drop since the coronavirus crisis began, as the central bank stimulus failed to ease investor anxiety over the outbreak's impact on the U.S. economy.
China Emphasizes Threat of Imported Coronavirus Cases in Latest State-Media Narrative
After downplaying the severity of China's epidemic, the Chinese regime has begun focusing its attention on imported cases of the novel coronavirus; in other words, patients who arrive in China after becoming infected with the virus while outside China.
State media emphasized the threat of imported cases, while Beijing launched new legal guidelines on March 16 to punish anyone who imports the virus into China.
The regime's official figures claim that there are now more imported cases than new domestic infections.
Pompeo Condemns Beijing's Coronavirus Disinformation in Call With Top Chinese Diplomat

Secretary of State Mike Pompeo raised "strong U.S. objections" to Beijing over the Chinese regime's efforts to shift the blame for the coronavirus pandemic, days after a top Chinese official promoted a conspiracy theory about the virus' origin.
In a March 16 phone call with China's top foreign affairs official, Yang Jiechi, Pompeo stressed "this is not the time to spread disinformation and outlandish rumors, but rather a time for all nations to come together to fight this common threat," a State Department statement said.
Chinese foreign ministry spokesperson Zhao Lijian has been one of the highest Chinese officials pushing the unfounded allegation that the virus originated in the United States and was later introduced to the central Chinese city of Wuhan, the outbreak epicenter.
"When did patient zero begin in [sic] U.S.? How many people are infected? What are the names of the hospitals?" Zhao, known for his often-confrontational social media posts, wrote in both Chinese and English last week on Twitter, a platform that is banned in China.
"It might be [sic] U.S. army who brought the epidemic to Wuhan. Be transparent! Make public your data! U.S. owe [sic] us an explanation," he continued.
LA Sheriff's Office Releasing Some Inmates From Jail
The Los Angeles County Sherrif's Office announced it will release some inmates in an attempt to mitigate the spread of the coronavirus after several sheriff's office employees came into contact with people who tested positive for the new virus.
US Health Department Website Attacked

The website of the U.S. Health and Human Services was attacked amid the coronavirus pandemic, officials confirmed on Monday.
A National Security Council spokesman said in a statement to news outlets that the council became aware "of a cyber incident related to the Health and Human Services computer networks and the federal government is investigating this incident thoroughly."
The Health and Human Services (HHS) website and other federal networks "are functioning normally at this time," he added.
San Francisco to 'Shelter in Place,' Says Mayor
San Francisco and several nearby California counties were directed to shelter in place starting 12:00 a.m. on Tuesday until April 7, in an attempt to contain the COVID-19 outbreak.
"Effective at midnight, San Francisco will require people to stay home except for essential needs. Necessary government functions & essential stores will remain open. These steps are based on the advice of public health experts to slow the spread of COVID19," San Francisco Mayor London Breed announced.
The same rule applies Santa Clara, San Mateo, Marin, Contra Costa, and Alameda counties, which are located in the San Francisco Bay Area, Breed said, according to officials, reported The Associated Press.
Google Launches Website Directing People to Coronavirus Testing Sites
Google's parent company launched a website late Sunday meant to direct people to coronavirus testing locations if they meet certain criteria.
The website, launched by Verily, owned by Alphabet, is at this time only for people living in the San Francisco Bay Area, with plans to roll it out nationwide in the coming weeks.
Trump Urges Americans to Avoid Gatherings of Over 10 People
— Donald J. Trump (@realDonaldTrump) March 16, 2020
President Donald Trump called on all Americans to avoid gatherings of 10 or more people for at least the next 15 days as the coronavirus continues to spread.
"If everyone makes this change, or these critical changes and sacrifices now, we will rally together as one nation and we will defeat the virus," Trump told reporters in the White House briefing room on Monday. "We're going to have a big celebration altogether."
The outbreak could last into July and August, the president said.
France Announces 15-Day Lockdown
French President Emmanuel Macron announced Monday a full lockdown of France for 15 days after a recent spike in coronavirus cases.
No family or social gatherings are allowed, people have to walk to work if they can't work from home, and local elections were canceled, the French president said in a televised address. Residents will be allowed to leave home for essential supplies and food.
People cannot stroll in the streets or in the park, and public transportation is now limited, Macron said. Residents need to stay home unless it's absolutely necessary to leave, he said.
"We are at war," Macron said of the new measures. It's a "health war," and the "enemy is here," he said. The lockdown will start on Tuesday at 12 p.m. local time.
Maryland Orders Bars, Restaurants, and Gyms to Close
Maryland officials announced a raft of measures to try to stem the spread of the new coronavirus, including an order to close bars, restaurants, and gyms and a ban on gatherings of more than 50 people.
Canada Shuts Borders, Tells People to Stay at Home
Canada closed its borders to all foreign nationals, except U.S. citizens, on Monday, and Prime Minister Justin Trudeau urged people to stay at home to help stem the spread of the new coronavirus.
"We will be denying entry into Canada to people who are not Canadian citizens or permanent residents," Trudeau said outside his house, where he's currently under quarantine for the virus. His wife, Sophie Gregoire, tested positive for COVID-19, although Trudeau has shown no symptoms.
Border restrictions won't apply to trade or commerce, he said.
Canada had about 375 cases as of Monday afternoon.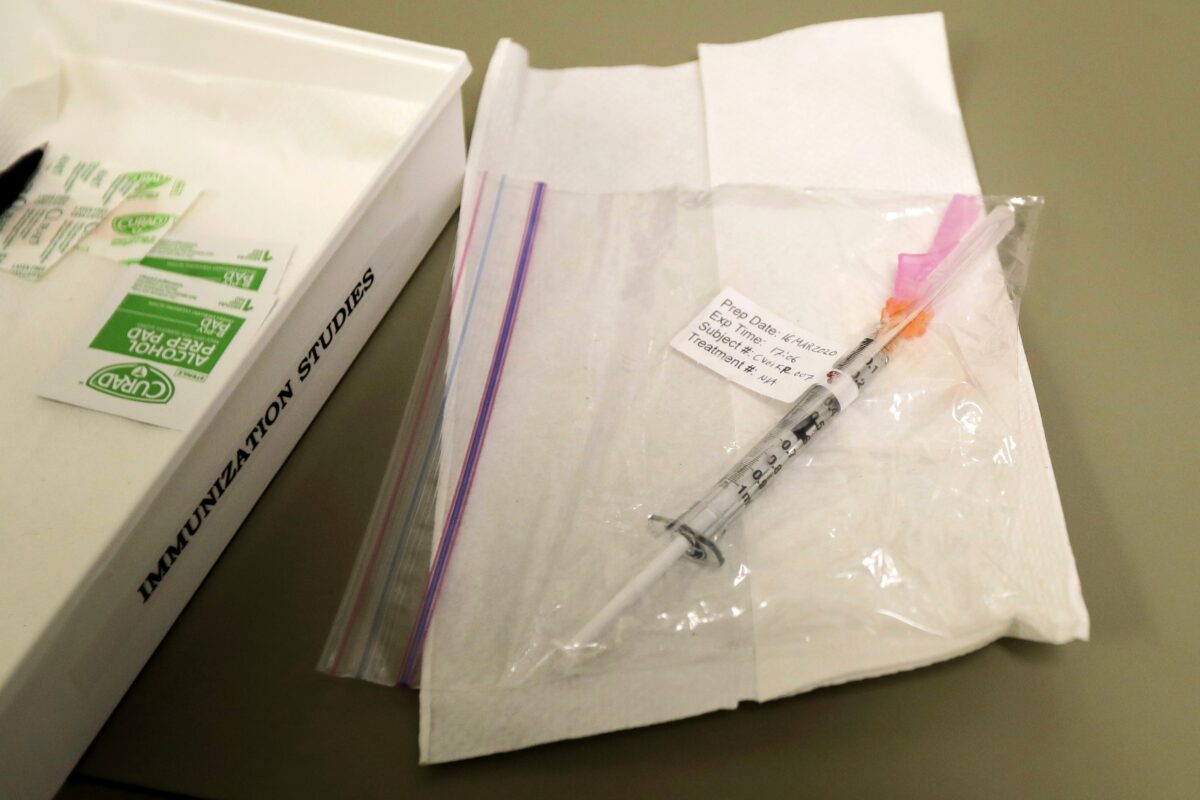 First Vaccine Trial in US Starts
The first patients in a coronavirus vaccine trial in the United States received doses on Monday about two weeks after recruitment for the study started.
Scientists at the Kaiser Permanente Washington Research Institute in Seattle jabbed Jennifer Haller, a 43-year-old mother of two who lives in Seattle, as several other volunteers waited in line.
"We all feel so helpless. This is an amazing opportunity for me to do something,"  Haller said.
Even if the research goes well, a vaccine wouldn't be available for widespread use for 12 to 18 months, said Dr. Anthony Fauci, director of the National Institute of Allergy and Infectious Diseases at the National Institutes of Health.

UK's Johnson: Stop Social Contact
British people need to stop non-essential social contact and avoid clubs, pubs, theaters, and all unnecessary travel as the coronavirus outbreak accelerates towards the fast growth phase, Prime Minister Boris Johnson said on Monday.
Johnson had faced a backlash after his government took a less stringent approach to tackling the virus than countries such as Italy, France, and Spain which have effectively locked down much of Europe.
In a sharp toughening of Britain's approach to the outbreak, Johnson effectively closed down much of the remaining social life in the world's fifth-largest economy.
"Now is the time for everyone to stop non-essential contact with others and to stop all unnecessary travel," Johnson said at a news conference in Downing Street. "You should avoid pubs, clubs, theatres and other such social venues."
When asked if he was ordering pubs, clubs, and theaters to close, Johnson said he was not but that he hoped the venues would take a responsible approach. The limits on social contact could last for months or at least weeks, Chief Medical Officer for England Chris Whitty said.
He said anyone with symptoms of the coronavirus should isolate along with their entire household for 14 days. Working from home, he said, should begin in earnest.
"We need people to start working from home where they possibly can," Johnson said.
Sterling fell to its lowest against the U.S. dollar since October while Johnson was speaking, down two-thirds of a cent on the day.
"This is unlike 2008, there isn't a systemic problem within the economy," Johnson said. "If we can get the disease under control… then there is absolutely no reason why economies worldwide should not come roaring back."
Brothers Who Stockpiled Hand Sanitizer Make Large Donation
Two American brothers who stockpiled hand sanitizer donated 17,700 bottles.
Tennessee authorities said they would investigate Matt Colvin after he was profiled in The New York Times, which reported that Colvin admitted that he and his brother, Noah, traveled to stores around Tennessee and Kentucky to procure the products before selling them for a much higher price on Amazon and eBay. However, according to Colvin, the two websites banned him after he sold a few dozen for a higher markup.
Colvin said that he and his brother donated their stockpile of hand sanitizer after the backlash. After their account went viral, the Tennessee attorney general's office sent Colvin a cease-and-desist letter and said it would investigate.

Hospitals Delay Surgeries During Pandemic
To prepare for a potential influx of coronavirus patients, hospitals across the United States are moving to cancel some surgeries and non-urgent care, as the global pandemic spreads nationwide.
The U.S. death toll from the outbreak rose to 65 over the weekend, prompting fears U.S. hospitals will soon be overrun similar to medical centers in Italy, which recorded 368 more deaths from the coronavirus outbreak on Sunday, its biggest one day rise.
As badly impacted countries visibly struggle to cope with the outbreak, U.S. hospitals are making adjustments in preparation for a possible surge of COVID-19 patients. The Wuhan coronavirus, which emerged from China late last year, causes the disease called COVID-19.
Early US Patients Have Recovered
Patients across the United States who earlier tested positive for the new coronavirus have fully recovered.
Maryland's first three patients have fully recovered after becoming infected while on a cruise on the Nile River.
"I'm happy to report that the first three cases reported last Thursday have all been cleared to return back to their normal daily schedules," Montgomery County Health Officer Dr. Travis Gayles said in a video update.

Merkel to Germans: Let's Get Through Situation Quickly
Germany announced unprecedented plans on Monday to close most shops, limit restaurants' opening hours, and ban religious services to try to slow the spread of the coronavirus.
The decision took Germany a step closer to a total lockdown similar to those implemented in Italy and Spain, where most people have been confined to their homes.
Announcing the measures—particularly sensitive in a country that defends its civil liberties assiduously due to its memories of totalitarian rule under the Nazis and, in East Germany, the Communists—Chancellor Angela Merkel asked for citizens' cooperation.
"The better everyone sticks to these rules, the faster we'll get through this phase," she told a news conference. "And I think we all want to get through this as quickly as possible."
The virus has infected some 6,700 people and killed 14 in Germany so far. It is also taking its toll on the economy, Europe's biggest, ending hopes of a first-quarter upswing and weighing heavily on the outlook until at least the third quarter.
Under guidelines agreed by the federal government and state governments, bars, clubs, theaters, zoos, and brothels must close. Gatherings in churches, mosques, or other religious establishments, and in sports and social clubs must also cease.
Grocery stores, pharmacies, banks, and delivery services can remain open, the government said, but restaurants may open only between 6 a.m. and 6 p.m. Schools have already been closed.
Merkel said it was crucial to slow the spread of the virus so that the number of acute cases at one time never exceeded the capacity of Germany's healthcare system to treat them.
"There is no sense in closing a school and then have the same gathering of children move to the playground instead," she said. "We want to avoid having these areas of close contact."
New Trial on Arthritis Drug to Start
A newly announced trial will analyze the effects of an existing drug on patients with severe cases of COVID-19, the disease caused by the new coronavirus from China.
Sanofi and Regeneron Pharmaceuticals announced the trial of Kevzara, or sarilumab, on patients hospitalized with severe COVID-19.
Kevzara is typically used to treat rheumatoid arthritis. The antibody inhibits the interleukin-6 (IL-6) pathway by binding and blocking the the IL-6 receptor.
The pathway might be driving the overactive inflammatory response in the lungs of patients who are severely or critically ill with COVID-19 infection, according to the companies.
Greenland Reports First Case
The government in Greenland has reported the first confirmed coronavirus case on the world's largest island.
The government said Monday that the infected individual was in isolation at home in Nuuk, Greenland's capital.
Prime Minister Kim Kielsen said during a news conference: "Now, we need to assess how to react." He urged residents of the Arctic island to limit their travel.
Kielsen says there are no immediate plans to shut down schools. Greenland is an autonomous territory of the Danish Realm with a population of 56.000.
NY, New Jersey, Connecticut to Shut Down Restaurants, Bars
The governors of New York, Connecticut, and New Jersey announced measures to curb the spread of the coronavirus, including no gatherings or crowds of 50 or more people.
Meanwhile, movie theaters will close starting at 8 p.m. on Monday, casinos will close at 8 p.m. on Monday, gyms will close at 8 p.m. and bars and restaurants will shut down at 8 p.m. Monday and offer only takeout and delivery services, the Govs. Andrew Cuomo, Phil Murphy, and Ned Lamont.

France Struggling to Curb Spread of Virus: Health Official
France is struggling to curb the spread of the coronavirus pandemic in the country, its top health official Jerome Salomon said on Monday, as authorities consider whether to implement a partial lockdown.
Salomon expressed his regret that many Parisians had ventured out in large numbers on Sunday despite official advice to stay at home and a government shutdown on bars and restaurants around the country.
"A lot of people have not understood that they need to stay at home, and this low level at which people have adhered means that we are not succeeding in curbing the outbreak of the epidemic," Salomon told France Inter radio.
He added it would be "catastrophic" if France were to reach a stage on deciding whether to save the lives of certain patients over that of others.
"This morning, I appeal to all French people to mobilize in the fight," he said.
The number of deaths in France from the coronavirus increased by more than a third on Sunday to 127 and over 5,400 have been infected.
Sources said on Sunday that France is preparing an order that would put its inhabitants under partial lockdown to combat the pandemic, a move that would further tighten restrictions on public life.

Number of Cases in Spain Surpass South Korea
Spain has become the fourth most virus-infected country in the world, surpassing South Korea with a sharp curve of contagion, and closing its borders is a "real possibility" being considered.
The topic will be discussed by European Union members on Monday, according to the country's interior minister.
Coronavirus cases in Spain rose by roughly 1,000 cases in 24 hours to 8,744 on Monday, and the number of fatalities reached 297.
Minister Fernando Grande Marlaska said a total lockdown could be the next step, after deploying the army to the streets and to clean train stations, ordering 46 million to stay at home and taking over control of private hospitals.
Portugal and Spain have already agreed to halt tourism across their 1,200-kilometer (750-mile) shared border. Goods and workers will still be allowed in and out. About half of the deaths have been in the capital, Madrid.
Hungary Closes Borders
Hungary's prime minister says the country is closing its borders to foreigners and only citizens will be allowed in. Prime Minister Viktor Orban said Monday in Parliament that international coordination about the border closures is underway.
Orban also said all bars, restaurants, and shops will have to close daily at 3 p.m., with only food stores, pharmacies, and drug stores allowed to stay open longer.
Cinemas, cultural institutions, and nightclubs will also be closed, while sporting events can still be held if organizers assume responsibility, but only without spectators.
Schools were closed to students on Monday, with distance learning programs starting to be implemented.
So far, 30 people in Hungary have been infected, with one virus-related death.
Fiat Chrysler Suspending Production Across Europe
Car manufacturer Fiat Chrysler said it was suspending production across most of its plants in Europe.
"The temporary suspension, which will be in effect through March 27, 2020, continues the implementation of a comprehensive set of actions in response to the COVID-19 emergency and enables the Group to effectively respond to the interruption in market demand by ensuring the optimization of supply," the carmaker said in a statement.
Six plants in Italy will be closed, along with one in Serbia and one in Poland.
The number of COVID-19 cases in Italy has exploded in recent weeks. The country has the highest number of deaths outside China, where the outbreak first started.

Cases in US Will 'Spike:' White House Task Force Official
The United States will begin to see a "spike" in confirmed coronavirus cases as the nation ramps up its testing this week, the White House coronavirus response director warned on March 15.
"For those of you who watched China, and China reporting, remember when they changed their definition and all of a sudden there was a blip in their curve? We are going to see that," Dr. Deborah Birx said at a briefing by the White House Coronavirus Task Force on Sunday.
Birx said that the United States will see a surge in cases of the novel coronavirus as "more and more people have access" to the tests this week.
Los Angeles Shuts Bars and Restaurants
Los Angeles Mayor Eric Garcetti issued an executive order on Sunday night to close bars, nightclubs, entertainment venues, and gyms until at least March 31.
Officials said that any restaurant, bar, or cafe selling food will only be able to do so via delivery or take-out.
Grocery stores are to remain open.

Closures Announced for Casinos, Resorts on Las Vegas Strip
Big resorts on the Las Vegas Strip have announced closures Sunday in response to the nationwide effort to contain the fast-spreading disease COVID-19.
MGM Resorts and Wynn Resorts announced they were closing their hotels and casinos.
MGM Resorts said in a statement that its temporarily closure would be in place "until further notice" and that no new reservations would be taken until May 1.
"Despite our commitment to dedicating additional resources for cleaning and promoting good health, while making difficult decisions to close certain aspects of our operations, it is now apparent that this is a public health crisis that requires major collective action if we are to slow its progression," Jim Murren, Chairman and CEO of MGM Resorts said in a statement.
"Accordingly, we will close all of our Las Vegas properties as of Tuesday, March 17, for the good of our employees, guests, and communities.
"We must all do our part to curtail the spread of this virus," Murren said.
"We will plan to reopen our resorts as soon as it safe to do so and we will continue to support our employees, guests, and communities in every way that we can during this period of closure."
Wynn resorts announced a two-week closure of its two luxury hotel-casinos from Tuesday.
The resort said it would reevaluate the situation after two weeks.
Senator Lindsey Graham Cleared
Senate Judiciary Committee Chairman Lindsey Graham (R-S.C.) said on Twitter that he has been cleared of the novel coronavirus by the head of the House Physicians Office.
Graham was one of several lawmakers who went into self-quarantine after contact with a Brazilian delegation that spent time in Florida.
CDC Urges Against Gatherings of More Than 50 People
The Centers for Disease Control and Prevention (CDC) has announced new guidelines effective immediately for social events, asking Americans to "cancel or postpone" in-person gatherings with more than 50 people for the next eight weeks.
"Large events and mass gatherings can contribute to the spread of COVID-19 in the United States via travelers who attend these events and introduce the virus to new communities," the announcement said.
It listed the following social events, planned by organizations, communities, or individuals, as among those that may be affected: conferences, festivals, parades, concerts, sporting events, weddings, and other types of assemblies.
"This recommendation does not apply to the day to day operation of organizations such as schools, institutes of higher learning, or businesses," the CDC added.

New York City Mayor Orders Restaurants, Bars, Theaters Closed
Mayor Bill de Blasio on Sunday said he was ordering the city's famed restaurants, theaters, bars, and movie houses closed in an effort to slow the spread of the coronavirus.
Any restaurant, bar, or cafe selling food will only be able to do so via delivery or take-out, according to the mayor.
"The virus can spread rapidly through the close interactions New Yorkers have in restaurants, bars, and places where we sit close together," de Blasio said. "We have to break that cycle."
The mayor said it was not a decision he was taking lightly.
Australian Supermarket to Hold Elderly-Only Shopping Hour
Australia's Woolworths supermarket will open its doors exclusively to the elderly and people with disabilities for a dedicated shopping hour, after panic buying due to the coronavirus stripped shelves of essential items.
Most of its supermarkets across the nation will open to the vulnerable only from 7 a.m. to 8 a.m. beginning on Tuesday.
South Korea Designates Regions Hit Hardest as Disaster Zones
South Korea on Sunday reported 76 new coronavirus cases and three deaths, marking the first time in over three weeks that new cases have dropped to double-digits, as President Moon Jae-in declared the hardest hit provinces "special disaster zones."
It is the first time South Korea has declared a region a disaster zone from an infectious disease, and under the status the government can subsidize up to 50 percent of restoration expenses and exempt residents from taxes and utility payments.
Zachary Stieber, Melanie Sun, Katabella Roberts, Jack Phillips, Tom Ozimek, Isabel Van Brugen, Reuters, the Associated Press, and AAP contributed to this article.