This page has updates from Feb. 10. For updates from Feb. 11, click here.
Trump: US in Great Shape, Xi Confident
U.S. President Donald Trump said the United States is doing well in the fight against the coronavirus.
"We're in great shape," the president said on Feb. 10 in Washington. "We have 12 cases, 11 cases, and many of them are in good shape now."
Trump, who formed a coronavirus task force in late January, said China "is doing a good job" combating the virus, which started in December 2019.
Trump recounted speaking with China's leader, Xi Jinping, over the weekend, saying Xi "feels very confident" and feels that "by April, or during the month of April, the heat, generally speaking, kills this kind of virus, so that would be a good thing."
Some experts have noted that viruses prefer cool and dry weather and are less prevalent amid warmer temperatures. Stephen Morse of Columbia University's Mailman School of Public Health, an epidemiologist and expert on emerging infectious diseases, told STAT last week that the coronavirus could become a pandemic, settle down into a respiratory illness, and come back seasonally.

USPS: Mail Restrictions Implemented
The U.S. Postal Service announced that it will be "temporarily suspending the guarantee on priority mail express" to China or Hong Kong over airline cancellations and other restrictions that were implemented due to the spread of coronavirus.
The suspensions will go into effect starting Feb. 10, according to an alert posted by the Postal Service on its website.
The agency didn't offer any further details.
Hong Kong Apartment Building Evacuated
Officials in Hong Kong have evacuated a high-rise residential building where two residents contracted coronavirus on separate floors.
Dr. Wong Ka-Hing, the head of the territory's Center for Health Protection, said at a press conference on Tuesday local time that the government is investigating the suspected environmental transmission of the new virus related to two cases in the building.
Health officials said the evacuation was implemented after a 62-year-old woman in Room 7 on the third floor of Hong Mei House at Cheung Hong Estate became infected, becoming the 42nd case in Hong Kong, according to the South China Morning Post.
A man who lived several floors above her on the 13th floor of the building was also confirmed to have been infected with the virus days earlier, officials said. They said their apartments share the same drainage system added that the system is being investigated as a possible method of transmitting the virus.

Companies Drop Out of Big Tech Show in Spain
Sony and Amazon were among the companies to pull out of a major technology show scheduled to take place in Barcelona, Spain starting on Feb. 24.
Sony said in a statement that it was closely monitoring "the evolving situation following the novel coronavirus outbreak."
"As we place the utmost importance on the safety and wellbeing of our customers, partners, media and employees, we have taken the difficult decision to withdraw from exhibiting and participating at MWC 2020 in Barcelona, Spain," it said.
Instead, Sony will reveal new products through a press conference streamed on YouTube.
Amazon said over the weekend it was withdrawing "due to the outbreak and continued concerns about novel coronavirus." NTT DoCoMo, a Japanese company; software company Amdocs; and telecommunications manufacturer CommScope have also backed out.
GSMA, the organizer of the Mobile World Congress, said Sunday it was "moving ahead as planned" with the event.

WHO Advance Team Arrives in China
An advance team of experts organized by the World Health Organization (WHO) arrived in China to help efforts against the new coronavirus, the organization's head told reporters on Monday.
The arrival came after Chinese authorities rebuffed offers of assistance in studying the virus for around a month.
The virus started in Wuhan in December 2019.
The advance team, led by Canadian doctor Bruce Aylward, departed for China on Sunday.
Number of Infected Patients on Cruise Ship Surges
Sixty-five more people tested positive for the novel (new) coronavirus on the quarantined cruise ship in Japan, Japanese health officials said on Monday.
There are now 135 confirmed cases among 3,700 passengers and crew.
The test results from patients aboard the Diamond Princess were confirmed by the Japanese Ministry of Health, the cruise ship operator said in a statement, adding it is following the agency's "disembarkation protocols to provide medical care for these new cases."
Of the new cases, 45 are Japanese, 11 are American, four are Australian, and three are Filipino, Princess Cruise Lines said. The three others are from Canada, Britain, and Ukraine, respectively. After the operator said 66 cases were confirmed, Japan's Ministry of Health said one patient may have been counted twice.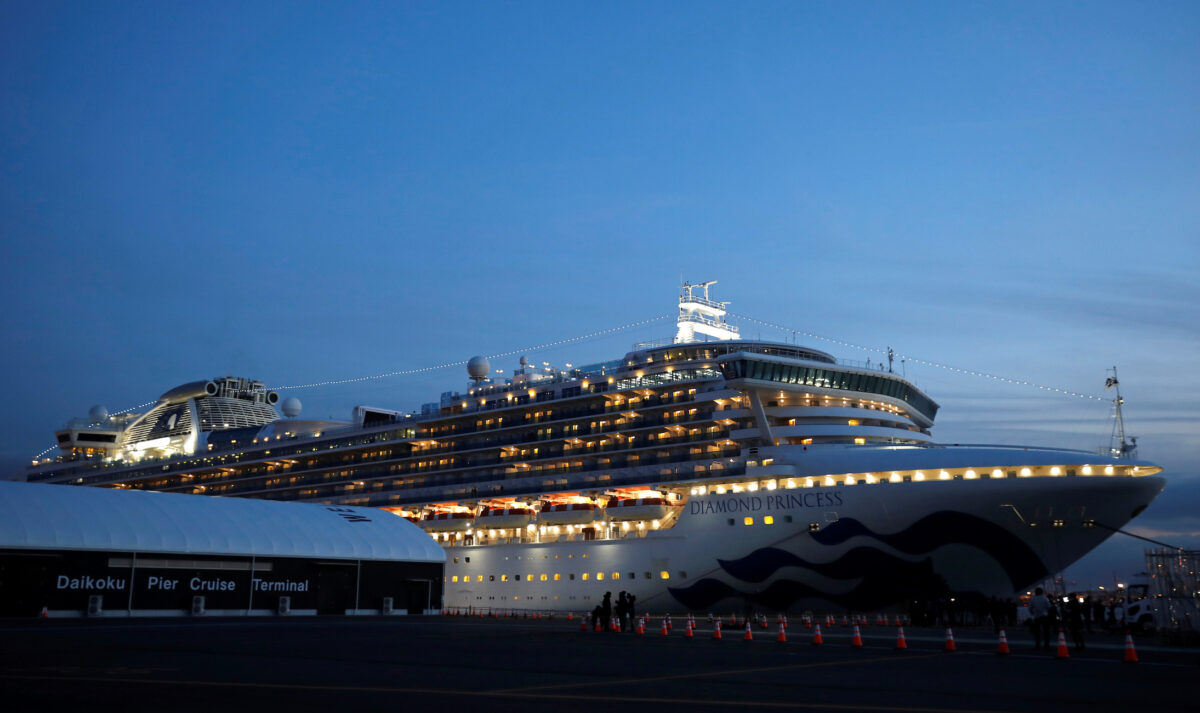 Hong Kong and UK Report New Cases
Two new cases of coronavirus have emerged in Hong Kong, according to Chuang Shuk-kwan, head of the Communicable Disease Branch of the Center for Health Protection, bringing the city's total to 38.
One patient is a 55-year-old woman, the aunt of a 24-year-old infected man. They both took part in a hotpot meal at a local restaurant last month for a family gathering. Aside from the two, eight other members of the same family have already tested positive.
Another patient is a 69-year-old man who has no recent travel history to China. The man, who was hospitalized on Feb. 9, is now in critical condition.
In the UK, the Department of Health and Social Care announced in a statement on Feb. 10 that four new patients had tested positive for the virus, bringing the national total to eight.
The statement said: "The new cases are all known contacts of a previously confirmed UK case, and the virus was passed on in France.
"The patients have been transferred to specialist NHS centers at Guy's and St Thomas's and the Royal Free hospitals."

UK Government Declares Coronavirus a 'Serious and Imminent Threat'
UK Health Secretary Matt Hancock announced on Monday that the new coronavirus is a "series and imminent threat" to the public. The declaration gives the government additional powers to fight the deadly virus.
A statement from the Department of Health and Social Care said: "The Secretary of State declares that the incidence or transmission of novel Coronavirus constitutes a serious and imminent threat to public health.
"And the measures outlined in these regulations are considered as an effective means of delaying or preventing further transmission of the virus."
Currently, the UK has four confirmed cases of coronavirus.
27 Non-Chinese People Infected in China
Geng Shuang, a spokesperson for China's Ministry of Foreign Affairs, said on Monday that 27 non-Chinese people are confirmed to be infected with the coronavirus in China.
Two of the 27 have already died—a U.S. citizen on Feb. 6 and a Japanese national on Feb. 8.
Three of them have been discharged from the hospital.
A slew of countries have sent planes to evacuate citizens from Wuhan, including Kazakhstan, Australia, the United States, and Saudi Arabia.
Coronavirus Can Have 24-Day Incubation Period: Paper
China's leading respiratory expert, Zhong Nan-shan, in a research paper published on Medrxiv on Sunday, reported that the median incubation period for coronavirus was three days, the longest being 24 days.
Zhong and his team reviewed data from 1,099 patients infected with the virus from 552 hospitals in 30 provinces in China as of Jan. 29.
Researchers also said that they couldn't rule out the existence of so-called super spreaders, or people who can infect others more easily than regular sick people. In one widely cited case, a patient in a hospital in Wuhan infected 14 health care workers, Chinese officials have said.
"Our study cannot preclude the presence of 'super-spreaders,'" the paper stated.

Philippines Clears Coronavirus Patient
Local broadcaster GMA News reported on Feb. 10 that a previously infected patient, a 38-year-old Chinese woman from Wuhan, has been discharged from the hospital after testing negative for the virus, citing local health undersecretary Eric Domingo.
The woman's 44-year-old male companion was the first person to die from the virus outside of China in early February. Together, they arrived in the Philippines from China via Hong Kong on Jan. 21.
The Philippines has a total of three confirmed cases.
Partial Lockdown in Place in Shanghai
The municipal government in Shanghai announced on Feb. 10 that 13,000 residential districts in the city are now in "seal-off management," according to the government's official Weibo account, meaning that registration is required for any persons entering and leaving these districts.
People returning from areas severely affected by the virus are required to be put in isolation for 14 days.
Local officials have been asked to "strengthen their effort" to stop or send away people who have neither a job or residence in the city.

China's Capital Beijing Announces Partial Lockdown
The municipal government in Beijing announced 10 measures on Feb. 10 in an effort to better fight the spread of coronavirus.
One measure involves "seal-off management" of residential districts and villages. Local residents and locally-registered vehicles can enter residential areas only with proper identification. Non-locals and their vehicles are forbidden from entering.
Express mail delivery and food delivery will be sent to designated spots for pick up.
"Strict centralized isolation" will be enforced and the local public security bureau will step in to enforce the isolation measure for people who fail to comply, the announcement notice said.

Malaysia and Singapore Report New Cases of Human-to-Human Transmission
In Malaysia, a 65-year-old Malaysian woman has test positive for the novel coronavirus, bringing the national total to 17, according to local newspaper The Star, citing local health director-general Datuk Dr. Noor Hisham Abdullah.
The infected woman is the mother-in-law of the country's ninth confirmed case—a 41-year-old Malaysian man—who tested positive on Feb. 4 after taking part in an international conference in Singapore attended by Chinese nationals.
The woman and the man met several times, along with other family members, from Jan. 26 to Jan. 28 for Chinese New Year celebrations.
The woman tested positive on Feb. 8.
Singapore's Ministry of Health reported three additional coronavirus cases on Feb. 9, bringing the country's total to 43. None of the new cases have a recent travel history to China.
Two of the new cases involve Singaporean citizens—one 71 years old and the other 54.
The third case involves a 39-year-old Bangladeshi male national who is a Singapore work pass holder. He began having respiratory symptoms on Feb. 1 and tested positive for the virus on Feb. 8.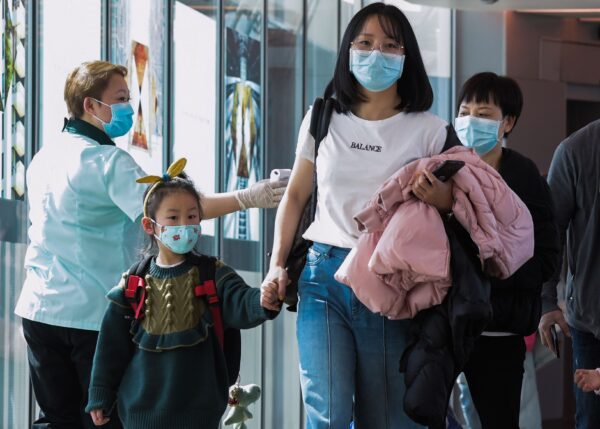 Asian Markets Fall as Coronavirus Concerns Weigh on Sentiment
Stocks and oil fell while safe-haven gold rose on Monday as China's official death toll from a coronavirus outbreak surpassed the SARS epidemic, raising alarm bells about its severity—although experts say the death toll is likely much higher.
MSCI's broadest index of Asia-Pacific shares outside Japan stumbled 0.7 percent to be on track for its second straight day of loss. Japan's Nikkei fell 0.8 percent, while South Korea's KOSPI was off 1.4 percent and Australian shares eased 0.5 percent.
The losses extended from Wall Street on Friday where the Dow fell 0.9 percent, the S&P 500 declined 0.5 percent, while the Nasdaq dropped 0.5 percent. E-mini futures for S&P 500 were down 0.3 percent on Monday.
"Expect markets to be sensitive to virus headlines. In this environment, we favor defensive positioning," ANZ economists wrote in a note.
"Markets will be sensitive to coronavirus news, as factories and ports in China reopen. The extent to which that is achievable will indicate the level of ongoing disruption," they added.
As Chinese authorities made plans for millions of people returning to work after an extended Lunar New Year break a large number of workplaces and schools are still likely to remain closed and many white-collar employees will work from home.
Worries about the hit to the world's second-largest economy has hurt investor risk appetite though confidence in China's ability to contain the epidemic has prevented sharp losses.
China's central bank has taken a raft of measures to support the economy, including reducing interest rates and flushing the market with liquidity. From Monday, it will provide special funds for banks to re-lend to businesses working to combat the virus.
Despite the measures, many of China's usually teeming cities have almost become ghost towns as authorities ordered virtual lockdowns, canceled flights, closed factories and shut schools.
On Friday, Singapore raised its coronavirus alert level and reported more cases not linked to previous infections or travel to China.
An advance team of international experts led by the World Health Organization (WHO) left for Beijing to help investigate the epidemic, the Geneva-based agency said on Sunday.
The virus has dominated broader market sentiment with better-than-expected U.S. jobs data on Friday failing to lift sentiment.
Non-farm payrolls increased by 225,000 jobs in January, with employment at construction sites increasing by the most in a year amid milder-than-normal temperatures, the Labor Department said.
Benchmark 10-year U.S. Treasury notes ticked higher to push yields down to 1.5645 perent.
Frank Fang, Zachary Stieber, Jack Phillips, and Reuters contributed to this article.