Countries around the world are taking measures to stem the spread of the new coronavirus that causes COVID-19, as the death toll continues to rise.
This page has updates from Feb. 16. For updates from Feb. 17, click here.
Top US Doctor: COVID Could Become 'Global Pandemic'
A top official at the U.S. National Institutes of Health said the outbreak of COVID-19 is on the verge of turning into a global pandemic unless efforts to curb its spread become more fruitful.
"Technically speaking, the [World Health Organization] wouldn't be calling this a global pandemic. But it certainly is on the verge of that happening reasonably soon unless containment is more successful than it is right now," Dr. Anthony Fauci, the director of the National Institute of Allergy and Infectious Diseases, told CBS News on Sunday.
As of Sunday, about two-dozen countries have more than 500 cases, he said. "Several of them, are starting to get to the second and third transmission," Fauci said, adding that a pandemic means that there are several countries with sustained transmission from "person to person to person."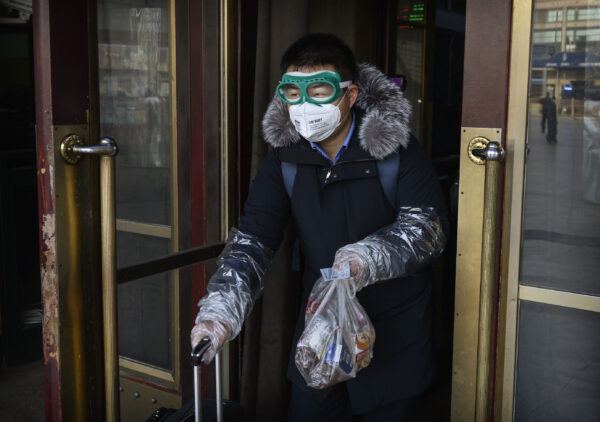 Defense Department Prepared to Receive Evacuees
The U.S. Department of Defense confirmed to news outlets on Sunday that it will receive hundreds of Americans who are being held in quarantine for COVID-19 at two military bases.
"The Defense Department is prepared to receive two Department of State-chartered evacuation flights from Japan, carrying passengers evacuated from the cruise ship Diamond Princess, currently docked in Tokyo," the Defense Department said.
One of the planes will land at Travis Air Force Base in California. The other will land at Kelly Field/Lackland Air Force Base in Texas, officials said.
Those evacuees will have to undergo a 14-day quarantine under the supervision of the Centers for Disease Control.
First Death in Taiwan
A taxi driver has died from COVID-19 in Taiwan, marking the first such death on the island and the fifth fatality outside mainland China from an epidemic that has curbed travel and disrupted global supply chains.
Health Minister Chen Shih-chung said during a news conference on Sunday that the deceased person was a 61-year-old man who had diabetes and hepatitis B. Taiwan has to date accumulated 20 confirmed cases.
The deceased person had not traveled abroad recently and was a taxi driver whose clients were mainly from Taiwanese businesspeople who were returning from visiting Hong Kong, Macau, and mainland China, the minister said. One of his family members was also confirmed to have the virus. The pair constituted Taiwan's first local transmission cases, the minister said, adding that authorities were trying to find out as soon as possible the source of contraction.
Read more here.
3 Israelis Test Positive for Virus
Three Israeli nationals on the Diamond Princess, a cruise ship that is currently quarantined at the Japanese port of Yokohama, have tested positive for COVID-19, local outlet The Times of Israel reported on Sunday, citing the Israeli health ministry.
Japanese authorities said that two of the three infected have been taken to a local hospital in Japan, the Israeli ministry learned. Several other Israeli passengers were being tested for the virus.
Israel's Health Minister Yaakov Litzman stated that a doctor was being sent to Japan to treat the Israelis and negotiations with the Japanese authorities were underway to bring back all other Israelis.
Quarantine Ends for Germans, Italy to Fly Citizens
More than 100 Germans evacuated from the hard-hit Chinese city of Wuhan, the epicenter of a new coronavirus outbreak, were set to end their prescribed 14-day quarantine period on Sunday.
They have been kept isolated at a military base in the southern town of Germersheim. None of them have tested positive for the disease, German news agency DPA reported.
Italian Foreign Minister Luigi Di Maio, meanwhile, announced Sunday that Italy will send a plane to Japan to bring back the 35 Italians aboard the Diamond Princess, the cruise ship that has had 355 passengers and crew test positive for the new virus.
The ship has been quarantined since early February. The United States also has announced plans to fly its citizens home.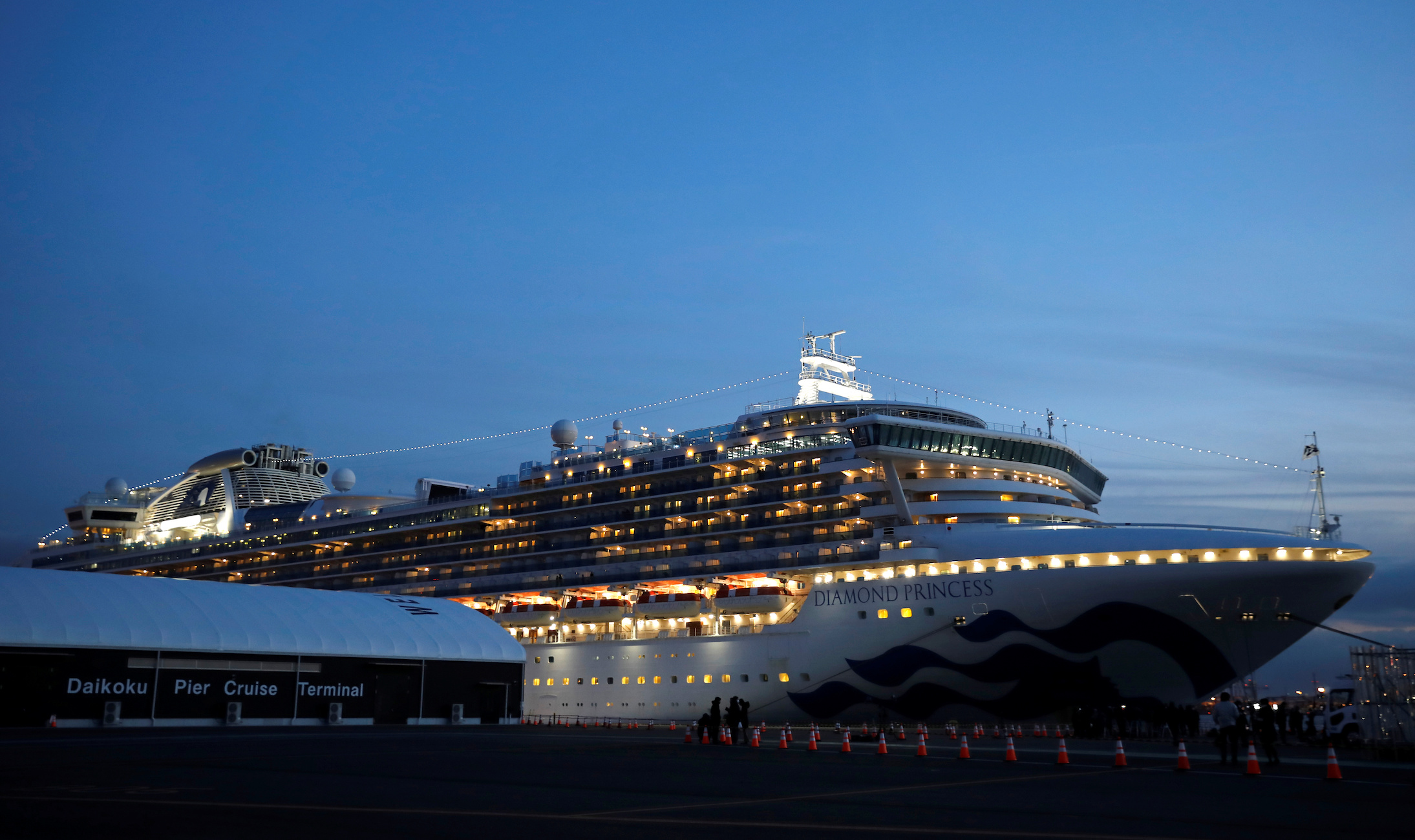 South Korea, The Philippines to Evacuate Nationals
South Korea's Minister of Health and Welfare Park Neung-hoo said on Sunday that the South Korean government was planning to bring home its citizens who have tested negative for COVID-19 abroad the Diamond Princess cruise ship, according to Reuters.
The cruise ship has been quarantined at Yokohama in Japan since Feb. 3.
Silvestre Bello III, the Filipino labor minister, said on Sunday that more than 500 Filipino crew members on the ship will be brought home, local outlet ABS-CBN reported. Eleven Filipino crew members have tested positive for the virus.
One New Infection in Hong Kong
The new case involves a 54-year-old man living in Taikoo Shing, according to Chuang Shuk-kwan, head of the Communicable Disease Branch of the Center for Health Protection. The man did not travel outside of Hong Kong recently.
With the new case, Hong Kong has 57 known infections of the novel coronavirus. Among them one has died, two have been discharged from hospital, while the remaining are still hospitalized.
Hubei Province Announces More Tightening Measures
The Hubei government, in an announcement published at 3:46 p.m. local time on Sunday, stated that the COVID-19 outbreak remains severe, and announced 15 new measures to further "strengthen" existing preventive measures.
One measure calls for 24-hour "seal-off management" for all districts, villages, and residential areas in the province. Local residents are restricted from going outside, and will have living necessities and medicine delivered to them instead.
Another measure calls for all people—either suspected of coming into contact with people infected with the virus, or those with symptoms who are suspected of contracting the virus—to be isolated at a designated location. They cannot self-isolate at home.
Pharmacies are required to take down names, addresses, ID numbers, and body temperatures of customers buying fever and cough medicine.
Districts, residential areas, and work locations are to be sealed off for 14 days if there is a single confirmed case of COVID-19. Companies are forbidden to reopen their business without obtaining permission from the local health authorities.
The provincial government will be in charge of allocating all medical supplies manufactured by key local suppliers.
Nepal Evacuates 175 Citizens from Wuhan Following Protests
Nepal on Sunday evacuated 175 of its nationals from the Chinese city of Wuhan, the epicenter of a coronavirus outbreak, an official said, after protests by parents of students studying in the city.
A plane operated by state-owned Nepal Airlines carrying 134 men and 41 women, mostly students, landed at Kathmandu's Tribhuvan International Airport before dawn, Health Ministry spokesman Mahendra Shrestha said.
All evacuees will be held in quarantine for two weeks in the nearby town of Bhaktapur.
"They will be under the close observation of doctors in quarantine and will be allowed to join their families if found healthy after two weeks," Shrestha told Reuters.
Last week parents protested in front of the Health Ministry demanding that Nepali students in Wuhan be brought home sooner. The government said delays were due to the time needed to prepare buildings to keep the returnees in quarantine.
Nepal has only one confirmed case of coronavirus so far.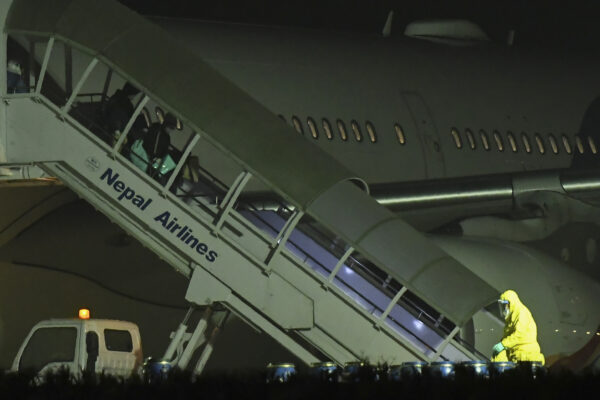 One More Briton Tests Positive in France
The latest case of the novel coronavirus in France involves a Briton who had stayed in a chalet in the Les Contamines-Montjoie resort, AFP reported on Saturday, citing local health authorities.
Last week, five UK citizens, including a 9-year-old child, tested positive for the virus after having stayed at the same lodge.
Currently, France has 12 known cases of coronavirus and one death involving an 80-year-Chinese tourist from Hubei province, the epicenter of the virus outbreak.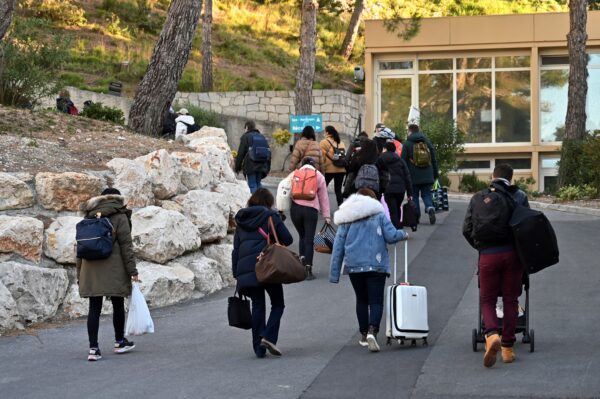 Hong Kong, Canada to Evacuate Nationals Aboard Diamond Princess
The Hong Kong government will send aircraft to Japan to bring back passengers from the quarantined cruise ship Diamond Princess, where the most coronavirus infections outside China have occurred.
In a statement late on Saturday, the Security Bureau said chartered flights would return Hong Kong residents to the city for free once Japanese authorities had confirmed the plan.
The passengers will be required to undergo a further 14 days of quarantine after arriving in Hong Kong, the bureau added.
There are around 330 Hong Kong residents on board, including 260 holding Special Administrative Region of Hong Kong passports and roughly 70 people with foreign ones.
Canada has also announced that it will organize an evacuation flight for Canadians aboard the cruise ship on Saturday.
"This decision was taken because of the extraordinary circumstances faced by passengers on the Diamond Princess and to lighten the burden on the Japanese health-care system," read a statement from the foreign ministry. "We are working closely with Carnival Cruise Lines and the government of Japan to assist in this evacuation.
"Before boarding [the evacuation flight] in Japan, passengers will be screened for symptoms," it said. "Those who exhibit symptoms of COVID-19 will not be permitted to board and will instead be transferred to the Japanese health system to receive appropriate care."
Evacuees will be transported to the NAV Canada Training Institute in Cornwall, Ontario, and stay for another 14-day quarantine period, the foreign ministry said.
Hong Kong and Canada join the United States and potentially Australia in evacuation efforts to manage the COVID-19 outbreak onboard the cruise ship.
The cruise liner's 14-day quarantine is set to end on Wednesday.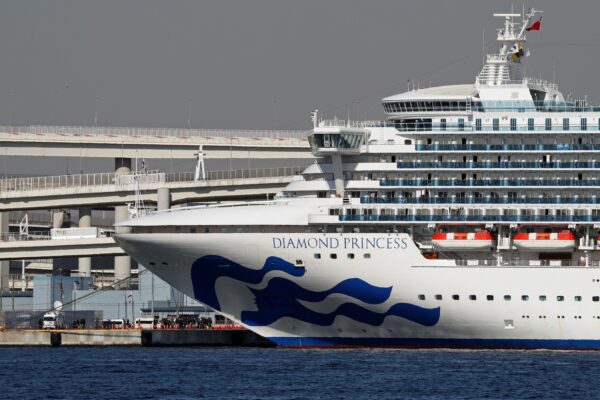 Tokyo Reports 8 New Infections
Eight people have tested positive for the novel coronavirus in Japan's capital city of Tokyo, local newspaper Japan Times reported on Saturday, citing local government officials.
Among the eight, seven had come in contact with an infected taxi driver, who tested positive for the virus on Thursday.
Japanese newspaper Mainichi Shimbun reported on Thursday that the taxi driver might have picked up a Chinese passenger, citing local health authorities.
The eighth person reported to have the virus on Saturday is a businessman in his 40s. The man did not travel to China recently.
Outside of Tokyo, there was another confirmed case of coronavirus at Saiseikai Arida Hospital, which is located in the town of Yuasa in Wakayama Prefecture, bringing the total number of cases at that hospital to three.
The case involves a surgeon in his 50s, local outlet NHK reported on Saturday. At the same hospital, one doctor and one patient have already tested positive for the virus.
Currently, Japan has 43 known cases of coronavirus.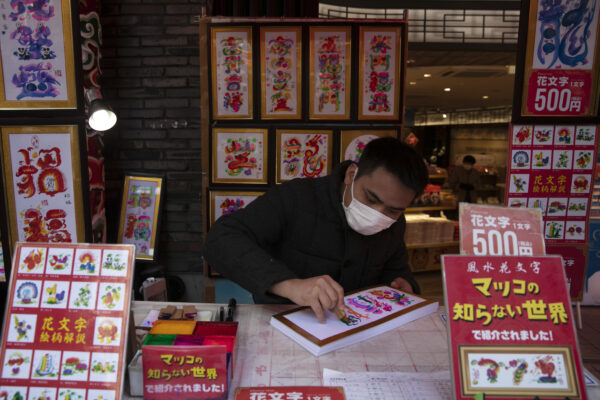 South Korea, Singapore Report New Infections
South Korea's Centers for Disease Control and Prevention announced on Sunday one new case of the novel coronavirus, bringing the country's total to 29.
The new case is an 82-year-old South Korean national who has no recent travel history outside of the country.
In Singapore, the country's total known cases of coronavirus now stands at 72 after the local Ministry of Health announced five new cases on Saturday.
None of the new patients have recently traveled to China.
Among the five, three are Singaporean nationals, aged 79, 27, and 25; one is a 26-year-old Bangladeshi national; and the last one is a 40-year-old Chinese national. The two non-Singaporeans have a local work pass.
Of the three Singaporeans nationals, two are family members of the country's 66th confirmed case, the other is someone who has come into contact with the 66th case.
Singapore's 66th confirmed case involves a 28-year-old Singaporean national who also has no recent travel history to China.
The Bangladeshi patient is among five confirmed cases from a local construction site.
The 40-year-old Chinese national had come in contact with the country's 59th confirmed case, who is a 61-year-old Singaporean national who has not recently traveled to China.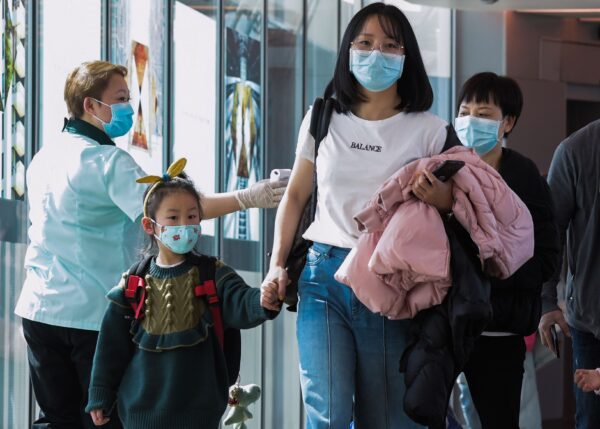 70 New Infections Detected on Cruise Ship in Japan
Japan's Health Minister Katsunobu Kato, announced 70 more cases of the novel coronavirus COVID-19 on cruise ship Diamond Prince, bringing the total number of people infected while on the ship to 355, local outlet NHK reported on Sunday.
The ship, which has been quarantined in Japan since Feb. 4, is currently docked in Yokohama.
On Saturday, Japan's Ministry of Foreign Affairs announced that it was working with the U.S. government to organize chartered evacuation flights for around 400 U.S. citizens and their family members still quarantined on the ship.
According to the U.S. Embassy in Tokyo, American passengers and crew have been notified that one chartered aircraft is due to arrive in Japan on Sunday evening.
Japan's Ministry of Foreign Affairs on Saturday said it appreciated the U.S. government's efforts to ease Japan's burden regarding the situation on the Diamond Princess.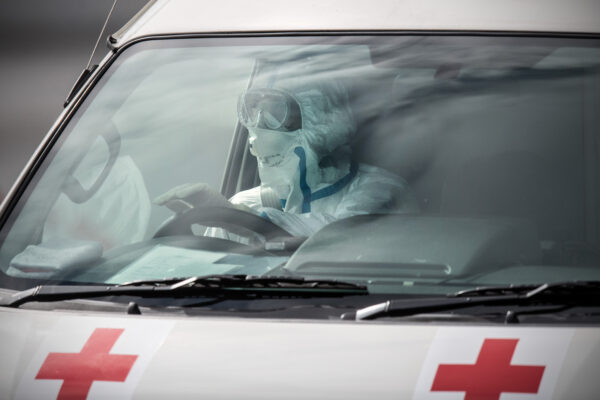 For updates from Feb. 15, click here.
Frank Fang, Melanie Sun, AP, Jack Phillips, and Reuters contributed to this report.