Countries around the world are taking measures to stem the spread of the new coronavirus, dubbed COVID-19, as the death toll continues to rise.
This page has updates from Feb. 17. For updates from Feb. 18, click here.
Evacuated Cruise Passengers Sent to Nebraska
Several Diamond Princess cruise ship passengers who were described as a "high risk," along with their spouses, were taken to Nebraska, after displaying potential COVID-19 symptoms or testing positive, said state health officials on Monday.
The Americans were taken University of Nebraska Medical Center in Omaha for isolation, said state officials in an afternoon press conference.
Christopher Kratochvil, executive director of clinical research for the Global Center for Health Security at the university, said a total of 13 people were taken to Omaha and described them as "high-risk patients."
One of the passengers was taken to a containment unit with symptoms of an undisclosed chronic condition, said Shelly Schwedhelm, the head of Nebraska Medicine's emergency department.
All of the 13 people have been tested, the officials said. "We'll have to decide … whether they will stay in their room" or be let outside, Schwedhelm said, adding that the rooms are separate.
Like other evacuees, they will have to be placed under federal quarantine for 14 days, according to the health officials.
The State Department said that 14 passengers among the more than 300 evacuated from the Diamond Princess cruise ship—which was docked off the coast of Japan and under quarantine for two weeks—tested positive for COVID-19 two or three days before.
UK Could Evacuate Citizens from Ship
UK authorities are considering evacuating 74 of its nationals on the Diamond Princess cruise ship, said a spokesperson for the Foreign Office.
"We sympathize with all those caught up in this extremely difficult situation. We are urgently considering all options to guarantee the health and safety of the British people on board the Diamond Princess, in line with the latest advice from the Chief Medical Officer and the World Health Organisation, and are working closely with the Japanese authorities and our international partners," a Foreign Office spokesperson told CNN.
"Our staff in Tokyo, including the Ambassador, have been in regular contact with the British passengers and crew on the Diamond Princess and we have also been speaking to families in the UK," the spokesperson added.
About 300 Americans have already been evacuated and were transported to military bases for further quarantine measures.
Australia, Hong Kong, and Canada have said they are planning to evacuate citizens from the cruise ship, located off the coast of Yokohama, Japan.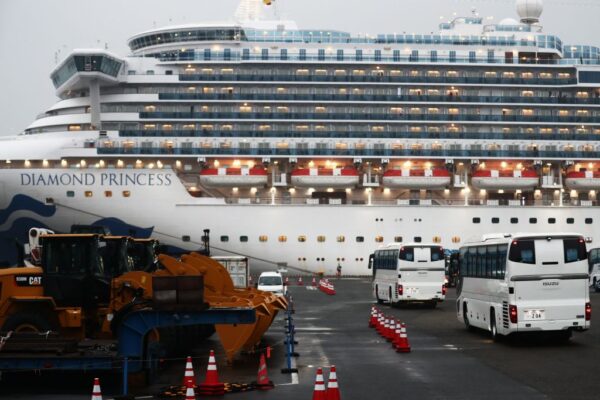 99 New Cases on Cruise Ship in Japan
Ninety-nine more people have tested positive for the Novel Coronavirus on cruise ship Diamond Princess, Japanese health authorities reported on Monday.
The announcement was made by Japan's Ministry of Health, Labor, and Welfare, after testing 504 people on the ship, according to local outlet NHK. Among the 99, 85 are passengers and 14 are crew members.
3 New Infections in Hong Kong
The Hong Kong Health Ministry has confirmed another three new COVID-19 patients.
Chuang Shuk-kwan, head of the Communicable Disease Branch of the Center for Health Protection, said on Monday that a 69-year-old retired man who lives in Tseung Kwan O has contracted the virus.
The man, who already had diabetes and high blood pressure before being tested positive for the virus, had not traveled outside Hong Kong recently. He was hospitalized on Feb. 16.
The Health Ministry later confirmed two additional cases of the virus: a 45-year-old man, who is a coworker of the 69-year-old retired man, and the wife, 46, of a patient confirmed to be infected with the virus on Sunday.
The new cases brings Hong Kong's known case total to 60.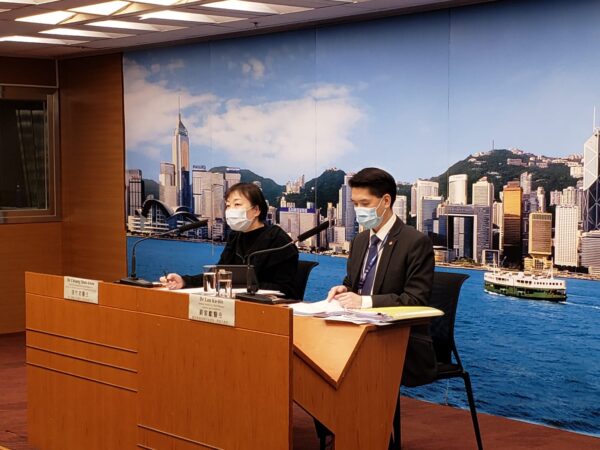 China's Legislative Meeting Could Be Delayed
The 13th National People's Congress (NPC), China's rubber-stamp legislature, could delay its upcoming annual session that is scheduled for March 5, state-run media Xinhua reported on Monday.
The annual political meeting is one of the biggest held by the Chinese regime.
The standing committee of the NPC will hold its 16th bi-monthly session on Feb. 24 in Beijing. According to Xinhua, the committee is expected to consider postponing the annual session.
Public Events Canceled in Japan
A public birthday celebration for Japanese royal leader Naruhito on Feb. 23 has been canceled, Japanese newspaper Mainichi Shimbun reported on Monday, citing the Imperial Household Agency.
Naruhito and his wife Masako and family were originally going to greet the pubic three times from a balcony of the Imperial Palace.
"We made the decision to cancel the public event at the palace, which is attended every year by many people in close proximity, after considering the risk of the virus spreading," said Kenji Ikeda, vice grand steward of the agency.
Organizers of Tokyo Marathon, one of the six World Marathon Majors, have canceled entries from the general public for the sporting event scheduled on March 1, Tokyo Shimbun reported on Monday.
About 38,000 people from the general public were scheduled to take part in the marathon.
About 200 elite athletes are still scheduled to participate.
14 Americans Infected Leaving Japan
Fourteen U.S. citizens repatriated from Japan have tested positive for the Novel Coronavirus, according to a statement from the U.S. Department of State and U.S. Department of Health and Human Services on Feb. 17.
The infected people were among over 300 U.S. citizens who were repatriated on Sunday from the cruise ship Diamond Princess, which is currently quarantined in the Japanese port of Yokohama.
"During the evacuation process, after passengers had disembarked the ship and initiated transport to the airport, U.S. officials received notice that 14 passengers, who had been tested 2-3 days earlier, had tested positive for COVID-19," the statement said.
Their flights left Japan at about 4:30 p.m. Eastern Time on Sunday, and will land at either Travis Air Force Base in California or Joint Base San Antonio in Texas on Monday morning.
The 14 infected people were isolated from the rest of the passengers on the flights.
Passengers without any symptoms of the virus will be placed under quarantine for 14 days. The 14 infected passengers and others who develop symptoms while on the flight, will be transported to a location for continued isolation and treatment.
Japan's Defense Minister Taro Kono tweeted on Monday that the Japan Self-Defense Forces helped transport 340 U.S. passengers on 14 buses from Yokohama to Tokyo's Haneda Airport.
About 380 Americans were on the Diamond Princess. 
Thailand, Japan, Philippines Report New Infections
One new case of COVID-19 has appeared in Thailand, after a 60-year-old Chinese woman tested positive for the novel coronavirus, local newspaper Bangkok Post reported on Monday, citing the local health ministry.
The woman is one of nine infected members in a Chinese family.
The new case brings Thailand's total number of known cases to 35. Among them, 15 have recovered and returned home.
In Japan, a staff member at Sagamihara Chuo Hospital, located in the city of Sagamihara, has tested positive for the virus, local newspaper The Japan Times reported on Monday, citing an announcement by the hospital.
The staff member had been caring for the 80-year-old infected woman who died last week.
Currently, Japan has 61 known cases of the novel coronavirus.
Also in Japan, 16 more Filipinos abroad the cruise ship Diamond Princess have tested positive for the virus, local newspaper Manila Bulletin reported on Monday, citing the country's department of foreign affairs.
The 16 cases brings the total number of Filipino crew members infected to 27.
The number of confirmed cases inside the Philippines remains at 3, with one death.
China Cuts Medium-Term Rate as Economic Impact of Virus Hits Asian Markets
With no end in sight for the outbreak, China's central bank cut the interest rate on its medium-term lending on Monday.
The People's Bank of China (PBOC) said it was lowering the rate on 200 billion yuan ($28.65 billion) worth of one-year medium-term lending facility (MLF) loans to financial institutions by 10 basis points (bps) to 3.15 percent from 3.25 percent previously.
The cut saw Chinese stock markets rally.
China CSI 300 erases Covid-19 slump.

Why?
* Short selling ban (in China this means the Gulag!)
* Funds need gov't approval to sell (prove an outflow)
* Record repo injections by the PBoC, rate cuts
* Xi – will cut taxes and record fiscal stimulus

Rally means all is good, right? pic.twitter.com/hCRUaEiHdZ

— Jim Bianco (@biancoresearch) February 17, 2020
#China's tech-heavy #Chinext index surged 2.4% to hit the highest in more than three years.

Shanghai Composite and Shenzhen Component are trading 1% and 1.3% higher. pic.twitter.com/RzGVX2exfR

— YUAN TALKS (@YuanTalks) February 17, 2020
The central bank attributed the move to keep banking system liquidity "reasonably ample" to counter factors including maturing reverse repos, but it did not address the specific reason for the rate move.
No MLF loans were due to mature on Monday.
The PBOC also said in the statement that it injected 100 billion yuan of reverse repos to financial institutions on Monday, when a total of one trillion yuan worth of reverse repos are due to expire.
As data from Japan and Singapore on Monday appeared on the brink of recession, many economists also expect China's economic growth to slow despite the rate cut.
Ratings agency Moody's on Monday revised China's 2020 GDP growth forecasts downward to 5.2 percent.
In Japan, the Nikkei stumbled 0.7 percent after official data showed the economy shrank in October-December at the fastest pace since the second quarter of 2014.
Singapore downgraded its 2020 economic growth forecast and is set to unveil measures to cushion the blow from the epidemic on Tuesday. Singapore Prime Minister Lee Hsien Loong said on Friday that a recession was a possibility.
Singapore has 78 cases and sees its FULL YEAR GDP falling to contraction.

China has 60k+ cases and its official est. sees just 1.5% dip in Q1 2020 (to 4.5%) and then a rebound to business as usual.

Nothing to see here, plenty of paper/toner at the Chinese central bank.

(2/2)

— Jim Bianco (@biancoresearch) February 17, 2020
Asia's woes saw Wall Street indexes scale to record highs.
Australians on Diamond Princess to be Evacuated on Wednesday
The Australian government has confirmed that it is organizing an evacuation flight with flag carrier Qantas for more than 200 Australians and some New Zealanders quarantined aboard the Diamond Princess cruise ship currently docked in Yokohama, Japan.
Australian chief health officer Brendan Murphy said that all passengers would have to undergo an additional 14 days of quarantine at a facility near given the "ongoing infections" on the ship.
"Given there has been recent cases, we cannot be absolutely sure that any of the currently well people on the ship who are coming home on Wednesday are not carrying the virus," he told reporters. "And if we cannot be sure, we have to take precautions.
"That is why we are going to take them to the Howard Springs facility in Darwin," he told reporters on Monday.
Murphy said he did not know the cause of the ongoing infections.
Second Health Official Tests Positive in Japan
A male official in his 50s working for Japan's health ministry has tested positive for COVID-19, NHK reported on Monday, citing the health ministry.
The official had worked on the cruise ship Diamond Princess from Feb. 11 to 15 to relay information on the ship to the ministry.
He developed a fever on Feb. 14 and tested positive for the virus on Feb. 16. He was hospitalized on Monday.
On Feb. 12, Japanese newspaper Mainichi Shimbun reported that a quarantine officer working on Diamond Cruize was the first health official to test positive for the virus.
The officer was taking the temperatures of passengers and collected their medical questionnaires for two days ending Feb. 4. He wore a mask at the time but did not wear protective goggles. He also disinfected his hands after seeing each passenger.
McDonald's, Starbucks Provide 'Contactless' Services in China
McDonald's in China is putting pickup orders in sealed bags and placing them in a special spot for people to pickup without any human contact, Reuters reported on Monday.
Delivery orders are being sent to building entrances for pickup, the report said, with delivery persons washing their hands frequently and disinfecting their delivery bags.
"While we look at how to further improve the process, the stepped-up preventive measures apply to all of our servicing channels," McDonald's told Reuters in a statement.
Starbucks has also introduced non-contact pickup points, asking its customers to wait outside of their stores and pick up orders from tables just inside store entrances.
Residents in One Hubei City Banned from Leaving Their Homes
The municipal government in Xiaogan, a city in China's Hubei province, announced five new measures to battle the coronavirus outbreak on its official Weibo account on Sunday.
One measure states that all residents are forbidden from leaving their homes. Residents who are sick or pregnant and in need go to the hospital should leave their homes at a determined time slot and travel on a pre-determined route. People who violate the measure will be detained for 10 days.
All vehicles, excluding those such as police cars, medical vehicles, firefighting vehicles, postal service vehicles, are forbidden from driving on the road. People who violate the ban will be detained for 10 days and be fined 500 yuan (about $70).
All pubic places must be closed down except pharmacies, supermarkets, hotels, and farmers' markets.
South Korea, Singapore, Japan Report New Infections
South Korea's Centers for Disease Control and Prevention announced on Monday a new case of the novel coronavirus, bringing the national total to 30.
The new patient, a Korean woman aged 68, is the wife of an infected man who had not recently traveled outside of the country.
Meanwhile, Singapore's Ministry of Health reported three new cases on Sunday, bringing the total on the island to 75.
Two new patients—both Singaporean nationals aged 43 and 29—also had no recent travel history to China, representing further cases of sustained human-to-human transmission. They are related to 18 confirmed cases of the virus connected to a local church.
The 43-year-old man is a regular serviceman in the Singapore Armed Forces. According to the ministry, he did not go to work after showing symptoms of the virus.
The third patient, a 71-year-old Singaporean woman, is a family member of another infected man. Both of them have no recent travel history to China.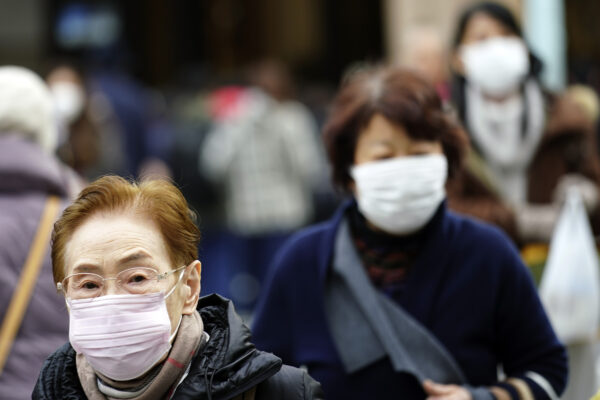 In Japan, local newspaper The Japan Times reported on Sunday six new confirmed cases—five in Tokyo and one in Aichi Prefecture, citing local authorities.
In Tokyo, two of the new patients came into contact with an infected taxi driver who tested positive on Feb. 13.
Another patient has been identified as a doctor in his 60s who works at a hospital in Tokyo's Ota Ward. He had contact with an infected nurse, according to Japanese outlet NHK.
It was unclear how the remaining two patients in Tokyo—one in his 30s and the other in his 60s—became infected.
In Aichi Prefecture, the new case involves a male resident in his 60s who came in contact with a woman living in Nagoya. The woman tested positive for the virus on Feb. 15 after returning from a trip to Hawaii. The man had not visited China recently.
Currently, Japan has 59 known cases of coronavirus.
For updates from Feb. 16, click here.
Frank Fang, Melanie Sun, and Reuters contributed to this report.