Roughly two dozen countries around the world have taken precautionary measures to stem the spread of the new coronavirus as the death toll continues to rise.
This page has updates from Feb. 6. For updates from Feb. 7, click here.
British Citizen Contracts Coronavirus Outside of China
The third confirmed case of coronavirus in the United Kingdom was not contracted inside of China, British health authorities said.
"The individual did not acquire this in the UK," England's Chief Medical Officer Chris Whitty said in a statement on Thursday.
The patient, whose gender and age weren't given, was being transferred to a National Health Service special facility.
"We are using robust infection control measures to prevent any possible further spread of the virus," Whitty said. The service was prepared to manage the confirmed cases and health workers are working on identifying any contacts the patient has had.
Whitty said that the new patient "acquired it in Asia but not in China."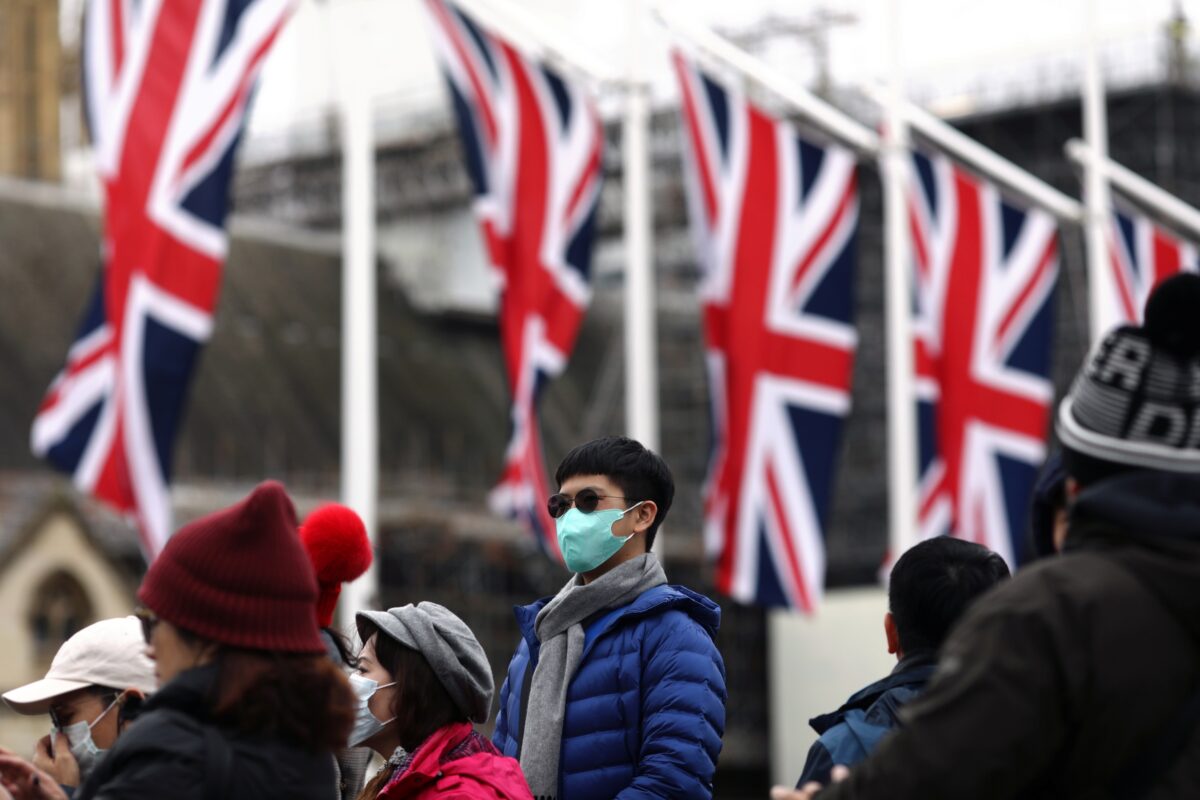 CDC Starts Shipping Test Kits
The U.S. Centers for Disease Control and Prevention (CDC) started shipping test kits to detect the new coronavirus to laboratories across the United States, as well as some labs outside the country, on Thursday.
The kits, which can perform diagnostics for 700 to 800 samples, is designed to be used with an existing test instrument commonly used to test for seasonal influenza.
The test can provide results in four hours from samples.
"Our goal is early detection of new cases and to prevent further spread of the coronavirus," CDC Director Robert Redfield said in a statement. "Distribution of these diagnostic tests to state laboratories, U.S. government partners, and more broadly to the global public health community will accelerate efforts to confront this evolving global public health challenge."
There are 12 confirmed coronavirus cases in the United States.
Bill & Melinda Gates Foundation Donates $100 Million to Improve Response
The Bill & Melinda Gates Foundation significantly upped the money its providing to bolster the response to the new coronavirus outbreak, announcing it will provide up to $100 million.
The foundation said the money would help the global response to the virus, which started in Wuhan in December 2019. The funding will help strengthen detection, isolation, and treatment efforts; protect at-risk populations; and develop vaccines, treatments and diagnostics, it said.
"Multilateral organizations, national governments, the private sector and philanthropies must work together to slow the pace of the outbreak, help countries protect their most vulnerable citizens and accelerate the development of the tools to bring this epidemic under control," said Gates Foundation CEO Mark Suzman in a statement.
"Our hope is that these resources will help catalyze a rapid and effective international response. This response should be guided by science, not fear, and it should build on the steps that the World Health Organization has taken to date."
The foundation is sending some resources to the organization, responders in China, and other places around the world. The allocation includes an immediate $20 million for speeding up the detection, isolation, and treatment of people with the virus to try to contain the disease.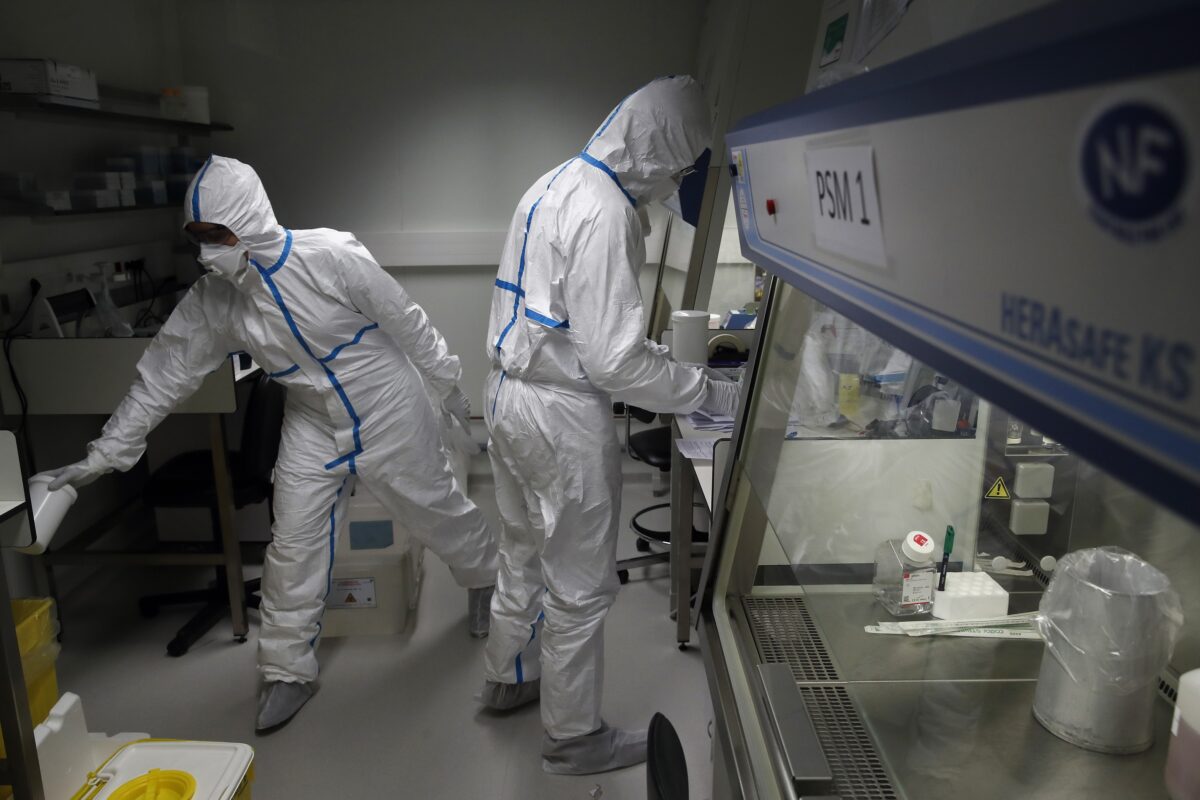 Australia, Hong Kong Announce New Cases
Queensland Health, a government department in the Australian state of Queensland, announced one new confirmed case of coronavirus on Feb. 6, bringing the national total to 15.
The new case is the fifth in Queensland and involves a 37-year-old Chinese female who is currently isolated at Gold Coast University Hospital.
Four others in her tour group had also previously tested positive for the virus.
Currently, all five people are in stable condition.
In Hong Kong, meanwhile, Chuang Shuk-kwan, head of the Communicable Disease Branch of the Center for Health Protection, said that a 55-year-old local woman had tested positive for the virus.
The woman, who had worked at the Chinese city of Dongguan, returned to Hong Kong on Jan. 17. She and her husband took a trip to Japan from Jan. 28 to Feb. 1.
After returning from the trip abroad, both of them began having a fever and throat pain.
Her husband has already been tested positive for the virus.
The latest case brings the total confirmed cases in Hong Kong to 22.
Thai Authorities Urge People to Make Homemade Masks, Sanitizers
Thailand's health authorities on Thursday encouraged people to make hand sanitizers and masks at home to guard against the spread of the new coronavirus.
Thailand, which has reported a total of 25 cases, put surgical masks and sanitizers under its list of controlled goods earlier this week, as the spread of the flu-like virus led to shortages in stores.
Due to lack of supply, health authorities demonstrated how to make sanitizing liquids during a televised news conference.
"If you can't find hand sanitizers in stores, make it yourself. Mix clean water with alcohol and carry it wherever you go," said Public Health Minister Anutin Charnvirakul at the conference.
"We have to protect ourselves against the virus. Eat hot food, use serving spoons, wear masks, wash your hands."
On Thursday, Thailand started enforcing price control measures on surgical masks and hand sanitizers, amid scarce supplies in drug stores.
As a result, anyone selling overpriced masks and sanitizers faces punishment of up to seven years in jail or up to 140,000 baht ($4,500) in fines.
People are allowed to buy up to 10 masks with each purchase, and anyone exporting more than 500 masks per shipment must also obtain permission from trade authorities first.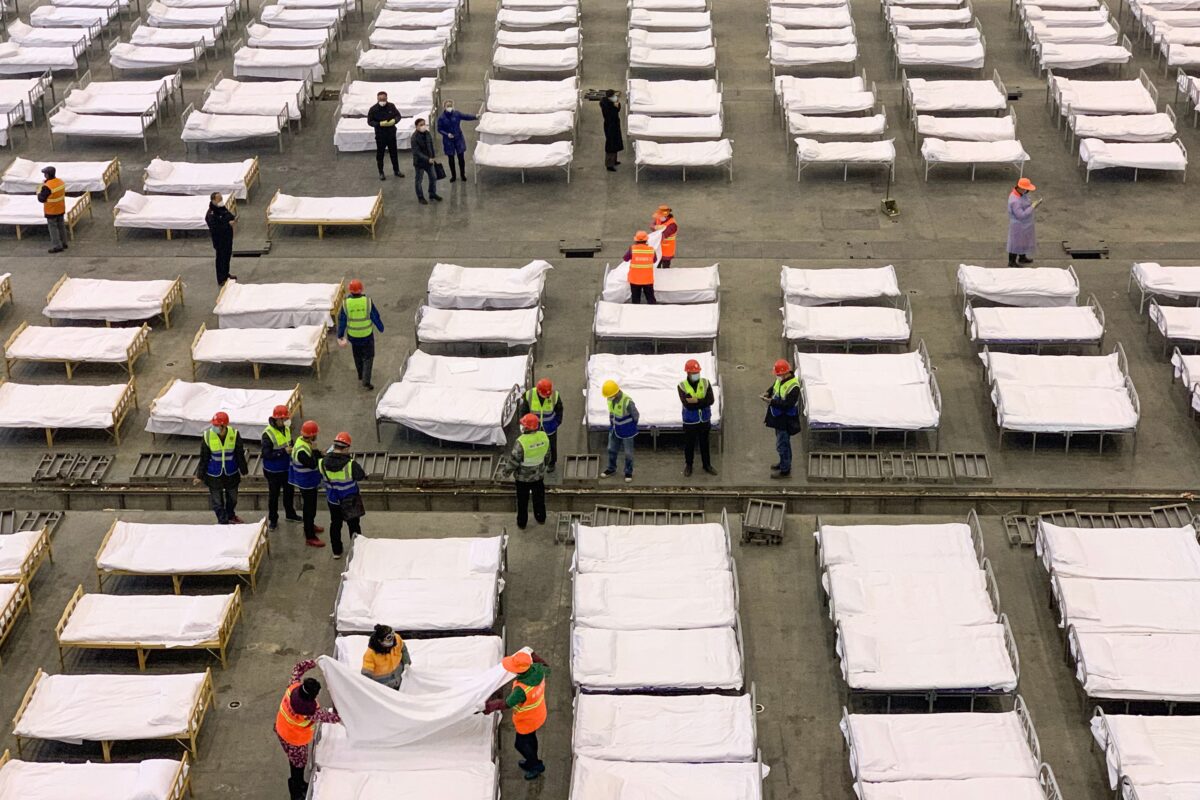 Expert: Makeshift Hospitals Have Sanitary Concerns
Sean Lin, a U.S.-based expert in microbiology and former virology researcher for the U.S. Army, said pictures and video footage of large makeshift hospitals erected in China showed the distance between the beds was too close, risking cross-infection.
"The distance between two beds should be at least three feet," he said.
He added that medical staff should be alert about patients whose conditions are worsening.
The patients are likely to be more contagious due to active viruses in his body, which could potentially spread through bodily fluids, airborne particles, or stool.
2 Chinese Provinces Announce Partial Lockdowns
Northeastern China's Liaoning province has announced 30 measures for "seal-off management" for all the cities, villages, and districts in the province, according to China's state-run media.
One measure prohibits vehicles not registered locally from entering local neighborhoods.
Another measure calls for all people who have traveled outside the province to be subjected to self-isolation at home for 14 days upon their return.
Southeastern China's Jiangxi province also announced its own set of measures for "seal-off management" today. One measure requires pharmacies to record people's IDs when they buy medicine for fever and cough.
Another tightening measure only allows one person per household to go outside to buy living necessities every two days.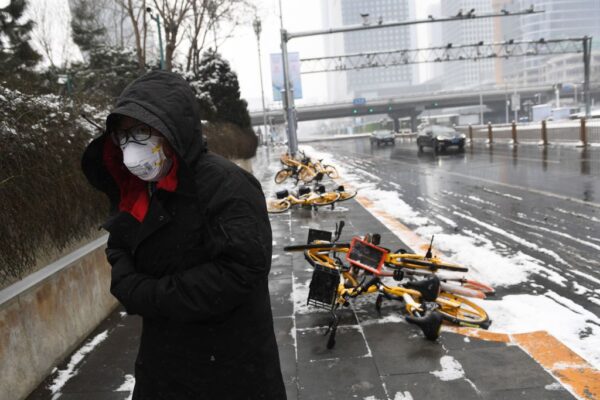 Taiwan Bans Tour Groups to Hong Kong and Macau
Taiwan's Tourism Bureau announced on Feb. 6 that all local tour companies are now banned from organizing tour groups to Hong Kong and Macau. The ban, effective immediately, will run until Feb. 29.
However, locals can still travel to the two cities.
The bureau has previously announced a ban on travel groups to China and people traveling through Chinese cities. The ban took effect on Feb. 1 and will expire on Feb. 29.
Saudi Arabia Issues Travel Ban
On Feb. 6, the state-run Saudi Press Agency announced a ban on traveling to China due to the coronavirus outbreak, citing the country's General Directorate of Passports.
Any residents who violate the ban will not be allowed to return to Saudi Arabia.
Three days ago, Saudi's Ministry of Health announced that 10 Saudi students returning from Wuhan on Feb. 2 had tested negative for the virus, according to SPA. They would remain in quarantine for 14 days.
Currently, Saudi Arabia does not have any confirmed cases of coronavirus.
New York City Tests 2 More People for Coronavirus
New York City health officials are testing two more people suspected of having the new virus, bringing the number of suspected cases in the city to four, after one person was cleared of the virus on Wednesday.
Both patients, who are under 40 years old, had recently been to China. One has been hospitalized while the other is self-isolating at home as their symptoms are not severe enough to go to hospital.
Mayor Bill de Blasio, in a tweet on Feb. 5, wrote that New York City is "one step closer to being able to test coronavirus samples."
"The CDC has given localities the tools, but we still need our labs to be granted the authority. We're pushing to speed up this process," the mayor wrote.
Currently, there are 12 confirmed cases of coronavirus in the United States.
Taiwan Reports 2 New Cases
Taiwan's Centers for Disease Control has confirmed two new cases of the virus, with both patient having recently traveled to China.
One patient is a local male in his 40s who lives in northern Taiwan. He traveled to Wuhan for his job in December last year, and he went to northeastern China's Liaoning Province on Jan. 17.
On Feb. 2, the man returned to Taiwan from Liaoning's port city Dalian. A day later, he began having a fever, cough, and headache.
The second patient is a Taiwanese woman in her 20s who had been living in Wuhan. She returned to Taiwan on Jan. 21 and began having a cough and chest pain ten days later on Feb. 1.
The two are now being treated in isolation wards at the hospital.
The announcement added that there are now 13 confirmed cases in Taiwan and that all of them are in stable condition.
The Ministry of Health and Welfare added that the first patient to be diagnosed in Taiwan on Jan. 21 was recovering and would soon be discharged from hospital.
Johns Hopkins University Releases Real-Time 2019-nCoV Tracker
Johns Hopkins University has released a real-time tool to track the spread of the 2019-nCoV outbreak.
Taiwan Bans International Cruise Ships from Docking
Taiwan's Centers for Disease Control (CDC) has announced a docking ban on all international cruise ships to take effect immediately.
The CDC added that the decision was made partly in response to news that a Taiwanese national in her 60s has tested positive for coronavirus on the Diamond Princess cruise ship, which is now docked in the Japanese port of Yokohama.
The Taiwanese woman is one of at least 20 people to test positive of the virus abroad the cruise ship.
The CDC elaborated that it considers cruise ships a high-risk environment because they are densely populated with people frequently interacting with each other.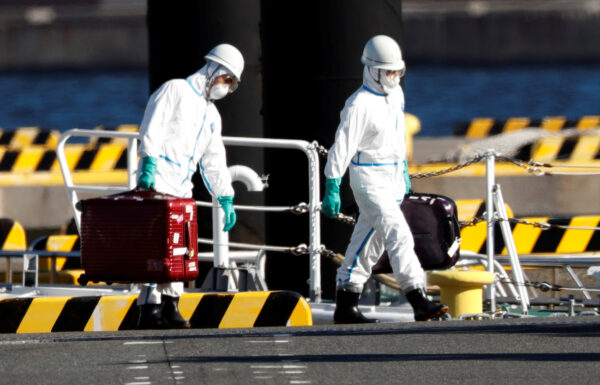 India Cancels Visas to Travelers from China
India's Press Information Bureau announced on Feb. 5 that all existing visas, including those issued electronically, are "no longer valid for any foreign national traveling from China."
India's embassy in Beijing said in a notice that the visa cancellation applied to all Chinese citizens and "foreign nationals, who are based out of China or visited China in the last 2 weeks."
"Intending visitors to India should contact the Indian Embassy in Beijing or the Consulates in Shanghai and Guangzhou to apply afresh for an Indian visa," the embassy said.
Visa holders in Macao and Hong Kong are not affected by the cancellation, India Today reported.
The bureau's announcement stated that anyone traveling to China will be quarantined when they return to India. The announcement did not specify the length of the quarantine.
Wuhan Residents Speak to The Epoch Times From Ground Zero
Many residents in Wuhan dealing with the fallout from the coronavirus outbreak have spoken to The Epoch Times about the situation on the ground.
Click here to read their stories.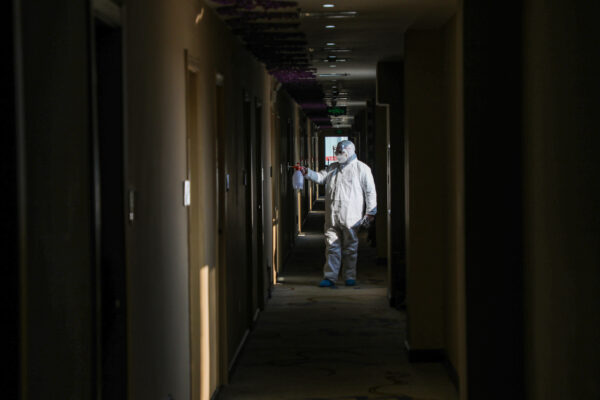 540 American Evacuees Under Quarantine
Two cargo jets, chartered by the U.S. State Department, arrived at Travis Air Force Base in California from Wuhan on Feb. 5.
178 passengers from one of the two planes were subsequently quarantined at the base.
The second plane, after refueling, flew to Marine Corps Air Station Miramar in San Diego. 167 passengers on the plane were then placed under quarantine at the two housing sites on the base.
There are already 195 passengers quarantined at the March Air Reserve Base, located in Riverside County, California. They arrived from Wuhan on a chartered cargo jet on Jan. 30.
Two other planes were slated to land on Thursday, one at Lackland Air Force Base in San Antonio, Texas and one at Eppley Airfield in Omaha, Nebraska.

Singapore Now Has 28 Cases
Singapore's Ministry of Health announced four new cases on Feb. 5, bringing the country's total to 28.
One of the new cases involved a six-month-old male Singaporean citizen, who is the child of confirmed cases 19 and 27. The infant tested positive on Feb. 5 along with his 45-year-old father. His mother, 28, tested positive for the virus on Feb. 3. None had recently traveled to China.
A 42-year-old Chinese woman, who was tested positive on Feb. 4, arrived in Singapore from Wuhan on Jan. 21. The woman is the daughter of the 13th confirmed case.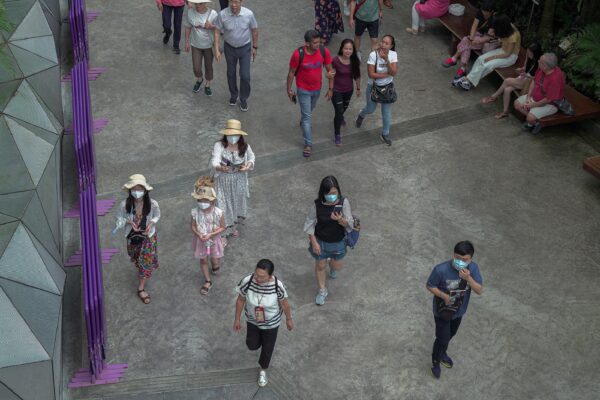 Virgin Australia Ends Flights to Hong Kong
One of Australia's largest airlines, Virgin Australia, has announced it is withdrawing its Hong Kong services. It will cease flights between Hong Kong and Sydney beginning on March 2.
The airline had previously announced the suspension its Melbourne-Hong Kong services in November last year.
The airline stated: "The Hong Kong market has remained challenging for the airline and demand has continued to decline following ongoing civil unrest.
"These factors, combined with growing uncertainty around the recent coronavirus outbreak, have led to the decision to cease operating services."
John MacLeod, the airliner's chief commercial officer, said: "Current circumstances demonstrate that Hong Kong is no longer a commercially viable route for Virgin Australia to continue operating," according to the announcement.
South Korea Reports Four New Cases
The Korean Centers for Disease Control and Prevention (KCDC) announced four new cases—three Koreans and one Chinese—on Feb. 6, bringing the national total to 23.
One patient, a 41-year-old Korean woman, was tested positive on Feb. 5. She is a family member of a previously confirmed case.
Another patient, 59-year-old Korean woman, also tested positive on Feb. 5. She was a person who came into contact with the country's sixth confirmed case.
One 46-year-old Korean male tested positive on Feb. 6. He is a family member of the country's 16th confirmed case.
Finally, the 58-year-old Chinese woman, who tested positive on Feb. 6, arrived in South Korea on Jan. 23.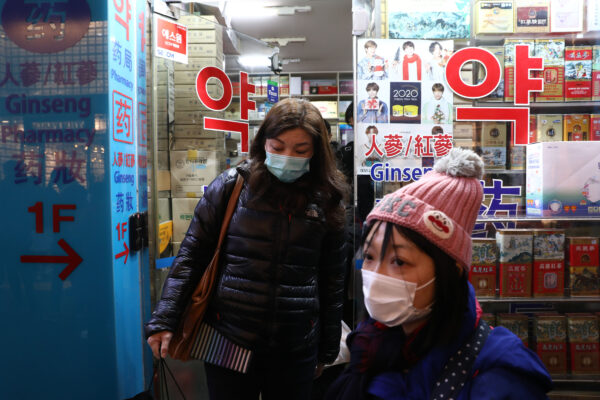 36 Australian Evacuees from Wuhan Arrive on Christmas Island
Australian Prime Minister Scott Morrison has confirmed that 36 Australians who left Wuhan with a New Zealand evacuation flight have now arrived at a detention facility on Christmas Island that is being used used to quarantine Australia's Wuhan evacuees.
Following a health screening and medical checks, the 36 people are expected to join around 240 Australians already at the facility from the country's first evacuation flight.
Morrison said that a second Australian evacuation flight is in the process of being arranged out of Wuhan.
"The decision to go to a second flight, based on the advice that that would be accommodated at Christmas Island … that's the plan we are working to," he said, the ABC reported.
Frank Fank, Melanie Sun, Zachary Stieber, Nicole Hao, and Reuters contributed to this report.