More prisons in China are reporting coronavirus (COVID-19) infections among inmates and prison staff, pointing to the severity of the outbreak.
Meanwhile, authorities within a city in Shandong Province have implemented strict measures to compel prison staff into keeping quiet about the outbreak within local prisons, according to internal government documents obtained by The Epoch Times.
Internal Document
The document was prepared on Feb. 16 by the Shizhong district police department, part of the Jining City public security bureau, about the quarantine of prison guards.
Jining is located in eastern China's Shandong Province. Two prisons in the city reported a coronavirus outbreak among inmates and prison staff, according to the document. Those guards who are not infected have been placed under quarantine at the Phoenix Xiyuan Hotel in Shizhong district.
The Shizhong police department organized 50 police to block off the quarantine center, install surveillance cameras outside and inside of the hotel—including in all hotel rooms, and ensure nobody under quarantine leaves the hotel.
Prison guards who are under quarantine are required to dress in ordinary clothes, to avoid "the leaking of any photos or videos [of guards] which may damage the image of the people's police," according to the document. In China, prison guards dress in the same uniform as police.
In addition, all quarantined staff must sign a letter of commitment, in which they promise to keep silent about the outbreak and only tell others what local government has already announced publicly.
Furthermore, the letter asks that the quarantined staff monitor each other, and report to authorities any of their peers who are spreading information that deviates from what the government says.
It's unclear how many have been infected or quarantined. But according to the hotel's website, the Phoenix Xiyuan Hotel has 214 guest rooms and has 800 seats in its dining room.
Rencheng Prison
On Feb. 18, an insider contacted the Chinese-language Epoch Times and said that there was an outbreak in Rencheng Prison, located in Jining.
"The prison doesn't have proper management. The environment inside is very poor. At least hundreds of prisoners and prison guards were infected. … The provincial officials are here already [to inspect the situation]," he said.
Days later on Feb. 21, Xi Yan, director of the Shandong provincial health commission, admitted at a press conference: "By Feb. 20, [medical staff] finished conducting tests on 2,077 people in Rencheng Prison, and diagnosed 207 cases of coronavirus. Seven of them are prison guards, and 200 are prisoners."
Xi said that the first infection was a guard, who was diagnosed with the virus on Feb. 13.
On the same day, the central government announced that Xie Weijun, director of the Shandong prison management bureau; Li Baoshan, director of Rencheng Prison; and six other officials from the provincial prison management system were dismissed.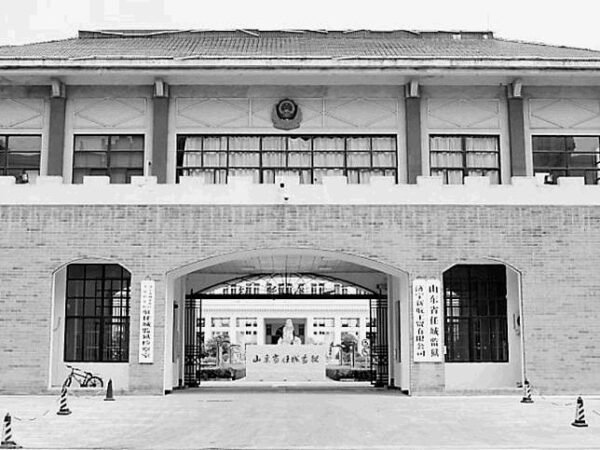 Other Prisons in Jining
On Feb. 16, an official document from Yutai county, Jining city was leaked onto Twitter. The document was issued by a "leadership team" within the Yutai county government set up to combat the outbreak.
The team requested that all prisoners at Huxi Prison be transferred to "a secret destination," due to the coronavirus.
The document did not say how many prisoners or prison guards were infected, but said that it arranged 12 buses to transport the prisoners. Each bus has 45 passenger seats.
Meanwhile, there were signs that Luxi Prison, located in Zoucheng, a city within the jurisdiction of Jining, also was at risk of an outbreak.
A residential area in the Taibaihu district of Jining posted a notice on Feb. 19: "Any residents  who work at Luxi Prison, Rencheng Prison, or the Liyan Power Plant, please contact the residential management office as soon as possible. If any residents have been in contact with staff at Rencheng Prison, please self-quarantine, and report to the residential management office. If you have a fever or other symptoms, you must wear a mask, keep a distance from others, and visit the nearby fever clinic as soon as possible," it read.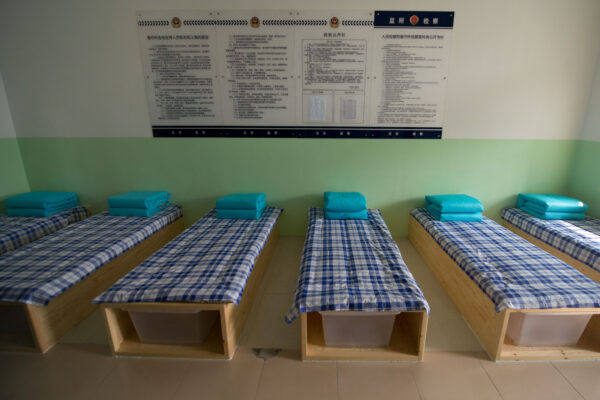 Prisons Elsewhere
On Feb. 21, the Zhejiang provincial government announced that 34 prisoners were diagnosed with the coronavirus at the Shilifeng Prison in Quzhou city.
Meanwhile, Jingmen, a city located in the center of the outbreak in Hubei Province, tallied that as of Feb. 15, there were 40 infections in Shayang Prison, including prison guards and inmates, according to an internal government document provided to the Chinese-language Epoch Times. Shayang is the general name for ten prisons located in different counties across Jingmen.
He Ping, director of prison management at the national-level Justice Ministry, said at a press conference on Feb. 21 that the Wuhan Women's Prison had 230 infections by Feb. 20. The disease first broke out in Wuhan, capital of Hubei.
He also confirmed the outbreak in Shayang Prison and said: "41 cases were diagnosed in Hanjin prison," one of the facilities within Shayang.
After these prisons reported their outbreaks, Sichuan and Heilongjiang provinces announced on Feb. 22 that they would launch "wartime management" for their prisons.
That same day, a number of senior Chinese Communist Party officials personally visited the infamous Yancheng Prison, including Guo Shengkun, Party secretary of the national-level Political and Legal Affairs Commission—an agency that oversees the country's security apparatus, including law enforcement, courts, and prisons; China's justice minister Fu Zhenghua; and deputy minister of public security Meng Qingfeng.
Yancheng Prison is located in Hebei Province, about 20 miles away from Beijing. The prison reports directly to the justice ministry, and is where several high-profile corrupt officials are incarcerated, including Gu Kailai, wife of disgraced senior official Bo Xilai. Gu was convicted of murdering British businessman Neil Heywood in 2011.
Speaking to officials at Yancheng Prison, Guo requested that all prisons in China be strictly managed "as in wartime," according to state-run media reports.