In certain situations, we might call the police if we hear  someone scream "help me!" Well, that's what a UPS driver heard coming from a house while making a delivery in Clackamas, Oregon, one day. But when the police arrived, all they could do was laugh.
UPS driver Lee Purdy heard someone crying "help me!" from inside a residence where he was delivering packages. "I wasn't sure what to think at first," he told Today. Purdy decided to call his wife and explain the situation, CBS News reported. His wife then called the police for help.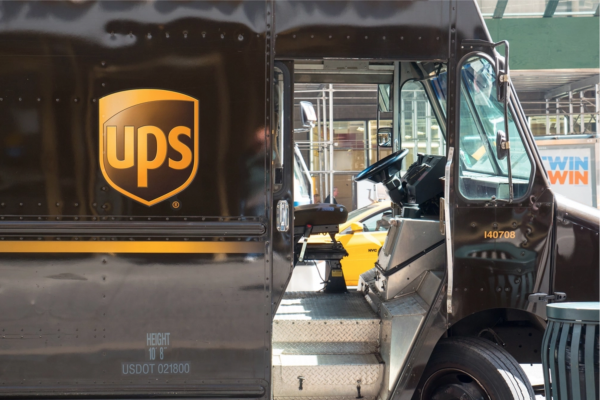 "It was clearly weighing on him, so she thought she'd better call," Brian Jensen, public information officer for the Clackamas County Sheriff's Office, said.
When Deputy Hayden Sanders arrived, he didn't find a human being calling for help. Instead, it was a pet parrot named Diego.
"The deputies were able to contact the owner and gain entrance into the residence," Jensen explained. "And that's what they found."
Sanders saw that the parrot was uninjured and was not in any need of police assistance.
UPS delivery driver heard someone yelling for "help" inside of a residence. Deputies responded and found the culprit. We…
"We're thankful. It's super funny. We were ribbing [Sanders] a little bit," Jensen said. "We're just glad that no one, including the bird, actually needed any help."
Though nobody was hurt, Purdy wondered why the parrot had been calling for help. "Why was this bird yelling 'help me?'" he asked rhetorically. "There's got to be a reason."
Meet the parrot that sparked an emergency call after squawking "help me" to a UPS driver. https://t.co/1nIqGgHVUF pic.twitter.com/ELJGptPfvg

— Inside Edition (@InsideEdition) November 11, 2017
Diego's owner, Susan Baird, said Diego is very talkative and mimics cats and dogs and people. "He's very personable," Baird said.
Diego also "says quite a few things," and "help me" is one of the things that he often says.
As for why, Baird explained that Diego doesn't like to be away from his owner, and when she was away for two weeks, she left Diego in her daughter's care. Baird said Diego must have called "help me!" when Purdy was near the home, thinking the UPS man was Baird returning.
"He does not like me to be gone for a long time," Baird said. "He has really missed me."
The Clackamas County Sheriff's Office shared the hilarious episode on their Facebook page.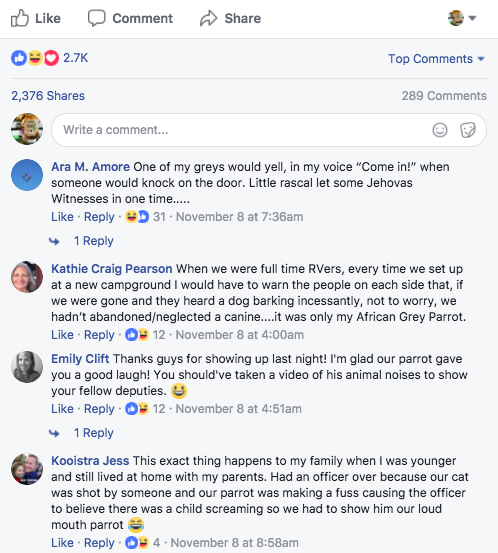 Watch the video below: