A registered sex offender in California has been accused of sexually assaulting four women along a popular running trail all while wearing a GPS ankle monitor.
Police believe 33-year-old Christopher Dandeneau, who due to prior convictions was on the sex offender registry and had been ordered to wear an electronic monitor, carried out at least four attacks on women along the Pacific Electric Trail in Rialto.
"The suspect held the female at knifepoint and attempted to steal her cellphone then attempted to sexually assault her," Lt. Cameron Nelson of the Rialto Police Department told KABC.
The attacks took place between May 2 and May 6.
"We launched an extensive investigation that had undercover officers on the trail day and night time hours to make sure those citizens were safe, but also give us the best opportunity at catching him," Nelson said, KABC reported.
Police cited by The San Bernardino Sun said the suspect would hold the victims at knifepoint, try to force victims to hand over their cellphones, and then either attempt or carry out a sexual assault.
A tip from a resident who saw a sketch and surveillance video was instrumental in helping police find and arrest the suspect.
"They were able to find surveillance video. They went out to multiple residents, hundreds of residents, apartment complexes to see if anyone saw this suspect, and we actually did get a tip from the community that led us to the arrest," Nelson said, KABC reported.
A knife was found at Dandeneau's home, which investigators believe was used in the attacks.
Police also said they discovered he had been wearing a tracking bracelet on his ankle the entire time. Dandeneau had prior convictions for sexual battery and indecent exposure in San Bernardino County in 2010, according to court records cited by The Sun.
The suspect was arrested on May 10, according to KTLA.
"Once we made the arrest, we realized he was on a GPS monitor tracking system. That tracking system shows him at the crime scenes during the times of the attack and his path away from those scenes," Nelson said, KABC reported.
The suspect is being held at West Valley Detention Center in Rancho Cucamonga without bail.
The Rialto Police Department has asked other potential victims to come forward and provide information in the investigation, which is ongoing.
Due to prior convictions, Dandeneau faces a possible life sentence.
Crime in the United States
Violent crime in the United States has fallen sharply over the past 25 years, according to both the FBI's Uniform Crime Reports (UCR) and the Bureau of Justice Statistics (BJS) National Crime Victimization Survey (NCVS).
The rate of violent crimes fell by 49 percent between 1993 and 2017, according to the FBI's UCR, which only reflects crimes reported to the police.
The violent crime rate dropped by 74 percent between 1993 and 2017, according to BJS's CVS, which takes into account both crimes that have been reported to the police and those that have not.
"From 1993 to 2017, the rate of violent victimization declined 74 percent, from 79.8 to 20.6 victimizations per 1,000 persons age 12 or older," the U.S. Department of Justice stated (pdf).
Both studies are based on data up to and including 2017, the most recent year for which complete figures are available.
The FBI recently released preliminary data for 2018. According to the Preliminary Semiannual Uniform Crime Report, from January to June 2018, violent crime rates in the United States dropped by 4.3 percent compared to the same six-month period in 2017.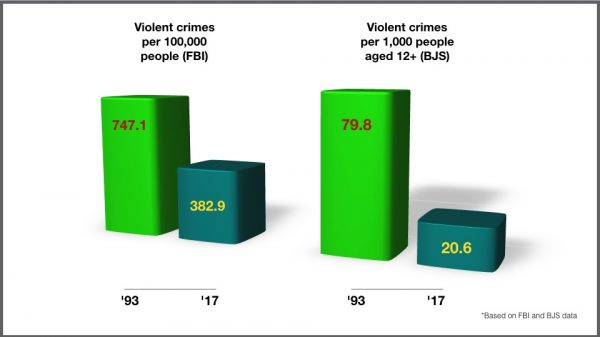 While the overall rate of violent crime has seen a steady downward drop since its peak in the 1990s, there have been several upticks that bucked the trend.
Between 2014 and 2016, the murder rate increased by more than 20 percent, to 5.4 per 100,000 residents, from 4.4, according to an analysis of FBI data. The last two-year period that the rate soared so quickly was between 1966 and 1968.
Property Crime
The property crime rate fell by 50 percent between 1993 and 2017, according to the FBI, and by 69 percent according to BJS.
According to the FBI's preliminary figures for the first half of 2018, property crime rates in the United States dropped by 7.2 percent compared to the same six-month period in 2017.
As with violent crime, the FBI survey only takes into account crime reported to the police, while the BJS figures include reported and nonreported crime.
Public Perception About Crime
Despite falling long-term trends in both violent crime and property crime, opinion surveys repeatedly show Americans believe that crime is up.
The vast majority of Gallup polls taken since 1993 show (pdf) that over 60 percent of Americans believe there is more crime in the United States on a national scale compared to the previous year.
Pew Research surveys show similar findings. A survey in late 2016 revealed that 57 percent of registered voters said crime in the nation as a whole increased since 2008, despite both FBI and BJS data showing double-digit drops in violent and property crimes.
Perceptions differed on a national versus local level.
Surveys of perceptions of crime levels on a local scale showed that fewer than 50 percent of respondents in every single Gallup survey (pdf) done since 1996 believed that crime in their area had risen compared to the previous year.
The Associated Press contributed to this report.