Consumers' Research, a non-profit organization focused on consumer education and advocacy, has launched a mobile billboard campaign opposing the adoption of environmental, social, and governance (ESG) frameworks in retirement investment funds.
The mobile billboard campaign will run through Washington D.C., as President Joe Biden is set to preserve rules allowing retirement managers to consider ESG scores when selecting retirement investments.
Rules brought forward under President Donald Trump's administration had limited retirement plan fiduciaries from using ESG factors in their investment decisions. In November, the Department of Labor under Biden repealed the Trump-era rules, saying they "unnecessarily restrained" retirement plan managers.
Opponents of the Biden Labor Department's decision said it allowed retirement funds to be politicized to promote liberal priorities. Earlier this month, lawmakers passed a bill to overturn the November Labor Department decision, reimposing the Trump-era restrictions on ESG scores.
Congressional support for the Biden Labor Department's ESG ruling was mostly split down party lines. But Sens. Joe Manchin (D-W.Va.) and Jon Tester (D-Mont.) joined Republicans in opposition to the use of ESG scores in retirement plans, giving Republicans enough votes to pass a resolution blocking the Labor Department's ESG ruling.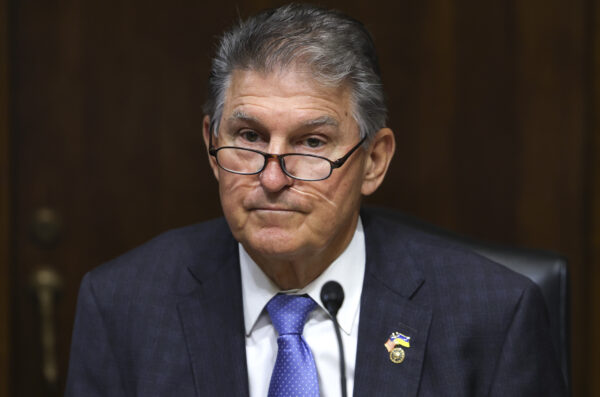 Biden is now set to veto Congress, which would effectively put his Labor Department's ESG ruling back into effect and allow retirement plan managers to go back to considering ESG scores in their investment practices.
Consumers' Research will run its anti-ESG billboard campaign ahead of Biden's plan to veto the bill opposing the Labor Department's ESG ruling.
"I applaud House leadership and the bipartisan efforts in the Senate that pushed this legislation to the finish line," Consumers' Research Executive Director Will Hild said. "Unfortunately, President Biden is going to use his first veto to further the progressive agenda instead of putting the interest of the American people first."
Consumers' Research has argued the various tenants of ESG, saying the "environmental" portion of ESG stands opposed to the fossil fuels industry. Consumers' Research also argues the "social" and "governance" portions of ESG focus on supporting social causes like "racial equity" and abortion and making contributions to those groups that promote those social causes.
"Allowing retirement plans to include ESG considerations undercuts the will of the American people by permitting ESG elites … to have unfettered control of the American people's retirement dollars," Hild wrote. "President Biden clearly cares more about politics than people."
Consumers' Research and other ESG opponents argue that the scoring system pressures businesses to embrace left-wing political causes.
Manchin wrote that the Labor Department's ESG ruling would lead retirement plan managers to draw their focus away from specifically focusing on bringing in the best returns for investors and focus on liberal political outcomes "without the expressed consent of the retiree."
Billboard Campaign
The Consumers' Research billboard campaign poses alternative acronyms for ESG, such as "Erasing Savings and Growth," "Enabling Slave Labor and Genocide" and "Elitists, Socialists and Grifters."
The campaign also names BlackRock CEO Larry Fink, Vanguard CEO Tim Buckley and State Street CEO Larry O'Hanley as proponents of ESG-based investing.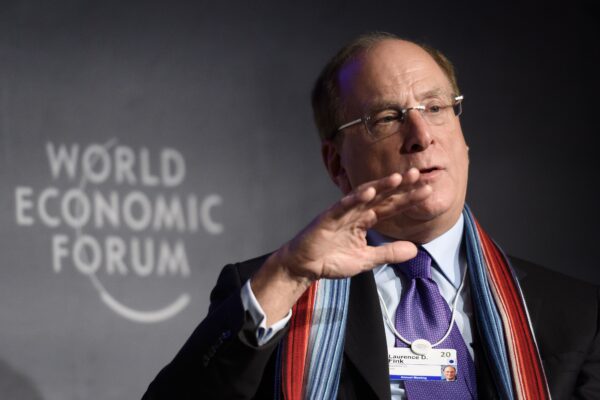 NTD News reached out to Consumers' Research for more details about the billboard campaign but did not receive a response before this article was published.
Biden Admin Defends ESG
In November, as the Labor Department overturned the Trump-era limits on ESG-based investing for retirement plans, Assistant Secretary for Employee Benefits Security Lisa M. Gomez said the decision "will make workers' retirement savings and pensions more resilient by removing needless barriers, and ending the chilling effect created by the prior administration."
"Climate change and other environmental, social and governance factors can be useful for plan investors as they make decisions about how to best grow and protect the retirement savings of America's workers," Gomez added.
While ESG opponents argue the practice pushes businesses to embrace left-wing causes, White House Press Secretary Karine Jean-Pierre argued the Republican-led effort to overturn the Labor Department's ESG ruling amounts to forcing investors to embrace conservative ideologies.
"It forces MAGA Republicans' ideology down the throats of the private sector and handcuffing investors, as well," Jean-Pierre said.
From NTD News.