NEW YORK—During a demolition project in Upper Manhattan on March 22, an uncontrolled steel framing collapse, killed one worker, and injured two others.
On April 3, a building expansion project in Gerritsen Beach, Brooklyn, collapsed without proper support to hold up the addition. One worker was killed and two injured.
These are the only two deaths on Department of Buildings projects this year, and both were caused by material failure. Incidence of material failure has risen around 50 percent from this time last year.
"Material failures are your worst accidents," said Assistant Department of Buildings (DOB) Commissioner Michael Alacha, who presented DOB statistics at the Build Safe/Live Safe Conference held by the DOB on Monday, "because they're not one-to-one injuries. Most material failure—collapses—will have multiple injuries."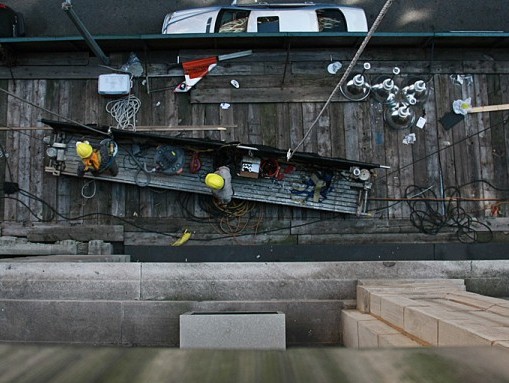 Material failure could be the result of poor engineering plans, inspection, and maintenance, said Alacha.
Seeking Safer Sites, Getting Workers on Board
In 2010, the Port Authority built a $9 million cocoon around One World Trade Center. The first of its kind, the protective netting around the part of the building under construction prevents workers and materials from falling.
In 2011, the DOB Experience Is Not Enough campaign handed out 12,000 bracelets, raising awareness about safety among construction workers.
Michael Bruno, a safety manager for Skanska Koch, said he has seen workers become increasingly cautious over the last couple of years. Bruno currently works on the Brooklyn and Manhattan bridges and used to work on the Fulton Street transit center project.
"It was more of the management pushing it [safety measures] onto the men," recalled Bruno, "We were having to remind them constantly what to do, whereas now, the foremen and laborers and tradesmen, they have really bought into it. They look out for each other and look out for themselves now more than ever."
On the two bridges, workers are required to wear a harness at all times, even if they are not exposed to a risk of falling.
"[This way,] they could never say that they didn't have it, or they forgot it," said Bruno. When the workers are in a fall exposure situation, they will be prepared.
This week's Construction Safety Week is part of the DOB's effort to keep workers safe. The DOB aims to raise awareness, making workers more cautious, and bring together industry leaders to identify problems and find solutions.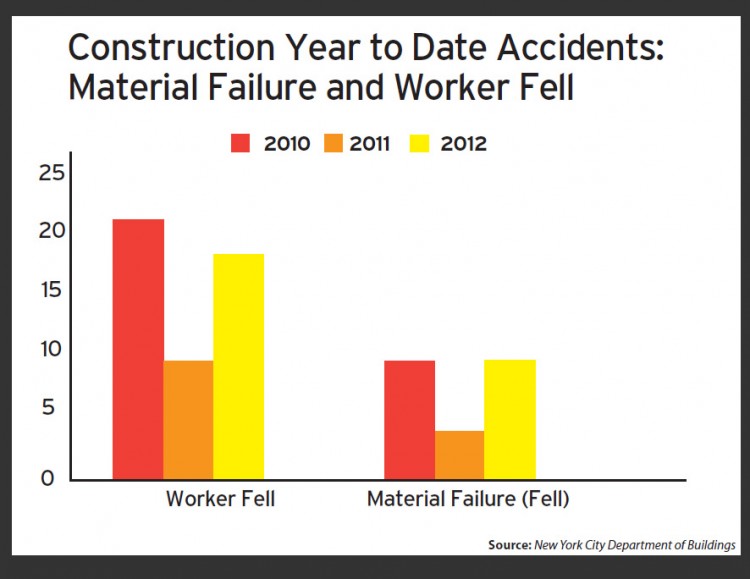 Continued on the next page: Seeking Safer Sites, Getting Workers on Board