News Analysis
As the number of fatalities from the CCP virus has increased in the United States, medical professionals have expressed their concern over the vast number of ventilators that could be needed to treat patients, with New York Gov. Andrew Cuomo requesting some 30,000 ventilators for New York State alone.
President Donald Trump suggested on Monday, however, that the number of fatalities from the virus could peak as soon as mid-April, with the total number of fatalities potentially exceeding 100,000. If such forecasts prove to be correct, projects by Ford and General Motors (GM) to produce large numbers of sophisticated, high-tech ventilators by May and June could waste valuable time and resources, while failing to provide timely care for seriously ill patients in the United States.
General Motors announced that it will contribute its resources at cost to partner with Ventec Life Systems in the production of VOCSN-model "sophisticated and high-quality critical care ventilators." According to GM, tooling and manufacturing capacities at the company's Kokomo facility are being fast-tracked to such an extent that the first ventilators could be delivered by the end of April, with capacities ramping up to over 10,000 units per month after that.
Ford announced that it will produce the Airon Model A-E—a comparatively simpler ventilation device—in association with GE Healthcare at Ford's Rawsonville facility in Michigan, with production targets of 1,500 by the end of April and 12,000 in May.
Thank you, @Ford! 🇺🇸 https://t.co/VPpZ7yPABf

— The White House (@WhiteHouse) April 1, 2020
According to the Centers for Disease Control and Prevention (CDC), ventilators are necessary for those patients suffering from acute symptoms of the CCP (Chinese Communist Party) virus, commonly known as the novel coronavirus, and which leads to the disease known as COVID-19.
Such symptoms include respiratory failure or Acute Respiratory Distress Syndrome (ARDS), and occur most commonly in patients with existing diseases and those of advanced age. Ventilator manufacturers such as ResMed and Philips have vowed to double or even quadruple the number of ventilators produced over the coming months.
Ventilator Complexity
As medical technology has advanced, ventilators have progressed from simple intermittent air pumps to computer-aided, high-tech devices with arrays of sensors to detect factors such as the patient's breathing patterns and whether their body is making an effort to breathe. Most ventilators can administer a pre-set "tidal volume" of oxygen-enriched air a certain number of times per minute (the respiratory rate) and at a certain speed, while some ventilators also moisten the air flow by means of a nebulizer.
Other features often include large touchscreens, patient history logs, and battery back-up systems. Physicians use these tools to generate a ventilation strategy for individual patients.
Ventilators are also produced for specific applications, including patient transport situations, ambulance devices, for domestic use, and high-tech units specifically designed for intensive care units (ICUs). According to medical device manufacturer Medtronic, top-of-the-range ICU ventilators can cost from $25,000 to $50,000.
While the Airon device to be manufactured by Ford is claimed to be a relatively simple device, the VOCSN devices to be produced by GM are deemed to be rather more sophisticated. According to the GM press release, the "VOCSN seamlessly integrates five separate devices including a critical care ventilator, oxygen concentrator, cough assist, suction, and nebulizer into a single portable device. VOCSN provides invasive and non-invasive ventilation across a comprehensive set of modes and settings throughout the care continuum."
GM and Ford are working feverishly to secure component supply chains, but if supplies of even one component are delayed, production could grind to a halt.
Our teams have been working tirelessly with @MyVOCSN to produce critical care ventilators at our Kokomo, IN facility. Retooling is underway and we are poised to deliver the first ventilators next month with capacity of more than 10,000 monthly. https://t.co/34Here89Fa pic.twitter.com/vxZvSzHveb

— General Motors (@GM) March 27, 2020
The U.S. Food and Drug Administration (FDA) said they would remove obstacles to the development of new solutions, saying in a statement, "If you want to help expand production of ventilators to save American lives in this pandemic, we are going to work with you to sweep every possible barrier out of your way."
Simpler Solutions
Medical and engineering technicians at institutes around the world have also been racing to develop simple ventilators that can be manufactured and deployed for use quickly, including the mechanization and automation of hand-operated ventilation bags.
An interdisciplinary team of engineers and medics from the UK's Oxford University and Kings College, London is currently constructing and testing a series of ventilator prototypes that they say could be manufactured with off-the-shelf and 3D-printed components using the tools available in well-equipped university laboratories and small and medium-sized enterprise workshops. The team says that their OxVent prototype has been approved for testing by the British government, and that production could take place at scale within two to three months.
There are also simple ventilation products on the market that already provide basic levels of ventilation and could, perhaps, be adapted to fulfill some of the emergency requirements of ICUs in the United States. Vortran Medical's GO²VENT, for example, is a simple but functional and cost-effective ventilation system, and does not require an external power source.
Vortran says it's product is the "ideal backup ventilator for the management of difficult situations such as mass casualties, natural disasters, disease outbreaks, major power outages, and is the perfect solution for transportation needs, whether in or out of the hospital."
Your Smartphone as a Ventilator
Indian manufacturer AgVa healthcare has developed functional and cost-effective mini ventilators for the Indian market that can be controlled entirely by an app on an Android smartphone. According to Professor Diwakar Vaish, the app can even alert healthcare professionals if the patient needs assistance, and the ventilator can cost as little as $200.
While India has banned the export of critical medical equipment such as ventilators during the CCP virus crisis, AgVa Healthcare says it is also "ready to tie up with local manufacturers in each country to mass produce our ventilators by utilizing our licenses."
Sharing Ventilators Between Patients
As the CCP virus has taken hold around the world, healthcare professionals and engineers have attempted to plan for eventualities of large patient numbers and potentially insufficient ventilation resources. A team of doctors from Geel hospital in Belgium has suggested that it may be possible to share one ventilator between two or even four patients to provide a reasonable level of patient ventilation.
While not an optimal treatment solution, "differential multi-ventilating" between four patients in emergency situations is technically possible, and at very low cost. With four bed-heads arranged like spokes around a ventilator, tubing sets can be coupled with a series of fittings and valves to provide ventilation and a degree of monitoring for up to four patients.
Such concepts have come in for criticism, however. A joint statement issued last week by a group of six medical associations, including the American Society of Anesthesiologists (ASA) and the American Association of Critical‐Care Nurses (AACN), says that "sharing mechanical ventilators should not be attempted because it cannot be done safely with current equipment" and could even, under certain circumstances, "fail to prevent, or even cause, the demise of multiple patients."
The reasoning behind the warning is that ventilators are not designed for the ventilation of multiple patients, and that cross-contamination, poor monitoring, and uneven gas flows cannot be ruled out.
Sharing ventilators also makes the ethical choices faced by doctors and medical committees impossibly complex. "If the ventilator can be lifesaving for a single individual, using it on more than one patient at a time risks life‐threatening treatment failure for all of them," says the group.
"With current equipment designed for a single patient, we recommend that clinicians do not attempt to ventilate more than one patient with a single ventilator while any clinically proven, safe, and reliable therapy remains available (i.e., in a dire, temporary emergency)."
However, a 2006 study suggests that a single device can potentially ventilate four patients "during cases of disaster surge involving multiple casualties with respiratory failure." The team from Geel hospital also built in readily available filters and flow controls to allow them to monitor individual patient pressure levels.
No Need to Reinvent the Wheel
In association with the Lukasiewicz Research Network in Zabrze near Krakow, the Nalecz Institute of Biocybernetics and Biomedical Engineering in Warsaw, Poland, announced recently (pdf) that it could make manufacturing plans for its Ventil device available to medical product manufacturers. The institute claims that the Ventil can double a hospital's ventilator capacity by using one ventilator to treat two patients.
"Ventil is not a ventilator. It is a precisely controlled divider, connected to a ventilator with an appropriate power surplus—that is, in practice, to any on-site hospital ventilator. The device allows the doctor to watch over the course of ventilation in two patients simultaneously. Its design is much simpler than the ventilator itself, it is also much cheaper and easy to manufacture," said Prof. Piotr Ladyzynski, deputy director of the institute.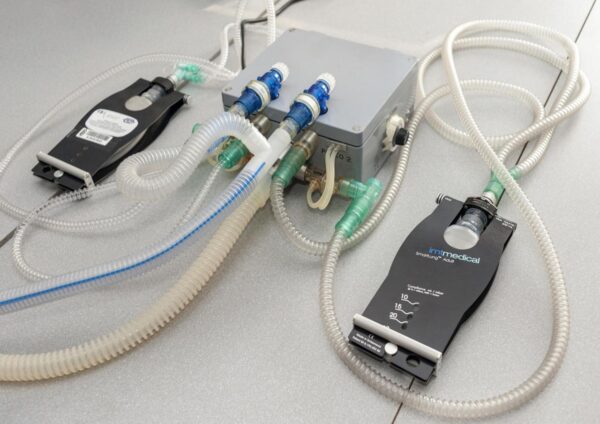 The Ventil allows the air volume pumped into each patient to be independently controlled and monitored, and the first batch of 100 devices has already begun. "The same sort of production could be rapidly initiated in any company dealing in the production of medical equipment, and at significantly reduced costs, effectively doubling the amount of ventilators operating in a given area," said Dr. Janusz Wrobel, director of Lukasiewicz Research Network.