In May, the associates of two former top People's Liberation Army generals were removed. Now the generals themselves appear to be in trouble.
During a meeting of retired elder cadres in July, Liao Xilong and Li Jinai were taken away by the Chinese military's disciplinary police, according to South China Morning Post, a Hong Kong English language daily. The Post obtained the information from two sources, one close to the military, and a military insider in Beijing.
Liao, 76, formerly headed the General Logistics Department, while Li, 74, was ex-chief of the powerful General Political Department, which engages in overseas espionage among a range of other activities. Earlier, overseas Chinese newspaper World Journal reported that Liao Xijun, the brother of Liao Xilong, and Zhu Xinjian, the former aide of Li Jinai, had been arrested.
Official Party media has so far been silent on the apparent punishment of the two retired generals and their associates.
If accurate, the information is potentially highly significant for the fate of former Chinese Communist Party leader Jiang Zemin. Current Party leader Xi Jinping is, according to recent injunctions, holding senior cadres responsible for their underlings. Liao Xilong and Li Jinai have done much to prove their loyalty to their patron Jiang.
After launching a campaign to persecute Falun Gong, a traditional Chinese spiritual discipline, on July 20, 1999, Jiang Zemin made it clear that those who proactively suppressed the practice would be rewarded with riches and office.
Bo Xilai, a former member of the elite Politburo, had vigorously persecuted practitioners in the northeastern province of Liaoning and the southwestern megapolis Chongqing when he was overseeing both regions, because Jiang told him that "toughness in handling Falun Gong" would be his "political capital," according to veteran Chinese journalist Jiang Weiping (no relation to Jiang Zemin).  
When Li Jinai was promoted to head the military's General Political Department in 2004, he also took over military's "610 Office," a Gestapo-like Party organization created by Jiang Zemin to oversee the persecution of Falun Gong practitioners, according to Minghui.org, a clearinghouse for information about the Falun Gong persecution and those involved in it.

Meanwhile, Liao Xilong had a helping hand in instigating the anti-Falun Gong campaign. When Liao was commander of the Chengdu Military Region, he oversaw the fabrication of documents meant to show that practitioners of Falun Gong had plans to "subvert the Party," a Falun Gong practitioner from mainland China told the Chinese-language edition of Epoch Times in March 2007.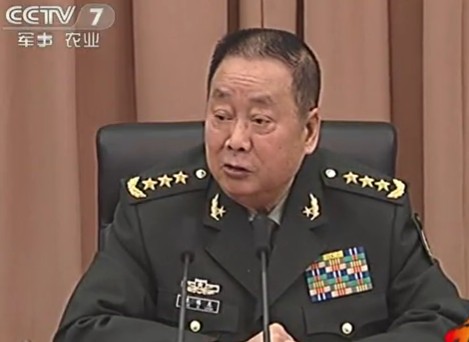 The practitioner obtained the information about Liao from an unnamed intelligence officer from the Chengdu Military Region. Persecuted Falun Gong practitioners in China often have the opportunity to gain such information during to their extensive interactions with front-line security and intelligence officials, even as those officials are engaged in a campaign to suppress them.
Three years later, Liao became director of the General Logistics Department, a post that allows vast possibilities for an official, if so-inclined, to skim profit. From his new position, Liao would have been in a position to oversee the transportation network delivering organs procured from the harvesting of Falun Gong practitioners, and other "anti-Falun Gong work" ordered by Jiang Zemin, according to covertly recorded telephone calls made to former senior General Logistics Department officers by overseas investigators, who made calls impersonating Party disciplinary officials.
Researchers estimate that the Chinese regime did 1.5 million organ transplants between 2000 to 2015, and that the vast majority of these organs are believed to be obtained from Falun Gong practitioners who are killed in the process.
Recently, the U.S. House of Representatives condemned the Chinese regime for live organ harvesting, while a new European Parliament declaration calls on the European Union's political body to act on a resolution censuring organ harvesting that was passed in 2013.  
The first action against organ harvesting, however, might come from within China.
At the end of June, Party leader Xi Jinping approved the Accountability Ordinances, a new set of Party disciplinary regulations that holds the leaders of Party organs and institutions responsible for the wrongdoing of their subordinates.
Days later, the Party's internal disciplinary agency started a three month-long investigation into 32 Party organizations, including the 610 Office. When the inspection was officially announced, only its leadership was left unnamed, suggesting that it may have no current leadership.
According to multiple sources in China, Jiang and his elder son Jiang Mianheng have been placed under some form of soft detention. This information is partly substantiated by Jiang Zemin's absence at recent funerals of late cadres, an indication of lack of standing. At the most recent wake, Jiang didn't send a wreath, sparking external attention.
The recent arrests, if confirmed, are another potential indication that Xi Jinping is still prepared to directly target Jiang Zemin.