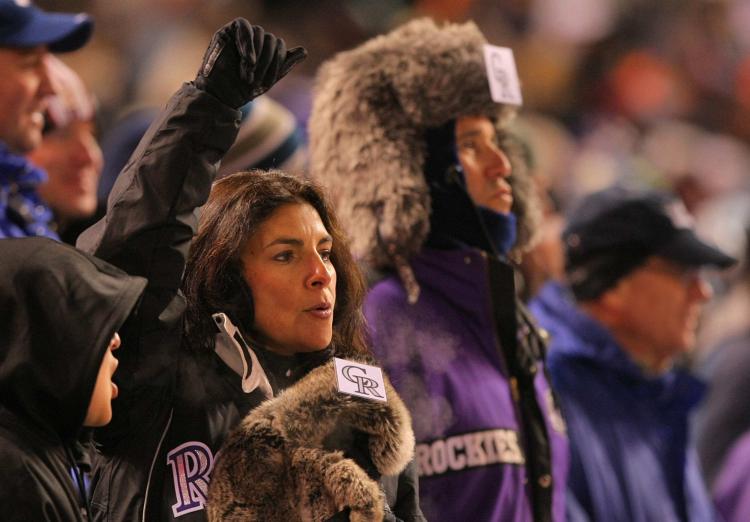 DENVER—I won't soon forget my experience at Coors Field last Sunday attending Game 3 of the Colorado Rockies–Philadelphia Phillies series. That game went down in history as being tied for the coldest game in post-season baseball.
Initially the game was to be played last Saturday night. Game time temperature would have been around 26 degrees Fahrenheit had the game been played on Saturday. Snow had also fallen on the field.
In any case, it wasn't much warmer on Sunday night, but the field looked in fine shape. Official game time temperature was 35 degrees, which tied the all-time low set in Game 4 of the 1997 World Series between Cleveland and Florida. The www.weather.com site said the temperature was 30.8 degrees mid-way though the game.
Obviously some football games were played in much colder temperature but I guess baseball has its limits, perhaps somewhere below 30 degrees.
You might think the Colorado Rockies were hosting their first ever playoff game at Coors Field based on how long it took to get inside the park. Thousands of fans were still crowded at each gate waiting to get in while home runs were being hit in the first inning. An incredible night was getting off to a miserable start.
At least being surrounded by hundreds of other fans standing to get in kept me warm. Some eager fans were screaming "CHARGE!" while others heckled the turnstile attendants. Once fans got in, they were given the purple and white "Rocktober towels," which would be waived at every big moment in the thrilling game.
Bundling Up
Some locals, living in close proximity to the mountains, wisely chose to wear their ski gear and snow boots for added warmth. I kept my upper body warm by wearing three layers of clothing and a heavy leather jacket. I also wore my long johns but still felt the need for a fleece blanket to cover my legs. My feet were doing OK with thick woolly socks and running shoes although snow boots might have been a warmer choice.
The cold weather didn't freeze out the fans' excitement for the Rockies. During their 2007 World Series run, Rockies fans became accustomed to cheering on their team in chilly weather.
The game itself was a great advertisement for playoff baseball. The lead changed or the game got all tied up no less than seven times. The Phillies used six pitchers while the Rockies used seven. The game lasted over four hours without extra innings so fans definitely got their money's worth.
The game also had controversy. Home plate umpire Jerry Meals admitted he missed a call when he believed Philadelphia's Chase Utley's chopper was a fair ball in the top of the ninth inning. In fact, the ball bounced off Utley's leg and then went into fair territory. It should've been called a foul ball or dead ball.
I could see it clear as day from my seat about 40 rows behind home plate. The way the ball bounced before it went into fair territory seemed very strange and I just assumed it must be a foul ball.
If calling a foul ball (or dead ball) fair wasn't enough, the first base umpire called Utley safe. I thought Rockies first baseman Todd Helton kept his foot on the bag just long enough after catching Huston Street's throw to get Utley out.
The single would move Jimmy Rollins from second to third, with the score tied 5–5. He scored off a sac fly from Rockies-killer Ryan Howard.
Fans were screaming "Tu-Lo, Tu-Lo" for short-stop Troy Tulowitzki as he represented the last chance for the Rockies in the bottom of the ninth. But Philadelphia's closer Brad "Lights Out" Lidge got "Tu-Lo" to fly out to left field with two men on, preserving the 6–5 victory.
The Phils wound up eliminating the Rockies in Game 4 on Monday, again in dramatic fashion. Scoring three runs in the top of the ninth to overcome a two-run deficit is really the stuff that will keep people talking for months.
Clearly, the Rockies–Phillies series was the most exciting series of the Divisional Series round. The other three series all ended up in sweeps. I was just glad to catch one of these games, even if it had to be the coldest one.