Colorado Rapids Edge FC Dallas for First MLS Cup
November 21, 2010 11:40 pm Last Updated: October 1, 2015 6:26 pm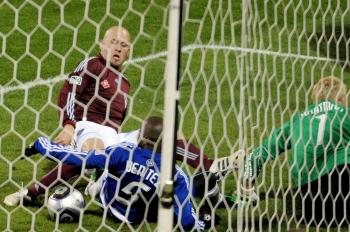 TORONTO—Colorado Rapids won their first MLS Cup 2–1 in extra time over FC Dallas.
FC Dallas defender George John deflected a weak shot by Colorado substitute Macoumba Kandji into his own net in the 108th minute for the winning tally.
The first MLS Cup final to be played outside of the United States took place on a clear but cold night. Game time temperature was 45 degrees. There were many empty seats at BMO Field on the cold night, although attendance was reported as a sell-out at 21,700.
Both teams started vigorously as if trying to stay warm by playing physically and aggressively. It would be the first title for either team and both teams were absolutely leaving nothing off the table.
Rapids striker Conor Casey was in his element, with some hard challenges on several FC Dallas players. The two teams quickly developed distaste for one another.
While both teams appeared to be canceling each other out, a stroke of brilliance on 35 minutes for FC Dallas gave them the early lead.
Left fullback Jair Benitez sent a beautiful long pass cross-field to Marvin Chavez. The Colorado defense let up on their marking and Chavez was able to place a perfect ball into the path of the onrushing David Ferreira.
The MLS MVP duly poked it past Matt Pickens in the Colorado goal.
But Colorado continued to battle hard in what was becoming a scrappy affair.
And they scored in truly scrappy fashion. Just before the hour mark, Casey from in close jabbed one in past Kevin Hartman as both lay flat on the ground.
The game remained tied 1–1 as FC Dallas pressed hard for the winner. They looked more likely to take the game, closing down the space and being more creative in the attacking zone.
But Colorado got to where they are with a staunch defense.
Extra Time
It was a stroke of luck that decided the battle.
A clever nutmeg by Kandji at the side of the six yard box gave him an chance to send a ball towards Kevin Hartman's net. His floating shot deflected and went past a surprised Hartman.
FC Dallas pressed hard at the very end of the second period of extra time. John nearly made up for his own goal but a great diving save by Pickens stoned him.
Jeff Cunningham then had a weak shot cleared off the Colorado goal line.
In the end, the grit and determination of the Colorado Rapids paid off and they are now MLS Cup champions.