College Group Flu Outbreaks Spread Across China
September 19, 2009 3:26 am Last Updated: October 1, 2015 9:23 pm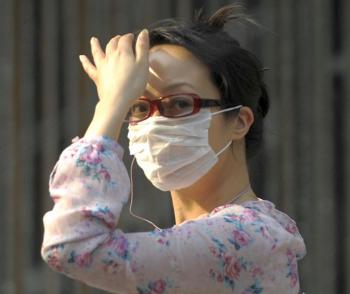 Influenza H1N1 is spreading rapidly throughout all 31 provinces in mainland China, according to official reports. The cases reported from schools keep rising in a number of provinces.
Heilongjiang University Suspends Classes
Heilongjiang University in Harbin, capital of northeast China's Heilongjiang Province, is scheduled to suspend classes from Sept. 16 to the 19th due to the group H1N1 outbreak which was confirmed on Sept. 13.
The Administration Department told the Epoch Times that the Harbin Epidemic Prevention Center has sent work teams to the university. The 11 confirmed virus carriers have been sent to a local hospital. Students who have been in close contact with the patients and those who had demonstrated symptoms have been put in quarantine on campus.
The university also confirmed that the outbreak was not brought to school by students who recently returned from summer break.
Some measures have been adopted to detect and prevent the disease. Thermometers have been distributed to every dorm for students to measure their own temperature. Information about how to detect and prevent H1N1 has been posted throughout the campus. Students are required to report any suspected cases to the school nurse and the work teams.
New Cases Are Reported in Xining City, Qinghai Province
The Health Department of Qinghai Province issued a public notice of an H1N1 outbreak at the Shenna Middle School at 9:30 pm on Sept. 16.
The school has 3,018 students. Thirty-six had a fever, headache, and sore throat by 12:30 a.m. on the 16th, and 30 cases were confirmed by the Provincial Epidemic Prevention Center.
More cases in Xining, without official confirmation, were reported on the Internet. Thirty-six in the Xining 4th Middle School demonstrated flu-like symptoms of which nine were confirmed. Many students in other schools had a fever and some classes had as many as 20 students with fever symptoms.
Cases Growing in Other Provinces
As of 6 p.m. on Sep. 16, a total of 146 cases had been reported from 21 schools in Yunnan Province.
Forty-two new cases were reported in Heilongjiang Province on the 17th, bringing the total number of confirmed cases to 117.
The Health Department of Fujian Province reported that 5 cases were confirmed on the campus of Fujian Agriculture and Forestry University on 16th.
Of 21 new cases confirmed on the 16th in Shaanxi Province, 20 were students at school.
H1N1 cases in Jilin Province have been on the rise recently, with group outbreaks in a few areas. All 16 new cases reported on the 15th are from students at school. Some of the schools have suspended classes.