Prosecutors and the defense will deliver closing arguments in the trial of former Minneapolis police officer Derek Chauvin on Monday, after Chauvin's lawyer Eric Nelson rested his case on Thursday.
Chavin, facing second-degree murder and other charges in the 2020 death of George Floyd, declined to take the stand at the Hennepin County Courthouse. After prosecutors brought back Dr. Martin Tobin, a pulmonologist, for a fresh set of questioning, Judge Peter Cahill told the jurors they would be sequestered starting next week.
"If I were you, I would plan for long and hope for short," he said. "Basically, it's up to the jury how long you deliberate, how long you need to come to a unanimous decision on any count. And so because that's entirely up to you—whether it's an hour or a week—it's entirely within your province."
Jurors will be given computers with all the audio and video evidence presented by both sides in the case that will enable them to look at pictures or clips as they weigh the charges. They were sent home for a three-day weekend, as the court will not be in session on Friday.
Nelson has attempted to convince the jury that the high levels of drugs detected in Floyd's body and his history of heart conditions may have led to his death, while prosecutors made their case that Chauvin's kneeling on the man's neck and back for over nine minutes ultimately killed him.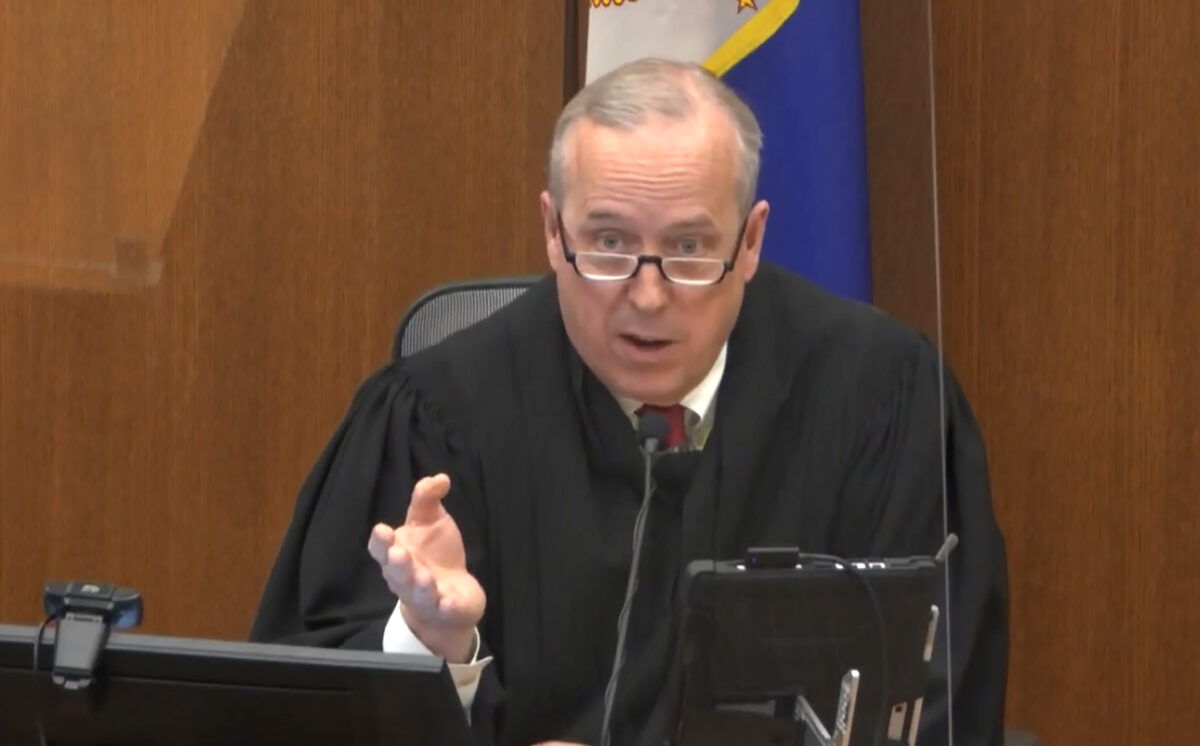 The encounter took place on May 25 of last year in Minneapolis near Cup Foods, where a clerk called the police after receiving what he believed to be a fake bill from Floyd for a purchase.
Floyd was found in his vehicle and placed under arrest. After resisting being placed in a patrol vehicle, he was restrained on the ground by Chauvin and two other officers.
Floyd eventually stopped breathing and was declared dead. His death was ruled a homicide due to law enforcement restraint, with drugs and his heart health listed as contributing factors.
"It was the stress of that interaction that tipped him over the edge given his underlying heart disease and his toxicological status," Dr. Andrew Baker, the medical examiner who made the ruling, told the court last week.
Prosecutorial witnesses said that Chauvin's actions during the encounter were unreasonable and went against Minneapolis Police Department policies.
Defense witnesses testified that the force Chauvin used was justified and that the manner of death should be classified as undetermined.
Tobin told the court on Thursday that tests from the hospital showed Floyd's carbon monoxide level was no higher than 2 percent, which he said is in a normal range. Dr. David Fowler, who previously headed a medical examiner's office in Maryland, had speculated in court this week that Floyd's death may have been caused by carbon monoxide poisoning.
Hours after jurors exited the courtroom, a fourth night of demonstrations took place in nearby Brooklyn Center, where former police officer Kim Potter fatally shot Daunte Wright, 20, after he resisted arrest and tried fleeing in his vehicle. Potter resigned on Tuesday and was charged with second-degree manslaughter the following day. She was released on bail and ordered to appear in court next month.
Hundreds of people gathered outside the police department in the Minneapolis suburb. They again tried pulling down a fence erected to protect the building and launched projectiles like rocks at law enforcement and National Guard personnel on the other site, a unified command spokesperson said.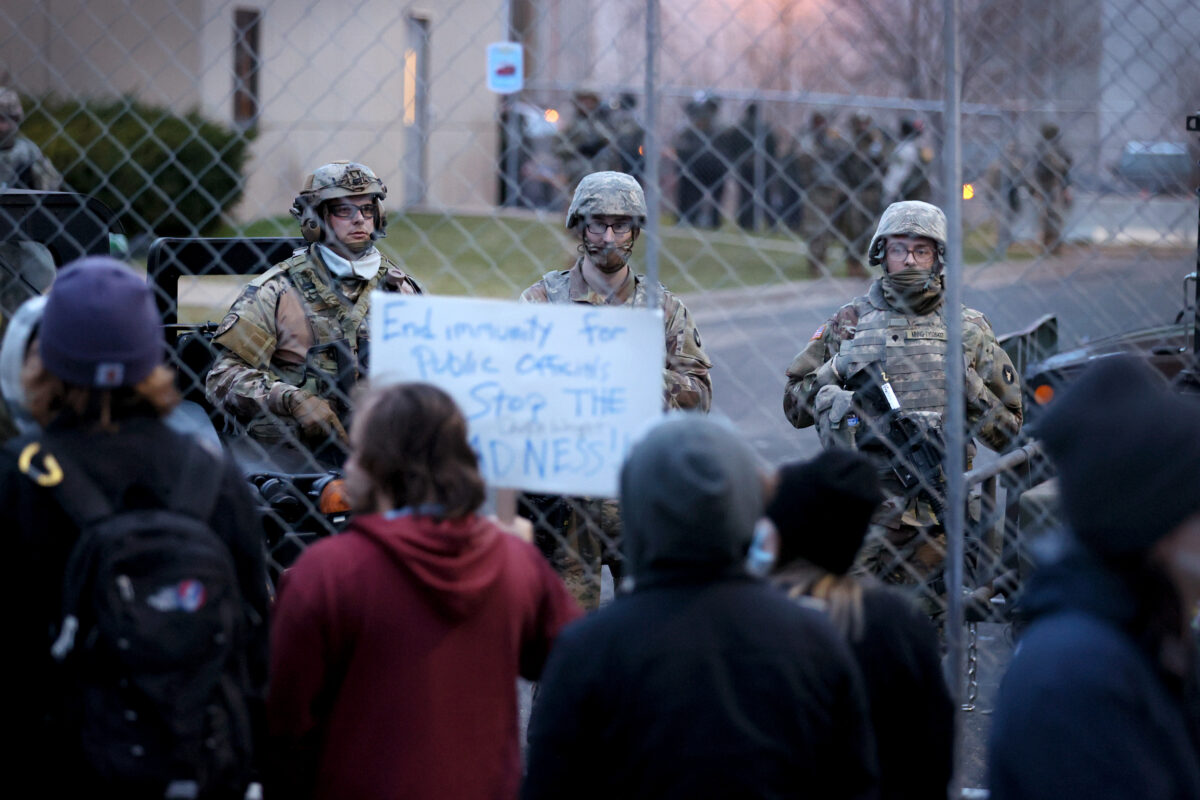 Officers and Guardsmen remained inside the fence "to de-escalate and allow peaceful demonstration" even as upwards of 300 demonstrators remained in the area after 10 p.m. when a curfew started.
The unified command last reported just before midnight, saying that fewer than 20 demonstrators were still milling about. Unlike previous nights, officials reported no arrests. The Minnesota State Patrol did not respond to a request for comment.
One area resident described the space around the department as sounding "like a war zone" because of the fireworks demonstrators have been setting off each night and the "yelling and screaming" that goes on. Angela Johnson, who lives across the street, told CCX she was going to stay in a hotel room offered by a local church "to get relief from the noise and high tension."
Acting Brooklyn Center city manager Reggie Edwards told a briefing after a closed emergency City Council meeting that arrests from civil unrest have declined each day and that curfews were helping in clearing the area around the police building. He said 95 percent of people who were gathering "are protesting peacefully."
But demonstrators are leaving "a significant amount of debris" when they leave, he said.
"We think about when our children wake up and they get on the bus or they go to school, and what is it that they see when they go out? Just garbage cans and piles of trash and so forth, and they begin to think about, that's their home," he said.
The city approved a contract with a company to immediately clear up the city early each morning, he added. City officials are mulling putting up plywood boards so that demonstrators can paint on them.
Crystal Police Chief Stephanie Revering, president of the Hennepin County Chiefs of Police Association, read a letter to members during the meeting conveying that officers "have heard numerous comments by individuals in the crowds suggesting a desire by some to vandalize or burn down the Brooklyn Center Police Department."
"As police chiefs, we can not stand by and allow our officers to be injured by individuals trying to disrupt your community's right for peaceful protest," she said, urging members to show "unequivocal support" to the law enforcement helping protect the city.