Following a defensive struggle in the first half of Wednesday's Cheez-It Bowl at Orlando, the #19 Clemson Tigers took control and held off Iowa State Cyclones for their 10th win this season.
The victory resulted in Clemson's 11th consecutive season with 10 wins (10–3); only Alabama (2008–current) and Florida State (1987–2000) have longer winning streaks at 14.
The win gives Clemson head coach Dabo Swinney a 150–36 record in 14 seasons at Clemson. "It's all about how you finish," said Swinney. "What an unbelievable effort right here by this team. Ten wins 11 years in a row. I mean, that's historic. We've always wanted to be in a program of consistency. [Our] backs against the wall, two and two [start], and then these guys just stayed in the now, kept focusing, kept the faith."
This was the first time in six years that Clemson was unsuccessful at reaching the College Football Playoffs.
"This team's journey was full of adversity and we probably had more adversity this year than the last seven combined," added Swinney. "What made it great was how everybody in the whole program, the thing that never flinched was the leadership. This was a complete program effort. What made this team special was because they didn't make excuses."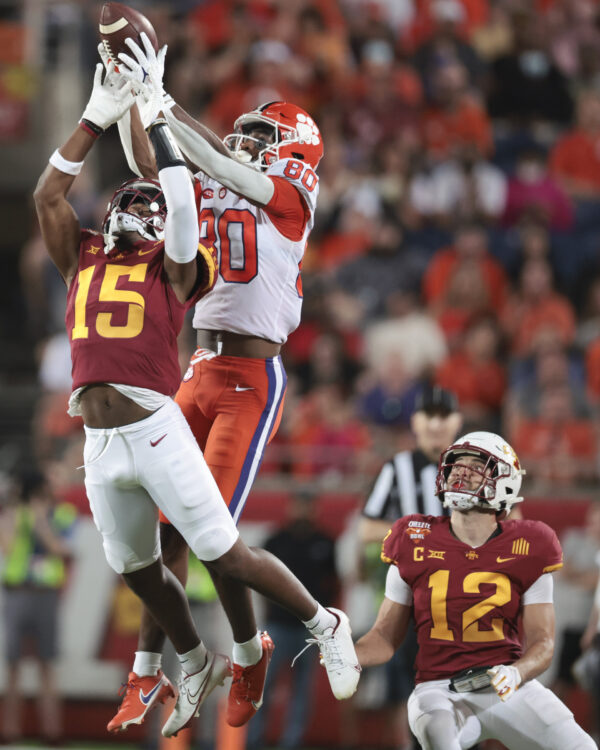 "Iowa state's a heck of a team," said Swinney. "We knew that … every game for them has been a one possession game. That's just who they are. So we knew we were going to have a tough fight. We're just really proud of our football team. We had 28 guys unavailable for the Tigers, scholarship guys, and we've had over 18 (out), about every game all year. Two coordinators gone (to new jobs). And then these guys just come together and just show what Clemson's made of."
Iowa State (7–6), had an incredibly difficult schedule and was ranked in the top ten pre-season. They were missing top running back Breece Hall, who "opted-out" of the game, avoiding potential injury in preparation for the NFL Draft.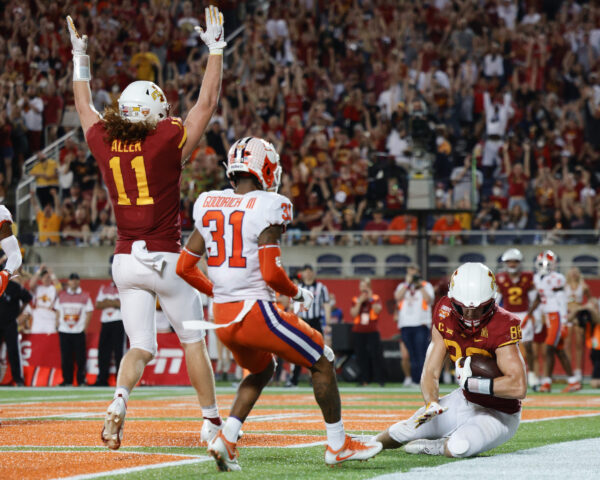 Clemson had no opt-outs said Swinney, "Well, they love to play first of all, we got a bunch of competitors and unfortunately a bunch of guys hurt."
Clemson took an early 3–0 lead on the opening drive, but was held in check by Iowa State's 10th ranked defense. The first half ended with Clemson leading in field goals 6–3.
On Clemson's first drive in the second half, quarterback D.J. Uiagalelei led the offense 79 yards on 16 plays for a 13–3 lead; capped off by a Will Shipley 12-yard touchdown run.
Uiagalelei completed 21 of 32 passes for 187 yards. Shipley rushed for 61 yards rushing and had 53 yards receiving to lead the Tigers.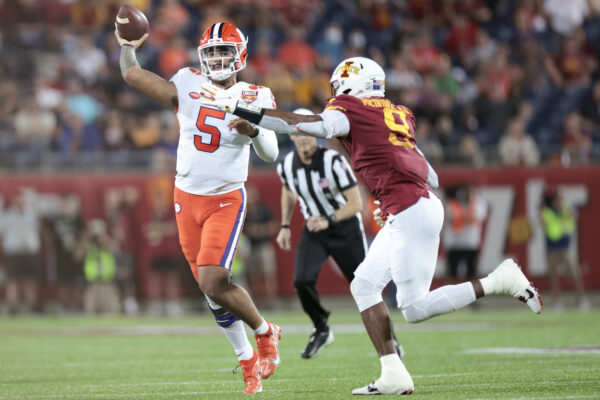 Clemson increased their lead to 20–3 as Mario Goodrich intercepted Iowa State quarterback, Brock Purdy, for an 18-yard pick-six with 4:01 remaining in the third quarter.
Iowa State would add a field goal and get within a touchdown, following a drive of 63 yards on eight plays culminating in a TD pass from Purdy to Charlie Kolar for six yards with 9:42 in the fourth quarter (20–13).
Purdy, the winningest quarterback in Iowa State history, completed 22 of 39 passes for 204 yards. But was pressured into a second turnover by Clemson's Goodrich.
On their final drive, Cyclones Purdy seemed to gain their second first-down with a run up the middle; but Goodrich forced Purdy to fumble the ball backward on a 4 & 2, at their 36-yard line. Purdy recovered the fumble short of the first down ending their opportunity of tying the game.
Having won FBS Championships in 2016 and 2019, but failing to reach the playoffs, Swinney added, "We just kept finding a way, it's been a special year. It's been a great year. "This team was committed. "I love these players, have enjoyed the year. "Hopefully, we reset a little bit on the appreciation of winning, and what it takes to win. The mentality you got to have to win. I'm happy for our fans."