City Schools Continue to Improve, Survey Says
September 5, 2013 6:20 pm Last Updated: September 5, 2013 6:20 pm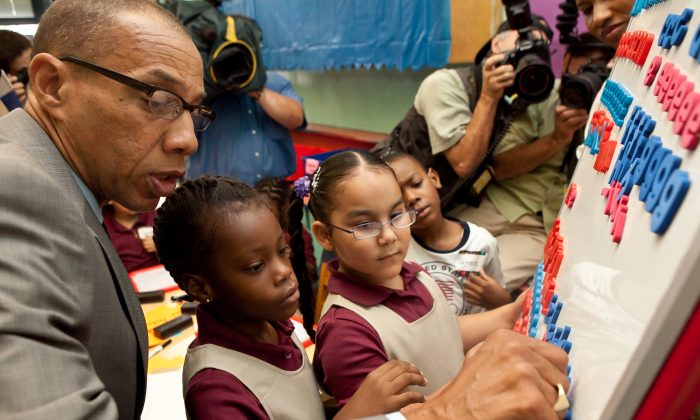 NEW YORK—Students, parents, and teachers continue to give the city's schools high marks according to a survey released by the education department on Sept. 5.
The survey is the second largest in the country with only the U.S. Census engaging more respondents. This year's survey drew more than 985,000 responses from students, teachers, and parents throughout the city.
The survey shows an overall improvement over prior years in areas of academic expectations, communication, engagement, as well as safety and respect. The most significant increase is in the students' perception of the quality of communication in school. On a scale of one to ten, it climbed by 1.3 points from the prior year. In nearly all categories, students graded their schools lower than parents and teachers did.
Smaller class sizes, more preparation for state tests, and more hands-on learning were the top three parent requests for improvement.
In light of the recently released (and significantly low) Common Core test scores for third- through eighth-graders, 85 percent of teachers said that their professional development during the 2012 to 2013 school year helped them shift their "practice to align to the Common Core Learning Standards."
"As the City continues its strategic implementation of the Common Core standards and begins a new teacher evaluation and development system, the School Survey results show that our intense focus on raising the bar for our students is working," Schools Chancellor Dennis M. Walcott stated in a press release. "Teachers are receiving increased support to strengthen their instruction and students are receiving more rigorous coursework in their classes."