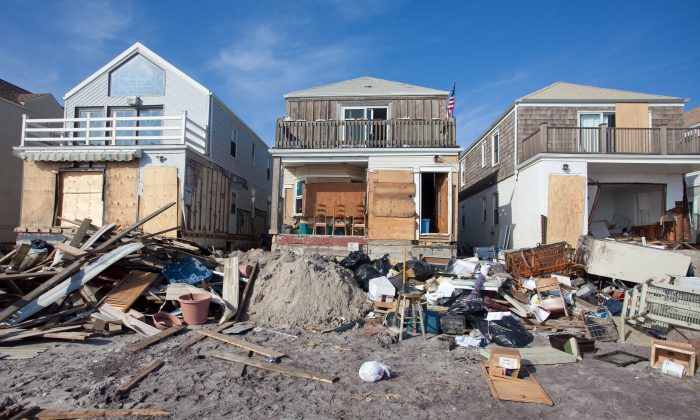 City Launches Next Phase in Sandy Recovery for Homeowners
NEW YORK—Homeowners affected by Hurricane Sandy can now embark on the next phase of their recovery thanks to a new program called NYC Build it Back, which the city rolled out Monday.
The program will provide a means to dole out the federal aid that will resolve the many and varied situations for homeowners with homes damaged by the Oct. 29, 2012, storm that decimated much of coastal New York City, causing billions in damage.
"It has been a long, difficult stretch and today is a day where people can begin the process of taking back control of their lives," City Council member Jimmy Oddo from hard-hit Staten Island said from City Hall Monday.
By signing up at nyc.gov, eligible homeowners can choose from four pathways to recovery: repair, rebuild, reimbursement, and acquisition.
Homeowners will be assigned a housing recovery specialist who will walk them through the complex process.
"We are going to have an individual human being whose name and phone number you will have and you can coordinate with and they will make sure you will understand it," Mayor Michael Bloomberg said.
Homeowners looking to rebuild will be allowed to choose from city-approved contractors for minor repairs. Director of the Mayor's Office of Housing Recovery Operations Brad Gair classified minor repairs as the cost of repairing the home, divided by the pre-storm fair market value of the home, less the value of the land, being less than 50 percent.
If the cost for repairs amounts to more than 50 percent, the home is considered to need major repairs and may be eligible to rebuild. Qualifying participants of the rebuild program can choose home models designed for their specific communities, taking into consideration the new resiliency standards, or use an architect and contractor of their choosing.
New Yorkers looking to get out of their houses will have the opportunity to opt for an acquisition, which is slightly different from the buyback program Gov. Andrew Cuomo touted in his January budget speech.
The acquisition program will let qualified homeowners sell their homes to the state, and the city will be allowed to redevelop the area, not leave it open for marshland as Cuomo had wanted initially. The new developments will meet new building requirements, including raised housing.
Council member Oddo, who toured New Orleans in January, was excited to hear about the acquisition program.
"We should be able to acquire that, potentially raise the entire block in that area to grade and then build a new, more resilient housing stock," Oddo said. "People born and raised in Midland Beach should have a right to live in a better housing stock in Midland Beach, which is why the acquisition program is so important."
Oddo said he understands for some, the wait to rebuild may be too long, and acquisition may be the best route, but the results will be the best for the community as a whole.
"As a community, it is a multi-year recovery," Oddo said. "We have to shrink that down as the shortest time possible for individual human beings."
The city also added a reimbursement portion to the NYC Build it Back, however, homeowners looking for this option may have to wait the longest.
"Our first priority is to get people back into their homes who still need help," Gair said. Because we don't have all the money yet from the federal government, we will start the process, but we may not make the disbursements until a little bit later in the process."
Deputy Mayor Cas Holloway said he expected the payments to be made before the end of the year.
RECOMMENDED