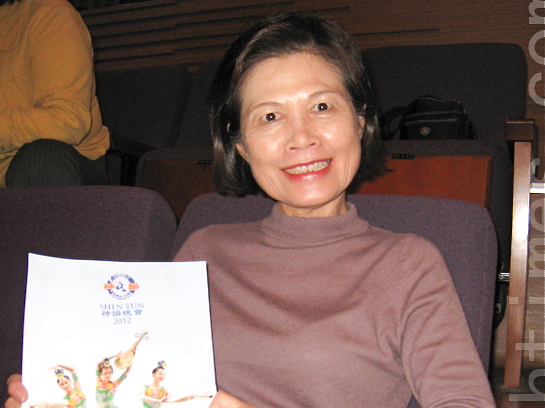 KAOHSIUNG, Taiwan—The excitement generated by Shen Yun Performing Arts New York Company reached a fever pitch by the time of its final day's performance in Kaohsiung on the afternoon of March 14, with people longing to see the performance that has captivated audiences worldwide. Li-Yan Zheng, city councilor of Kaohsiung, said, "I have seen the performance before; yet, this time, it is even grander. I am greatly inspired by the history."
New York-based Shen Yun showcases classical Chinese dance and music, and seeks to revive China's 5,000 years of traditional culture and ancient history.
"The spirit of team work was wonderful and the technique was top-notch," Mrs. Zheng said. She had wanted to see Shen Yun again, and this year was able to join the audience at the Chih-The Hall of the Kaohsiung City Cultural Center.
Reflecting back on her previous experience, she commented: "The experience with [Shen Yun] the last time was so unique that it formed a lasting memory, which I still cherish to this day. The skill of the performers was simply second to none, and the beauty that came with being enlightened by the ancient history, and the spiritual awakening, was simply wonderful."
Even though the spiritual feeling was hard to put into words, Mrs. Zheng said she could still sense the wonderful feeling within her heart. She elaborated: "Every single program of Shen Yun is unique in its own way. You could easily feel the amiable nature of the programs. Such as the program Joyful Little Monks. Though they lived secluded, they were still able to enjoy a happy life. This has given me a new perspective. … Their actions were really mischievous and funny. They were simply innocent and pure."
Mrs. Zheng, with a down to earth personality, enjoys genuine human expression, which she found amply displayed in Shen Yun's dance programs. She said: "This was the first time I saw Dance of the Qiang People. It was novel and enjoyable. These female performers looked so innocent. They possessed the characters of pure beauty."
The Qiang, also called the Erma, are one of China's oldest ethnic groups and live in southwestern China. Qiang ethnic dance is characterized by its free-swinging movements and lively steps. Dancers sway and shake to a catchy beat as they celebrate a bountiful harvest, according to the program booklet.
Choosing to be Blessed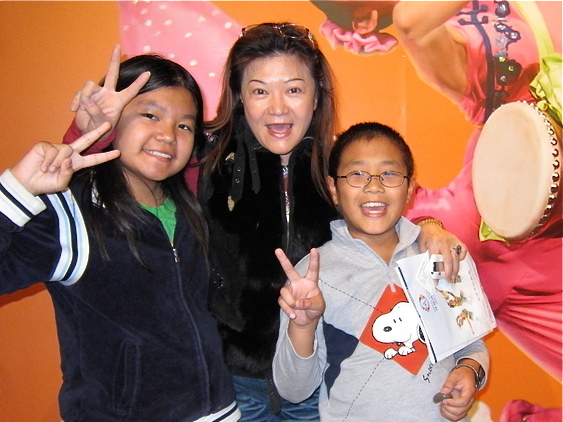 Ms. Ueng Liwen, store manager of Taiwan's Housing, was deeply moved by the performance. She said Shen Yun displayed the truth of the principle of divine reward for goodness and retribution for evil.
Ms. Ueng Liwen is also the director of the Association of Tainan Estate Brokers. She attended the performance with her two children. She hoped that her children could learn from the spirit of the Shen Yun artists.
She recalled some of the programs, such as Crazy Ji Saves the Day, in which the plot was very active she said. And another one, the cutest Joyful Little Monks, which she said was really very vivaciously performed.
She said every program had its characteristic features, especially the Taiwanese Amei Dance, which she said was "beautifully danced, truly! Very lifelike! Very great!"
Ms. Ueng Liwen praised the costumes and color coordination. She said, "The costumes are very beautiful, and the colors are so wonderfully matched."
She also particularly enjoyed Lotus Leaves, and commented that the "lotus and lily pads are exquisitely matched, and the colors are so beautiful, moving up and down, really stimulating. Very touching."
She also spoke of the dramatic pieces such as The Choice and Mu Guiying Commands the Troops. "I shed tears for many scenes … I am so moved! Mu Guiying danced superbly; truly, very vividly performed."
Ultimately she said she was most touched by the principle of divine reward for goodness and retribution for evil. "Choosing right or wrong, good or evil, you have to choose!"
She said the last scene, Before Disaster, the Divine is Rescuing shocked her, revealing to her a true significance, "You have to believe in the Lord Buddha. If you believe in him, you will be blessed."
Reporting by Qingdai Li & Frank Fang and Dai Deman & Sophie Chiu
Shen Yun Performing Arts, based in New York, tours the world on a mission to revive traditional Chinese culture. Shen Yun Performing Arts New York Company will perform in seven cities in Taiwan until April 8 and then continue to top venues in Australia and New Zealand.
For more information visit ShenYunPerformingArts.org
Read the original Chinese article
Read the original Chinese article