ELSMERE, Del.—Santa Claus made an appearance in Elsmere, Delaware, bringing the holiday spirit back to town with him after going through the pandemic.
After a hiatus in 2020 because of COVID-19, the 26th annual Elsmere Christmas Parade returned on Dec. 12. It included dignitaries, bands, marching units, dance units, floats, fire departments, police departments, and of course, Santa was there as well.
It was the biggest parade ever with 88 organizations, over 1,000 people, and several hundred vehicles in the parade, according to Joe Leonetti, co-chairman of the parade.
The streets of Elsmere were lined with over a 1,000 spectators who were excited to celebrate the tradition again with their family, friends, and neighbors after the pandemic.
"It's the time of good cheer. It's time we get together. And I think it's a time to express love; love each other. The reason I like it is that it always gives me an excuse to see someone and say that I love you," 100-year-old Parade Grand Marshal Ray Firmani told The Epoch Times. Firmani, a World War II veteran, has been living in Elsmere since 1950.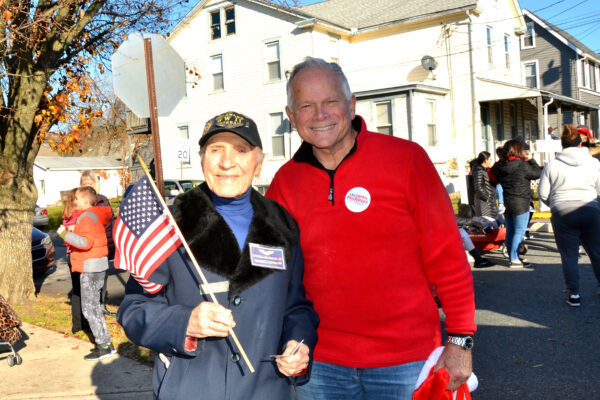 As a bomber B-17 Flying Fortress pilot during the war, Firmani flew 25 combat missions over Germany.
"All my old friends are gone," Firmani said. And he is the oldest man in the town. He appreciates the help from his new friends. "These people are so good. I have neighbors who almost take care of me. And I love them," said Firmani.
Jay Green and Rebecca Green used to live in Elsmere and were happy to be back to watch the parade.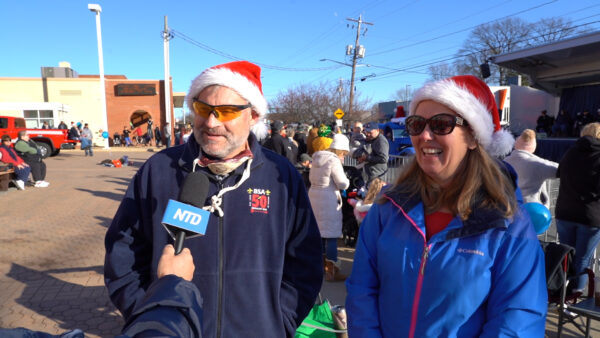 "I'm glad to be outside, "Jay, a nurse, told The Epoch Times. "It's a fun parade, a lot of energy around and happy people doing stuff in public again."
"It's a great time to celebrate the holidays. Christmas is an American tradition, and it's a worldwide tradition. It's a shared celebration," Jay continued.
Rebecca, an editor, echoed her husband's view. "Last year, we had a lot of interruptions to traditions. So, it's more important than ever to get back out and do the things that you were used to doing and enjoyed doing it during the holidays," she said.
Many residents in Elsmere, a small town with a population of about 5,800, were surprised to see a Chinese waist drum dance team from upstate New York, about 200 miles north of Delaware.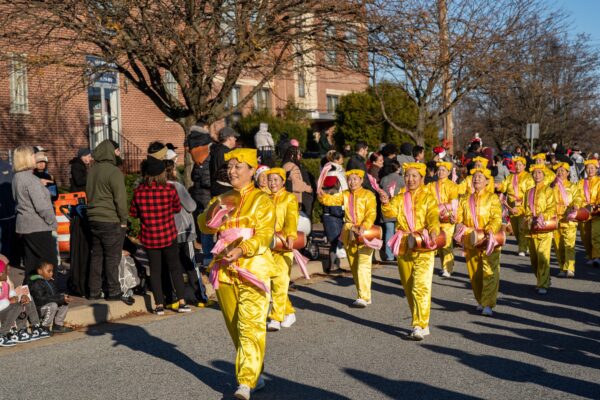 Traditionally the Chinese drum is played at the musician's waist and struck with wooden sticks. It is used in many celebrations, including the Chinese New Year and Lantern Festival.
The waist drum dance team consisted of about 30 people who are practitioners of Falun Dafa, also known as Falun Gong. It is an ancient Chinese spiritual practice consisting of simple, slow-moving meditation exercises and teachings based on the principles of truthfulness, compassion, and tolerance.
Leonetti, the parade co-chairman, thought the waist drum dance was "very ornamental-like" and "something different than we had in the parade before."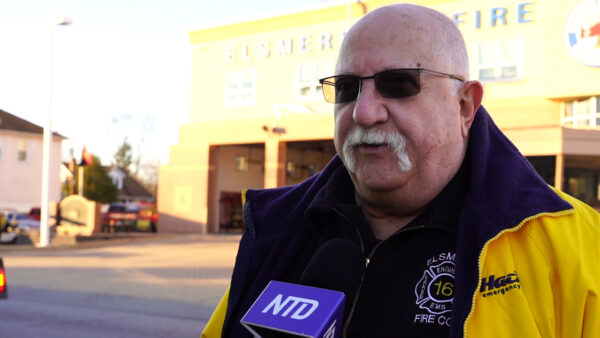 "It makes everybody just feel good," Leonetti told The Epoch Times. "The different sound and the beautiful costumes and everything they had on—it was nice," he added.
Jacqueline Hopkins, an office manager for a law firm, was also impressed with the "so colorful" waist drum dance. "They were so graceful, and they kept in pace with everything they were doing, and they made it look effortless," she told The Epoch Times. "I know that's a lot of work. But they made it look so easy, and it's so beautiful," she added.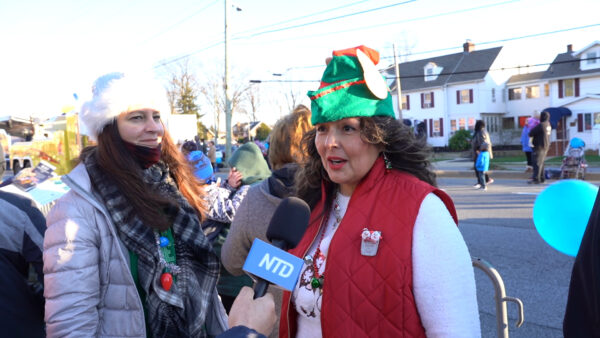 Christmas also "means an awful lot to" Hopkins. She said Christmas "is deep in my heart. It's about families and friends. It's about caring and humanity."
"It's exciting to be here and see all the love and the energy for the holiday spirit after being through this pandemic. … It's fantastic," Hopkins said.
The parade was also attended by dignitaries who believe tradition is precious to the communities.
"Traditions are very important to our society—absolutely," Sen. Chris Coons (D-Del.) told The Epoch Times.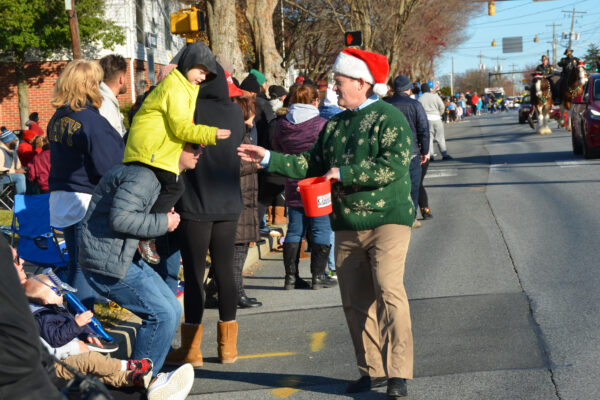 The Christmas parade is "very important" to the community, Coons said. "It helps reinforce a sense of connectedness. … I've enjoyed coming to this parade for 20 years."
Lee Murphy, who is running for Congress, also joined the festivities. He credited the Christmas parade for bringing the community together.
"Especially after COVID, people want to get out," he told The Epoch Times. "They want to celebrate. They want to be with their neighbors."
"It's just a reigniting of the American spirit," said Murphy.