Chinese Villager Kills Three Over Home Demolition
August 10, 2006 12:00 am Last Updated: August 10, 2006 12:00 am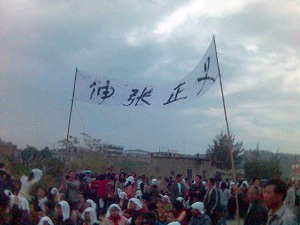 BEIJING — A Chinese villager has been arrested for running down and killing three law enforcement officials and injuring eight when they began to tear down his home, a Beijing-funded Hong Kong newspaper said on Thursday.
China has been grappling with an increase in social unrest, sparked by anger over issues ranging from land grabs with lack of compensation to corruption and a widening wealth gap.
Wu Guangde, a resident of Dongxinwu in Yiwu city, eastern Zhejiang province, rammed the group of officials with his tipping lorry on Wednesday when they began demolishing his home as part of a road expansion project, the Wen Wei Po said.
Three were killed, while the injured were rushed to a nearby hospital, the newspaper said without giving further details. Yiwu city government officials could not be reached for comment.
Land prices, especially in the booming east, have shot up in recent years.
In December, paramilitary police opened fire on residents of Dongzhou village, Shanwei in the southern province of Guangdong protesting against a lack of compensation for land appropriated for a new power plant. The government says three villagers were killed, however, villagers and human rights activists claim that up to 70 people were massacred by the police.