Chinese University Graduates Train As Housemaids
July 20, 2006 12:00 am Last Updated: July 20, 2006 12:00 am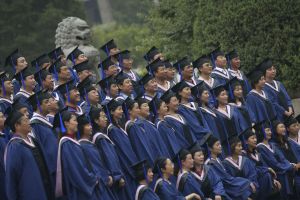 BEIJING – A tight labour market for graduates in China is forcing a group of qualified students to look for work as housemaids in the booming southern city of Shenzhen, a state newspaper said on Thursday.
The 32 female English-language graduates from a university in the poor southwestern region of Guangxi are training to work for mainly foreign families, the China Daily said.
They are being trained by a Filipino "expert on domestic service" in everything from preparing Western food to general knowledge about the outside world.
But they are not downcast about having gone to university only to do low-skilled work, and will earn up to 2,000 yuan ($250) a month, the newspaper said, which is around 1,000 yuan more then they would earn in Guangxi.
"By serving foreign families we can practice oral English and learn their lifestyles. The work environment is attractive," it quoted one of the graduates, Mo Hui, as saying.
This year, about 750,000 more students will graduate into China's workforce compared to 2005, and despite the booming economy many will struggle to find work, with companies complaining they lack practical skills.
New graduates also no longer want to work in the heavy industries that fuelled China's growth a generation ago, but face a service industry and small- and medium-sized enterprise sector that are too underdeveloped to absorb them. ($1=8.001 Yuan)