Chinese Tightrope Walker Breaks World Record
July 11, 2009 3:53 pm Last Updated: October 1, 2015 9:38 pm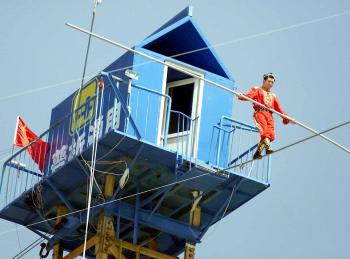 The well-known prince of the Uighur art of wire-walking, Adili Wushouer, broke the world record for tightrope walking in the air on July 5 in Kanas, Xinjiang.
This time, he walked with his disciple face to face from the two ends of the wire. They performed the difficult movement of changing positions on the wire.
Adili challenged the world record of walking across the 1,530-meter-long wire (0.95 miles) in Kanas, Xinjiang, almost a mile above sea level. At first, Adili walked backwards to show his world-class skill. Afterwards, he turned back carefully towards his disciple, who walked from the other end of the wire.
Around 2:00 p.m., Adili and his disciple met in the air, about a quarter of a mile above the ground. Since they had not practiced how to change positions, they discussed it in the air.
At last, they decided that the disciple would lie down on the wire, and Adili would walk on him. However, when Adili started the first step, he withdrew and went backward quite a lot. Their family members dared not watch them from below. Then Adili tried again and succeeded.
The challenging movement won the applause of the audience. After more than an hour of difficult walking, they both arrived at opposite ends and broke the Guinness world record.