"I used to be a nationalist," a Chinese student said from Kyiv, Ukraine. "I would get angry if anybody says 'our home country is not good.' Now, I will never believe in the Chinese government. Never, never, never."
Mei Qinghe (a pseudonym) told the Chinese-language Epoch Times on March 10 that she fully trusted the Chinese regime and the Chinese Embassy in Ukraine before the Russia–Ukraine war broke out.
Mei said the only reason she stayed in Ukraine is that the people there are very friendly and have offered to help her. They're the people she trusts, she said.
While the United States, Australia, Japan, and other developed and developing countries were evacuating their citizens, Mei and her fellow Chinese students in Kyiv became worried.

"The Embassy told us that there wouldn't be a war, and these Western countries were lying," Mei said, as she noted that she and her fellow students believed the Chinese embassy knew the truth of the situation and would protect them.
"We were really emotional at that time and opposed and slandered the U.S. government … because the embassy told us that the U.S. was boasting and trying to create chaos."
Mei had enjoyed her life as a Chinese nationalist before Russia started its invasion on Feb. 24. Most Chinese youths have hate in their hearts because of the brainwashing that they receive as part of their education in China, she says; in schools, students were taught to slander developed Western countries and call themselves patriots.
"You know, it would have been easy for us to go to Poland, Turkey, Romania, Moldova, and Slovakia. We could've taken a flight or train to go to these countries before the bombing. It was easy and cheap. But we didn't because the embassy said there wouldn't be a war," Mei said.
Her life changed early on Feb. 24.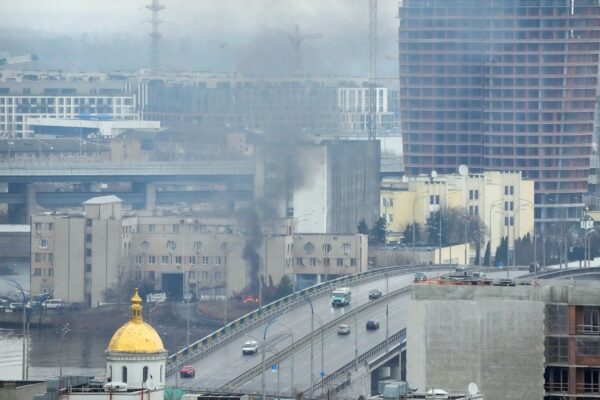 "At 3 a.m., I heard the shelling. I couldn't sleep anymore and wanted to flee immediately," Mei said. "Luckily, I quickly found and bought a flight ticket from Kyiv to Warsaw, which would take off at 10 a.m. But by 6 a.m., media reported that Russian troops had destroyed Kyiv airport and my flight was canceled."
She then found herself in a panic. She contacted her fellow Chinese students to try to find a way to flee. Quickly, they realized that there was no way to evacuate by themselves and that they needed help.
"We didn't have enough food or cash in our hands. There were long lines in front of every ATM machine [to withdraw cash] … children were crying inside the air-raid shelters … homeless dogs and cats were running on the streets," Mei recalled.
Mei and her friends started their challenging period of waiting.
She said the embassy didn't evacuate anybody until Feb. 28. "The embassy only sent us to the border."
Mei said she didn't dare attempt this type of evacuation.
Decision to Stay in Kyiv
Mei regained her calm as the war continued to unfold. Disappointed by the Chinese embassy's evacuation arrangements, she was moved by the local Ukrainian people during this difficult time.
"Some of my Ukrainian classmates joined the army after the war. They are at the frontlines now," Mei said. "The dorm administrator prepared food and drink for us and brought us to an air-raid shelter once there was an alarm."

Mei said she decided to stay in Kyiv with the people who helped her. At the same time, she's very angry about the Chinese state-run media's reports on the situation in Ukraine, which she believes to be the opinion of the Chinese regime.
"I read Chinese news every day. The media in China all report on how great the Russian troops are doing in Ukraine, how bad the Ukrainian army is, and how the Ukrainian military used people as hostages. … These are all lies," she said.

Mei said she wants to tell the world that it's Ukrainian soldiers who have evacuated Chinese students from the war zones in Sumy and other areas, that it's Ukrainian soldiers and policemen who rescued Chinese citizens when Russian forces were shooting them, and that the Ukrainian people are helping the Chinese students who are in the country.
"I'm a human being. If I don't even have the bottom line to be a human being. Then, why am I living in this world?" Mei said.
Gu Xiaohua contributed to this report.