NEW YORK—Chinese state media Xinhua is running digital billboards in one of the world's most coveted ad spaces to promote goods from Xinjiang amid rising global outcry over the regime's campaign of repression in the region.
In New York City's Times Square just before Christmas, a giant screen measuring about 64 feet high and 40 feet wide repeatedly played a video by Xinhua, depicting Shihezi, one of the largest cities in Xinjiang, as a thriving "green" city.
The 30-second video touted Shihezi as an "epitome" of China's green development efforts, with "sweet fruits, intoxicating wines, a green city image, and a happy life of people," according to a description from a Jan. 4 press release from Xinhua Screen Media Co.
"China's Shihezi city delights Times Square with fruits of green development," Xinhua stated in the press release.
Such portrayal stands in stark contrast with the regime's human rights abuses in the region, which includes the detainment of an estimated 1 million Uyghurs in camps, where they are subjected to torture, forced labor, and political indoctrination.

Those concerns have led the United States and allies to stage a diplomatic boycott against Beijing's 2022 Winter Olympics. The U.S. government, several Western parliaments, and an independent people's tribunal have classified Beijing's campaign as a genocide.
Presenting Shihezi as a "green city" against this backdrop feels ironic, according to Ilshat H. Kokbore, vice chair of the executive committee of advocacy group World Uyghur Congress. Kokbore worked as a college teacher in Shihezi for 15 years from 1988 to 2003.
The regime is trying to "whitewash the genocide accusation," he told The Epoch Times. With the Olympics coming in just four weeks, any diplomatic recognition or praise from the West would equate to a "success" that Beijing could use to boost its legitimacy, he said.

Behind the "green" facade, Shihezi is a military-style city run by Xinjiang Production and Construction Corps (XPCC), according to Chinese state media. XPCC is a regional paramilitary group the United States has sanctioned over serious human rights violations.
"The city is not friendly to anyone, not even friendly to the Han Chinese who live there," Kokboore said, referring to the majority ethnic group in China.
Shihezi is a major city for exporting cotton and tomato products, according to Chinese media reports.
When Kokbore was a teacher there, every year during the cotton harvest season, which typically started around mid-September, he would lead around 50 to 70 Uyghur students to pick cotton. The labor was unpaid. To accomplish the quota, they sometimes had to stay in the cotton fields from 6 a.m. to 10 p.m.
"It was called labor education for the students," he said.
Washington banned all imports of cotton and tomatoes from the region last January over forced labor concerns. In December, President Joe Biden signed into law a bill that banned all imports from Xinjiang.

These sanctions have hit Xinjiang hard, Kokbore said, which he believes is a principal reason behind Beijing's ad campaign. With exports to the United States curbed, his connections from Shihezi told him, the city's government is in a tight spot financially and even has some trouble fully paying civil servants' salaries.
This propaganda campaign is unlikely to bear fruit, given what the world knows about the Chinese regime's abuses against its citizens in Xinjiang and elsewhere, he said. Kokbore pointed to the recent example of Xi'an city's harsh lockdown in a bid to keep down COVID-19 numbers, which has left locals struggling to obtain food and basic medical care.
"How can anyone trust this government?" he said. "Their own citizens cannot enjoy any freedom …[and] cannot, when they need, even visit the doctor."
Xinhua made its debut at Times Square in 2011 in an effort to expand its global outreach, using the screen to play videos that portray the regime in a favorable light.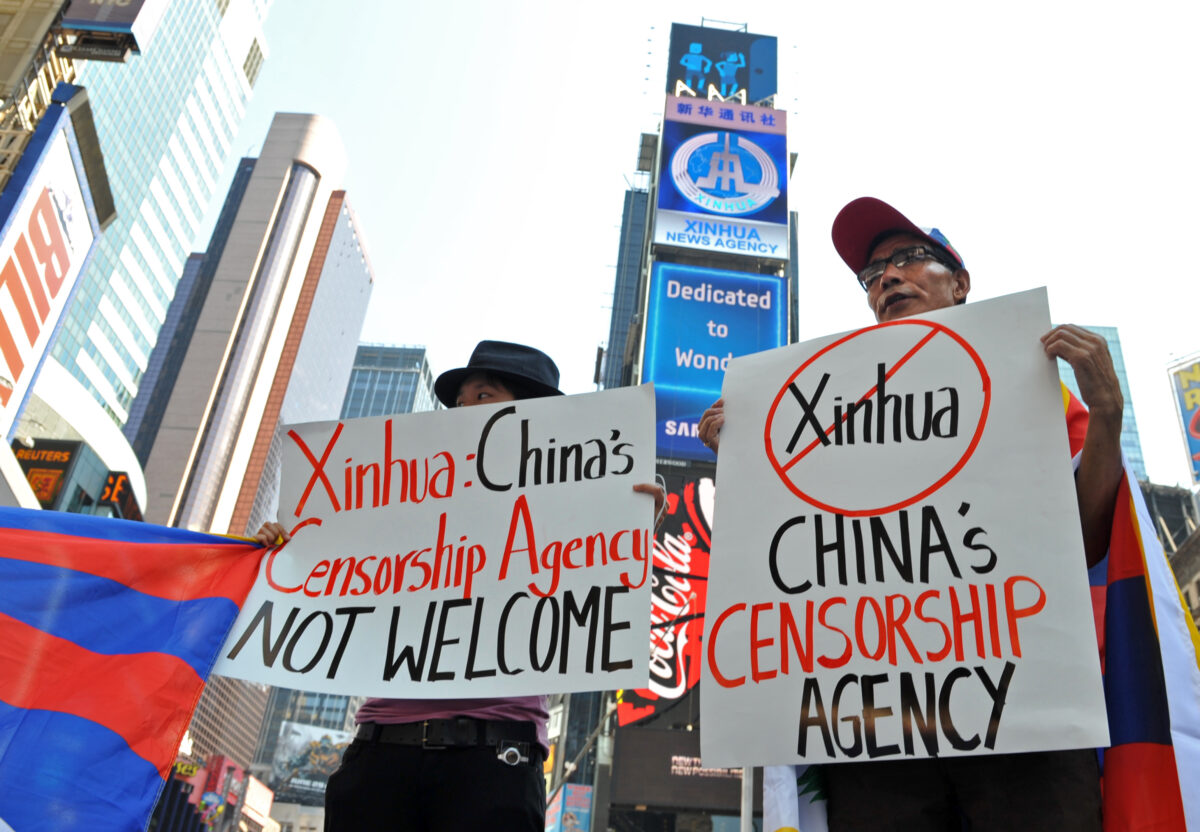 Early last year, amid rising scrutiny over China's alleged coverup of the pandemic origin, an ad from Xinhua claimed that China was leading the world in fighting the pandemic and called for unity. Around the time, Beijing had refused to hand over raw patient data for the World Health Organization's virus origin probe.
But the news agency and other Chinese state outlets are facing growing skepticism in the West. The agency registered as a foreign agent last year under order from the Justice Department. It is also one of 15 Chinese state news outlets the United States has designated as foreign mission, alongside China Daily and English-language broadcaster CGTN.
Americans need to "say no" to the Chinese regime, said Kokbore.
Given that Beijing heavily restricts the activities of American and other foriegn media outlets in China, Kokbore questioned why Washington should grant so much freedom to the regime's outlets in the United States.
"Why should we let the Chinese media freely propagate communist ideology? It shouldn't happen."
Danella Pérez Schmieloz contributed to this article.