Canada should be well acquainted with the can of worms created when Chinese state-owned enterprises (SOEs) purchase Canadian assets after the debacle that was the Nexen takeover by CNOOC in 2012. Unfortunately, more Chinese SOE involvement in Canada would be a consequence of greater ties such as a free trade agreement.
As the Liberals continue to negotiate with the communist regime on trade and as Chinese construction firm CCCI's takeover of Aecon undergoes examination, reviewing Chinese SOE activity in Australia highlights the potentially undesirable implications for Canada.
Debacle Down Under
The poor results in Australia by Chinese SOEs stem from the communist regime's use of government control, which runs contrary to established business practices in the developed world. This behaviour has proven to be deceitful toward the authorities, unfair toward workers, and harmful to the environment.
Australia has been the second-largest recipient of Chinese foreign direct investment since 2005, and the two nations entered into a free trade agreement in 2015 (ChAFTA).
"Most of the Chinese-funded state-owned enterprises did not get the expected returns. Profit is not much while losses seem to be the norm," according to preliminary analysis of China's SOE activity in Australia conducted by the Chinese Academy of Social Sciences this year.
Common themes have emerged when Chinese SOEs buy Australian assets. They spend big without proper due diligence and suffer losses. They are also ineffective at costing and managing projects.
In 2008, Sinosteel, a Chinese SOE, acquired Australia's Midwest Corp. in a hostile takeover at a cost of AU$1.4 billion. The deal was struck close to the top of the market for iron ore prices, and Sinosteel reportedly paid a 35 percent premium on 80 percent of the outstanding Midwest shares. A high-cost variety of ore called magnetite produced by Midwest looked attractive until prices plunged.
"Because it is a CCP [Chinese Communist Party] state-owned enterprise, nobody making any mistakes will be held accountable," said Zhu Ming, a New York-based current affairs commentator.
In January 2007, the CITIC Pacific iron ore project used Metallurgical Corporation of China Ltd. (MCC) for a total contract value of US$1.1 billion. The cost of the project increased to $1.75 billion by August of that year and to $2.59 billion by May 2010.
By 2011, $3.4 billion had been sunk into the project due to cost overruns and MCC not taking into account the full extent of foreign exchange volatility, according to a Reuters report. CITIC Pacific shares were down 31 percent in 2011, underperforming the Hang Seng index by 11 percent. CITIC Pacific undertook sole management to complete the project in January 2013.
Chinese SOEs also have a history of disregarding local labour laws and unions and eschewing environmental concerns. This stems from Chinese SOEs accustomed to employing government-based control instead of relying on a well-functioning legal framework.
Dubious Benefits
Independent scholar Duanjie Chen argues in an editorial for the Macdonald-Laurier Institute that the many benefits CCCI promises Aecon, such as greater international exposure, are unlikely to be realized.
"The only visible 'benefit' to Aecon would be the 42 percent premium on its last pre-agreement trading price for its shareholders. Nothing else would be certain in Aecon's future," Chen wrote.
Former long-time Conservative minister Peter MacKay has also recommended the Liberals not approve CCCI's takeover of Aecon.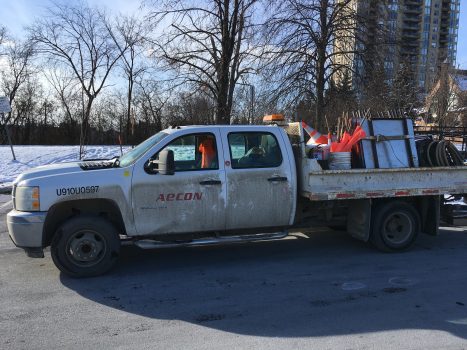 He contends that Trudeau's trip to China showed that the Asian giant won't improve worker protection and labour standards. Furthermore, should the Liberals approve the Aecon takeover, China would reap most of the benefits of the Canadian government's infrastructure spend.
The use of materials for construction, such as steel, would likely come from China, which would have adverse impacts on Canadian markets.
"China is one of the most unrepentant dumpers of steel in Canada—a factor that has driven Canadian steelmakers into bankruptcy more than once," MacKay wrote in an editorial.
In 2014, McKinsey published a report about the global ambitions of Chinese SOEs and concluded that their maturity on an international scale was still low. Experience suggests Chinese SOEs still have a long way to go before becoming global winners.
Fear the Walking Dead
The IMF has also sounded a warning about highly indebted firms in China—"zombies"—and their deleterious effects on competition such as in a free market like Canada.
The IMF tracks the rise in China's SOEs, which overlap considerably with zombie firms. These companies incur persistent losses but keep operating with the support of local governments and loans at below-market interest rates.
In China, zombies hinder competition and crowd out non-zombie firms' investment by 2 to 8 percent, according to the IMF. It should therefore be clear that Canada would not want another Chinese SOE on its turf.
Even worse, zombies are on the rise in China, with their share of total corporate debt rising by 4 percent of GDP during the 2008–2016 period, reaching the highest level since 2009. "There remains huge causes for concern," according to the IMF.
To avert a financial stability crisis in China, the IMF recommends reforming SOEs by supporting liquidations, allowing greater defaults, and tightening budgets.
For free trade, Chen posits that foreign acquirers should uphold contract rights, not upset the competitive marketplace, and reciprocate. However, these are three basic principles that Chinese SOEs violate consistently.
Should CCCI be allowed to buy Aecon, Chen said, "It represents a gain for the so-called 'China model' over our free market system—one that will only negatively impact our economic and political systems."
Lin Yan contributed to this report.
Follow Rahul on Twitter @RV_ETBiz