Chinese Regime Upholds Verdicts in Crackdown on Dissent
December 1, 2006 12:00 am Last Updated: December 1, 2006 12:00 am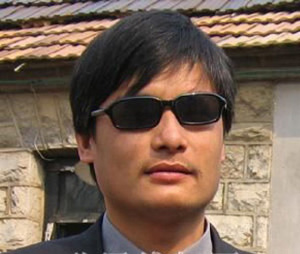 BEIJING—China upheld convictions on Friday in two high-profile political cases, highlighting the Communist Party's intent to contain dissent in the face of criticism from rights groups and foreign governments.
A court in Beijing tossed out an appeal filed by Zhao Yan, a Chinese researcher for the New York Times, and upheld a three-year prison sentence handed down in August for fraud.
At about the same time, a court in the eastern province of Shandong affirmed a jail sentence of four years and three months for blind legal expert Chen Guangcheng.
Court officials in Beijing and Shandong declined to comment.
The decisions came a week after the Beijing Higher People's Court upheld a five-year jail term against Ching Cheong, Hong Kong-based China correspondent for Singapore's Straits Times, on charges that he spied for Taiwan—another case that has been criticised abroad and in Hong Kong.
"It is not fair. It demonstrates that China's judicial reforms have not been proceeding at the promised pace," Zhao's lawyer, Guan Anping, said of the ruling in his case.
With the two years Zhao has already been detained, he will be in jail until September 2007, Guan told Reuters.
Zhao, a researcher for the Times in Beijing, was tried in June and sentenced to three years in jail in August for defrauding a rural official of 20,000 yuan ($2,500) in 2001.
The prosecution said Zhao took the money on the understanding that he'd help the man avoid a sentence of "labour re-education"—a form of imprisonment police can impose without a trial.
The court unexpectedly rejected a state secrets charge against Zhao over a 2004 story in the New York Times detailing rivalry between top Chinese leader Hu Jintao and his predecessor, Jiang Zemin, over military appointments.
Zhao and the Times have denied that he was the source of the story.
Jerome Cohen, a U.S.-based expert on Chinese law, has called the fraud charges "a fig leaf" devised after it became clear the state secrets charge would not stick.
The defence was denied the right to subpoena key witnesses in the first and second trials, Guan said.
In Shandong, Chen's defence lawyer decried the latest ruling in his client's case.
"This is an evil sentence, and we are very furious about it," attorney Li Fangping said by telephone.
Chen, self-taught in law and known as a "barefoot lawyer" for providing legal advice to peasants, was convicted in August of damaging property and disrupting traffic during a protest in his home village in Shandong on China's east coast in February.
He maintains the charges were trumped up after he exposed forced late-term abortions and other family planning abuses. A Shandong appeals court ordered a retrial last month.
"His initial trial was grossly unfair, not least because he was not represented by lawyers of his choice. The retrial failed to consider new evidence from key witnesses and has not delivered justice," said Mark Allison, a Hong Kong-based researcher for Amnesty International.
During his first trial, Chen's lawyers were detained and accused of theft, and he was defended by stand-in attorneys who knew little about his case.
Monday's 10-hour retrial was held behind closed doors. Another of Chen's lawyers, Li Jinsong, stormed out of the courtroom because the court had rejected his demand to postpone the retrial after a key witness disappeared.
Three of Chen's fellow villagers who had testified against him have since recanted their testimony and have accused police of torturing or intimidating them during questioning, lawyers said.
"We continue to view this case as a politically motivated attempt to prevent Chen Guangcheng from pursuing his peaceful human rights activities."
Edited by The Epoch Times