In recent years, the Chinese communist regime has been pushing for "Buddhist diplomacy" in its quest for global domination, especially after international backlash against its Confucius Institutes. Experts held a symposium in Taiwan to reveal the regime's new tactics of Buddhist diplomacy.
On April 1, mainland Chinese Buddhist scholar Liu Yuguang gave a speech at the symposium called "China's Buddhist Diplomacy," held at Taiwan's National Chengchi University Graduate Institute of East Asia Studies.
Liu stated that the Chinese Communist Party (CCP) is actively developing the concept of "Buddhist New Motherland" to promote Chinese nationalism, according to a report by Radio France Internationale (RFI). He said the Chinese regime has turned Buddhism into a "tool of its diplomacy" because there are many Buddhist believers in the world, and this move could make up for problems such as the backlash against China's Confucius Institute (CI) in recent years due to concerns over its ties with the Chinese regime.
CIs are operated under the Chinese government agency Hanban, under its Ministry of Education. It promotes the communist ideology and the CCP's agenda, including censoring topics the regime deems sensitive such as the persecution of Falun Gong adherents, Uyghurs and Tibetan Buddhists, and the Tiananmen Square Massacre.
Liu pointed out that the atheist CCP has cracked down on Chinese traditional religious beliefs and undermined ethnic minorities and traditional culture since it took power in China. The Party views religion as a national security issue of subversion, secession, and terrorism.
Tseng Chien-yuan, associate professor at Taiwan's National Central University echoed Liu's point in an interview with The Epoch Times. He said that the CCP has brutally suppressed religious beliefs and destroyed ethnic minority cultures in mainland China. It upholds "atheism and materialism," and uses material benefits to deny the importance of spiritual civilization.
Tseng said that this type of Buddhist diplomacy with communist characteristics has no substance at all and it is a joke–the CCP has persecuted Buddhism in the past, but now it uses Buddhist diplomacy to cultivate closer relations with the Southeast Asian countries that have practiced Buddhism since antiquity.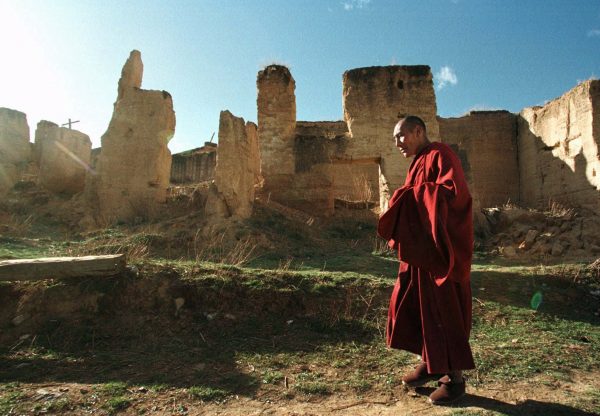 Tseng pointed out that the Buddhist diplomacy is part of the Chinese regime's "United Front" strategy, dubbed by CCP leaders as a "magic weapon" in supporting the regime's global ambitions. It's through non-violent means, such as propagating a good image, that the CCP can gain the public's trust and support, he said.
The United Front work involves the efforts of thousands of overseas groups that carry out political influence operations, suppress dissident movements, gather intelligence, and facilitate the transfer of technology to China. Many of the groups are coordinated by the Party agency the United Front Work Department (UFWD).
Tseng said, "How the CCP has treated religious beliefs in the country has been observed by the international community."
He named a few of the Party's atrocities against religions since it took over mainland China in 1949, including smashing Buddha statues and burning down temples, forcing monks and nuns to return to the secular world and to get married, and continue persecuting religious groups. He added that the CCP has turned many Buddhist temples into tourist attractions and makes a lot of money from them. The regime monitors the temples—it has set up police stations inside Tibetan Buddhist monasteries. The CCP also runs temples like a political organization by installing Party branches and appointing its Party members as abbots.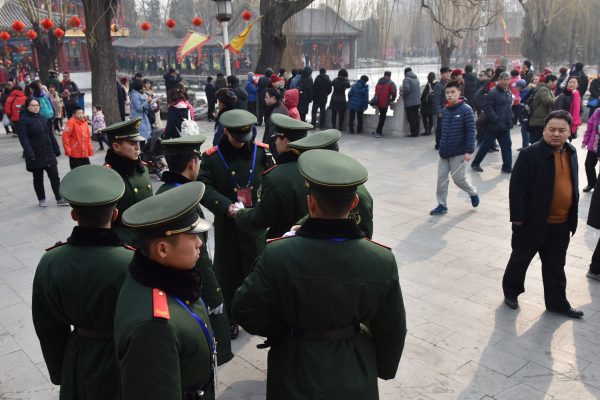 According to mainland Chinese media reports, during the Tomb-Sweeping Festival (China's Memorial Day) on April 4, Buddhist temples in various places across the country sent monks to cemeteries to pay homage to communist martyrs as part of the series of events for the CCP's centenary this year.
At the symposium, Liu Yuguang talked about Nanhai Buddhist Academy in China's Hainan Province—which consists of various islands in the South China Sea—as an example of the regime's Buddhist diplomacy.
Liu pointed out that the purpose of the CCP's establishment of the religious education institution in this location is not to cultivate domestic religious talents, but to attract monks from Southeast Asian countries such as Cambodia and Laos. By doing so, the Chinese regime intends to promote cooperation with these countries through religious exchanges.
Furthermore, the CCP's Buddhist diplomacy is related to its strategic deployment in the South China Sea, its Belt and Road Initiative (BRI, also known as "One Belt, One Road") and its United Front work, he said.
Tseng said Buddhist diplomacy allows the CCP to infiltrate the Southeast Asian countries and to buy off the local politicians and religious leaders so they can advance the Chinese regime's interests in their countries and international community.
He added that in particular, Buddhism is an important belief of overseas Chinese. There is a large population of Chinese nationals in Southeast Asia and there are many Chinese-language media outlets in the region. Driven by interests, some of them have become part of the CCP's foreign propaganda machine. The CCP uses interpersonal connections and donations to Buddhist temples in those countries in an attempt to gain trust and support from the Buddhist believers.
Li Yi-hsin contributed to this report.