The Chinese Communist Party (CCP) recently ordered all monks at a famous Buddhist monastery to study political ideology, while thousands of the country's journalists had to take tests on communist ideology in order to obtain their government-registered press passes.
Back in October 2019, the Party required all reporters and editors to pass a test on "Xi Jinping's Thoughts on Socialism with Chinese Characteristics in the New Era," referring to paramount leader Xi Jinping's brand of political ideology.
Without a qualified score on the test, journalists will lose their media passes.
Chinese state-run Xinhua previously reported that each journalist has to study at least 24 hours of Xi's ideology, primarily comprised of the speeches he gave in past years, before they can take the test.
On Nov. 9, Radio Free Asia reported that it checked official data from China's General Administration of Press and Publication, the CCP's administrative agency for controlling and regulating news, print, and internet publications, and found that "205,000 Chinese journalists passed the 'Xi Thoughts' test by Oct. 30 and obtained press licenses."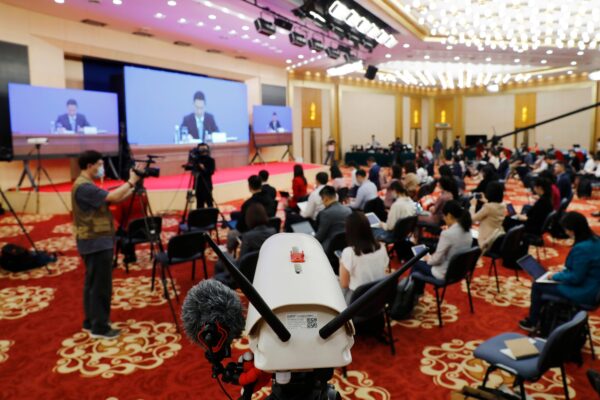 China's propaganda minister Huang Kunming similarly ordered all Chinese reporters, editors, and other media staff to adhere to the Party line during a media awards ceremony in Beijing on Nov. 6: "spreading and interpreting 'Xi Thoughts' must always be the primary political task for journalists who work at the frontline of news," he said.
Huang added that they should "sing high praises of socialism with Chinese characteristics in the new era and the CCP."
On Nov. 6, the Buddhist monastery the Daci'en Temple in Xi'an city, Shaanxi Province organized all monks to study the communiqué from the CCP's key political meeting this year, the fifth plenary session.
According to a post on the monastery's official WeChat account, the abbot Zengqin asked all monks in the temple "to put your mind and actions into following along with the key speech Xi Jinping [gave at the session]."
The speech and communiqué primarily focused on the Chinese regime's economic development goals for the next five years.
Daci'en Temple is known for its beautiful Dayan Pagoda, which was built in 652 during the Tang Dynasty. It is said that the temple used to hold sutras and figurines of Gautama Buddha, which the Buddhist monk Xuanzang brought from India to China. Xuanzang is a leading character in the famed "Journey to the West," who traveled to India to retrieve sutras and then stayed at Daci'en Temple to translate them into Chinese.
In recent years, the Chinese regime has increasingly pressured places of worship to study and believe in communism.
Shaolin Temple—known as the fabled birthplace of kung fu—announced during a flag-raising ceremony in August 2018 that it belongs to the CCP.
Soon after, nearly all Buddhist temples followed Shaolin Temple's example and organized similar ceremonies to show their loyalty to the CCP.