Chinese leader Xi Jinping recently called out Hubei officials for not following his instructions to stem the new coronavirus (COVID-19) outbreak.
Previously, local officials complained that they were unable to disclose details about the outbreak because the central government did not allow them.
Meanwhile, state-run media published, then quickly deleted, a report about Gao Fu, current director of China's Center for Disease Control and Prevention, being disciplined for violating Party rules.
The media outlet has since published an apology, but the unusual move attracted netizens' attention.
Analysts saw these are the latest indication that there are Party disputes over how to handle the current outbreak.
There are several factions within the Chinese Communist Party (CCP). Xi is a leader of one faction, while former leader Jiang Zemin leads another. A number of officials belong to a faction loyal to former leader Hu Jintao. Some insiders have also claimed that premier Li Keqiang is at odds with Xi's faction in recent years.
Faction Conflicts
Chinese state-run Xinhua recently published a speech by Xi on Feb. 3, addressing the Politburo Standing Committee—the Party's top decision-making body—on the virus response.
Xi criticized Party leaders in Hubei Province.
"On Jan. 7, I gave my request to prevent the new coronavirus at the Politburo Standing Committee…On Jan. 22, I clearly asked Hubei Province to comprehensively and strictly control people's movement to the outside," Xi said, according to the Feb. 15 report.
Wuhan City announced that the city's public transportation would be suspended indefinitely on Jan. 23.
Xinhua publishing Xi's speech 12 days after the event is broadly understood as an explanation for why Xi dismissed two top Party officials in Hubei Province—provincial Party secretary Jiang Liangchao and Wuhan Party secretary Ma Guoqiang—on Feb. 13.
Since Jan. 27, Hubei senior officials claimed in public statements that they reported the outbreak to the central government, but Beijing did not allow them to release the data. Wuhan mayor Zhou Xianwang also said the decision to lock down the city on Jan. 23 was made by him and Ma.
"Who decided to lock down the city to contain the virus's spread: this is the conflict between Hubei senior officials and Xi," said U.S.-based China affairs commentator Tang Jingyuan said.
He added that there was another hint of disagreements between central and local authorities: Beijing has asked all provinces except Hubei to reopen their businesses, but each local government has launched different rules.
On Feb. 14, Shanghai residents shared an official notice from different local governments that no non-local people and vehicles are allowed to enter or stay in the city. All the people and vehicles who entered before must leave Shanghai as soon as possible.
Chinese businesses rely on migrant workers. By not allowing non-Shanghai natives to stay in the city, migrant workers are effectively shut out, and most businesses would not be able to operate normally.
On the same day, Beijing requested all people from other areas of China must be quarantined for 14 days before he or she can go to work.
Tang commented that these rules show local governments don't follow Xi's orders.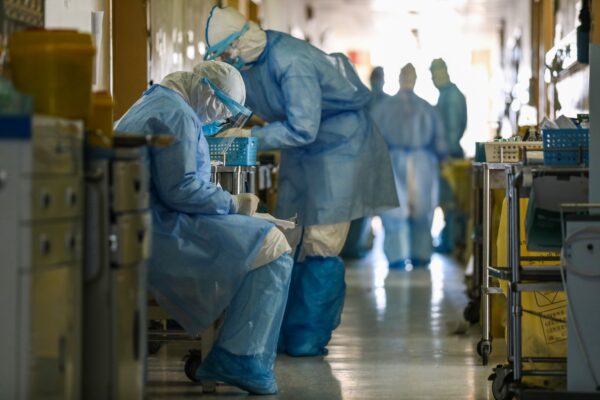 Report About Gao Fu
Gao, 58, earned his Ph.D. in biochemistry from Oxford University in the U.K. in 1994. He studied and worked in the U.K., Canada, and United States for 13 years.
After returning to China via a recruitment program called Hundred Talents Program in 2004, Gao was promoted from university professor to current CDC director; academician at the country's top research institute, the Chinese Academy of Sciences; and dean of the Savaid Medical School in Beijing.
Gao made several public statements about the COVID-19 outbreak that have later been proven false, angering many Chinese netizens.
On Dec. 31, 2019, Gao said that the new disease "can be controlled and prevented," and assured the public that it "won't be transmitted from human to human."
On Jan. 22, Gao said the evidence collected by medical teams showed that COVID-19 would not infect children and young people easily.
Scientists and Chinese authorities have since confirmed that the disease is contagious, while doctors at a Wuhan hospital confirmed that pregnant mothers may pass the infection to their unborn children, after a newborn tested positive for COVID-19.
Tang analyzed that there is a possibility that Gao could really be investigated as the state-run media initially reported. "It happens frequently that the Chinese Communist Party officials were 'shuanggui' [an internal disciplinary process] after some leaked information," Tang said.
Based on Xi's speech, the leader had asked officials to prevent the virus on Jan. 7. "Whether Gao followed Xi's instruction remains a question," Tang said.