Every year during the Chinese Lunar New Year, an Asian-American parade is held by the community of Flushing, New York, to celebrate the most important holiday in Chinese culture. However, the Chinese Communist Party (CCP) has been paying immigrants from mainland China to hold the communist China's national flag at the celebration every year to promote the regime and insert its presence in the overseas Chinese community.
However, this year, although the CCP's red flags were out, few people carried them. Instead, the flags were hung unguarded on fences belonging to the local police station.
The morning of Feb. 5 on Flushing's Main Street, more than a dozen Chinese took a pile of blood red CCP flags and planted them, one by one, on the police fencing on both sides of the street.
In one video of the event, a Chinese American policeman said to the people planting the flags: "Every flag needs to be held by someone behind it. You can't put it on our guardrail. This is the property of the New York Police Department." He and a few other policemen then chopped off the rope of the flags that had been put on the fence. But in the end, the CCP flags were still hung up the unattended.
The local police station told The Epoch times that strictly speaking, the CCP's flags cannot be planted on their fence. However, "the United States is a country of free speech and belief; for any ethnic group or religion, both positive and negative voices are allowed."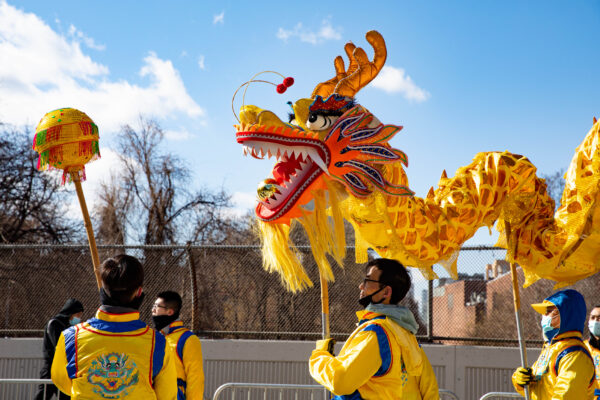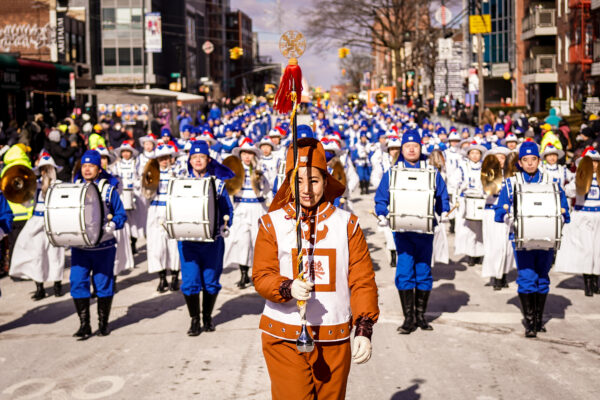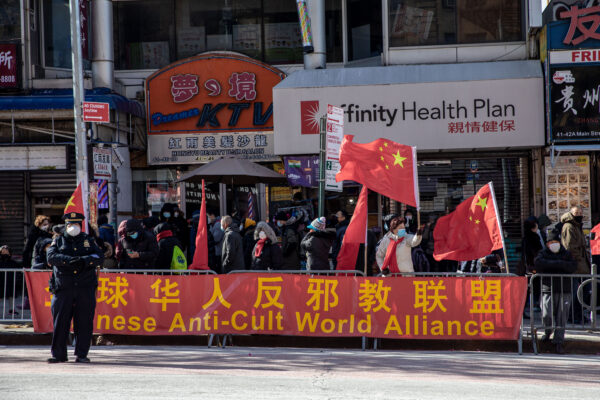 Many Flushing residents expressed discontent toward what they said was the CCP taking advantage of America's freedoms to use a Chinese cultural event for its political propaganda. One resident said, "If the bloody flag of the CCP can be hung on the streets of the United States, then wouldn't it be okay to hang the Nazi flag too?
"We were here to celebrate the traditional Chinese New Year, and the CCP should not be here," said Roger Guan, an old Flushing resident. "They politicize our community activities. We all know that the CCP has paid these people."
Lawyer Wu Shaoping, who came from mainland China to the United States not long ago, watched the parade and said, "The red flag is covered with the blood of Chinese people; they plant the red flag here only to remind us of the CCP's persecution of dissidents and religious believers in China, and the Chinese regime's ambitions to expand to the world. I hope Americans are clearly aware of this."
Sarah Lu contributed to the report.