Australia's trade minister has been forced to fend off new accusations from the Chinese Communist Party (CCP), this time from the Ministry of Culture and Tourism claiming people of Chinese or Asian descent are seeing a "significant increase" in discrimination and violence in the country.
"We reject China's assertions in this statement, which have no basis in fact," Minister for Trade Simon Birmingham told AAP on June 6.
"Our rejection of these claims, which have been falsely made by Chinese officials previously, is well known to them," he added.
Birmingham said it was unfortunate Australia had to close its borders to China to prevent the spread of the virus, however "it proved to be a critical decision in keeping Australians safe from the devastation faced by much of the rest of the world."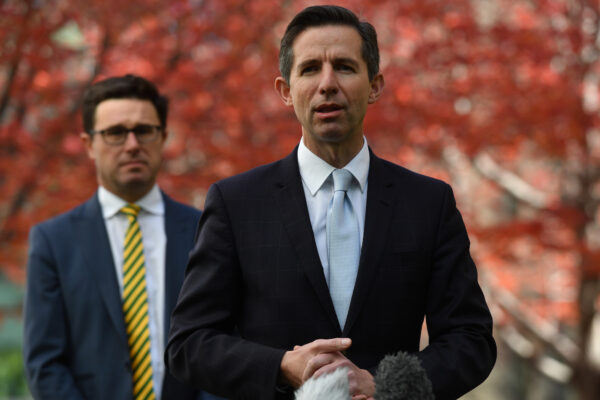 "Australia is enjoying world-leading success in suppressing the spread of COVID-19 and, when the health advice allows, we look forward to again welcoming visitors from all backgrounds to our safe and hospitable nation," Birmingham said.
On the evening of June 5, the Chinese Ministry released a statement on its website saying:
"Due to the impact of the pandemic, racial discrimination and violence against Chinese and Asian people in Australia have seen a significant increase.
"The Ministry of Culture and Tourism reminds Chinese tourists to raise their awareness of safety precautions and not to travel to Australia."
Deputy Prime Minister Michael McCormack flatly denied the allegations of racism telling AAP on June 6, "There hasn't been a wave of outbreaks of violence against Chinese people."
"I don't know why this has been stated, I don't know what was in the thinking of the organisation or the person who made the statement, all I can say is the statement is not true," said McCormack.
Michael Shoebridge, of the Australia Strategic Policy Institute, told The Epoch Times, Beijing's arguments on racism are "too nakedly self-serving" to have a "real impact."
"There is a simple and obvious hypocrisy here—because the level of racism in the Chinese state's victimisation of its minority populations—whether Uighurs, Tibetans or others—is high," he said.
"During the pandemic we have seen various African representatives raise Chinese people's racism against Africans in China with Beijing (without much luck)," said Shoebridge.
The statement from the Ministry of Culture and Tourism comes less than 24 hours after the Australian prime minister and treasurer announced new changes to the country's foreign investment laws, which would see potential loopholes in the law closed.
Ministers were at pains to emphasise the new laws were not directed at any one nation, with Home Affairs Minister Peter Dutton telling the Nine Network on June 5 it was "not country-specific."
Dutton went on to say, however, that Australia "faces more foreign interference than we've seen in decades."
Treasurer Josh Frydenberg stated during his announcement that governments around the world saw "foreign investment being used for strategic objectives, not purely commercial ones," and that other "like-minded nations, including the United States, United Kingdom, Japan, New Zealand … have made reforms to their foreign investment framework."
The episode caps off the latest diplomatic dispute between the CCP and Australia, which has been ongoing since Foreign Minister Marise Payne called for an inquiry into the origins of the CCP virus in April.
The CCP has since implemented a series of trade restrictions including imposing tariffs on Australian barley exported to China, blocking beef imports from four major local abattoirs, and telling Chinese power plants not to purchase coal from Australia.