A Chinese provincial government has expressed anger at state-run media for publishing wrong information about the CCP (Chinese Communist Party) virus outbreak, an internal government document reveals.
Since early April, Heilongjiang, China's northeasternmost province, has been hit by second-wave infections, as cluster outbreaks are reported in hospitals and neighborhoods in the provincial capital of Harbin and Mudanjiang, another city in the province.
In interviews with The Epoch Times, residents have expressed panic and fear as authorities have failed to be transparent information about the local outbreak.
Fake News
State broadcaster CCTV was chastised by the Heilongjiang government for spreading incorrect information about a local resident whom authorities have identified as "patient zero" of the second-wave outbreak, according to a leaked document that was obtained by The Epoch Times. The document is a report drafted by a working team in the provincial government following an investigation about the outbreak in Harbin on April 30.
CCTV is a subsidiary of National Radio and Television Administration, a central government agency that oversees China's television and radio industries.
"On the evening of April 14, CCTV misreported Han Peixi as a man. It caused a lot of chaotic public comments and rumors were spreading all around the country, which seriously damaged the image of Harbin and even Heilongjiang," the document reads.
"However, CCTV didn't correct its fault, nor clarify the truth."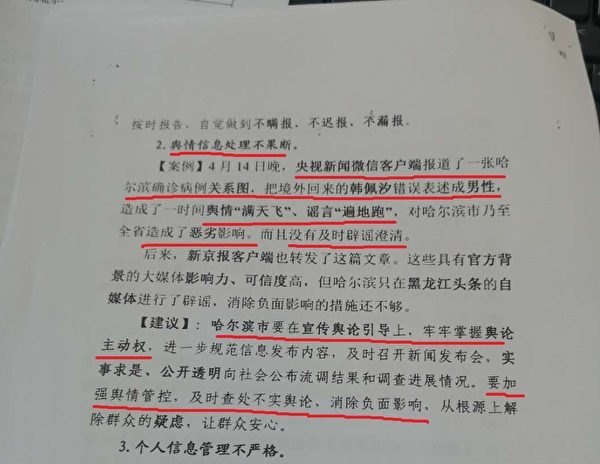 CCTV reported that the man, surnamed Han, had come to Harbin from the United States on March 19. The report claimed that Han was infected and transmitted the virus to his apartment building neighbor, 33-year-old Ms. Cao.
Cao was announced by local authorities as an asymptomatic carrier on April 9 and was formally diagnosed on April 14.
The CCTV report also claimed that Cao then transmitted the virus to her 32-year-old boyfriend Li, her 54-year-old mother Wang, and her mother's boyfriend Guo.
Guo was the first confirmed second-wave patient in Harbin; he visited the hospital on April 7 because of fever and coughing, and was diagnosed on April 9.
Also on April 14, the Chinese Communist Party's mouthpiece newspaper People's Daily published a report via its subsidiary China Economic Weekly which stated that Han and Cao lived together after Han's return from the United States.
The cohabitation claim was quickly re-reported by other Chinese media, which insinuated that Han and Cao were involved in an inappropriate sexual relationship.
The leaked document noted that CCTV, Beijing News, and other "large-scale media, which have government background, have a huge influence on society, and are trusted by people [in China]." Although the Harbin city government tried to clarify the reporting, the effect was limited, the document said.
The provincial government suggested that city officials should be more active in leading the "propaganda" related to the outbreak.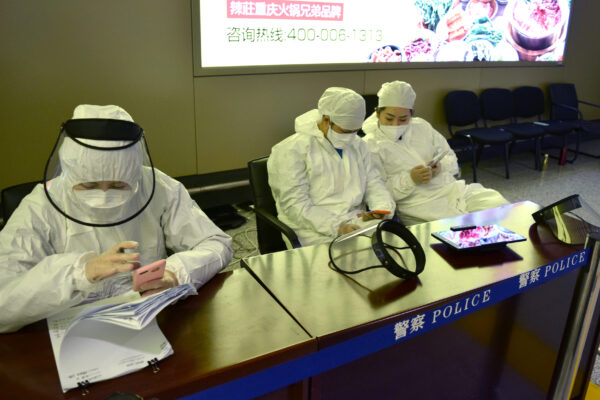 Local Government's Side of the Story
A month prior to the news reports, the Harbin city government announced at a press conference on March 15 that Han is a 22-year-old woman—and not a man, as CCTV and other state-run media later reported.
Li Xikun, a staff at Harbin's Center for Disease Control and Prevention, later said at a press conference on April 21 that Han was a student at New York University.
On March 18, Han took flights to China via Hong Kong. After arriving in Harbin on March 19, she went back to her parents' home to self-quarantine for 14 days. Han has a young brother who also lives in the same apartment.
On March 19 and 31, Han took two nucleic acid tests and blood antibody tests. All test results were negative.
From April 5 to 8, Han went to Shanghai for surgery unrelated to the virus. At other times, Han stayed at home with her parents and brother, according to Li.
Li said that the Harbin government believes Han to be the source of the outbreak because she came back from New York. On April 10, authorities again tested Han, and announced that the nucleic acid test and antibody Ig-M were negative, but antibody Ig-G came back positive.
Li said that Han must have been infected with the virus when she was in New York, but recovered without presenting any symptoms. Han's parents and brother, who live with her, weren't infected.
It's unclear whether the people mentioned in CCTV and other media reports were confirmed as positive as COVID-19.