A Chinese sailor received threats from a government official in his hometown on Sept. 27 after giving an interview with The Epoch Times Chinese Edition.
The man, named Ding Yiduo, fled to the United States in 2020 after police harassed him for posting messages online supporting Hong Kong's pro-democracy movement.
"The Chinese Communist Party (CCP) is a terrorist organization," Ding told The Epoch Times on Sept. 22, 2021. He was forced out of his job and assaulted in police custody after showing his direct opposition to the Chinese regime.
"Friends overseas, please donate money or efforts to overthrow this authoritarian, corrupt regime," he posted just over two years ago on Sept. 30, 2019, in China's most popular messaging app WeChat. His post was made one day before the CCP celebrated its takeover of power in China.
Police Intimidation and Blood Tests
Hours after he posted his pro-democracy message, police subpoenaed him to the local station in Xiamen city, Fujian Province. A friend of his who worked for a legal advisory office in China encouraged him to go immediately, otherwise, he would be in greater trouble.
After he arrived at the police station, Ding was taken into a room with the label "National Security" on the door.
Police showed him piles of printed papers of his WeChat conversations that included his latitude and longitude at the time of writing. His WeChat friends are from countries and regions where he had traveled, including the United States, Australia, Hong Kong.
"What right do you have as a small potato to comment on state affairs?" The police sneered at him. They forced him to sign a guarantee letter, saying he would not express any "improper" political opinions again. "Otherwise, I will be held responsible for criminal charges."
The police then took him to another building for blood tests before they let him leave.
"I was feeling weird at the time, but I didn't dare to ask why they wanted me to do the blood tests," Ding said. "Later, I learned that my organs could possibly be harvested if I get caught again for posting such messages."
"I know the CCP has killed millions of people in various political campaigns and in the so-called family planning in the past decades," Ding said.
He received a notice of dismissal the next day from his employer.
Want for Freedom
As early as 2013, Ding began to search for information about what the CCP has done in its history. The more he read, the more he came to know the true nature of the CCP.
"I saw a slogan on a wall in Beijing in 2013, which says, 'the Communist Party is good: every day of the Chinese people is like a New Year holiday.'"
Ding strongly disagreed, "I would say ordinary Chinese people's life in China is like hell."
"The CCP is a demon; it has no humanity at all."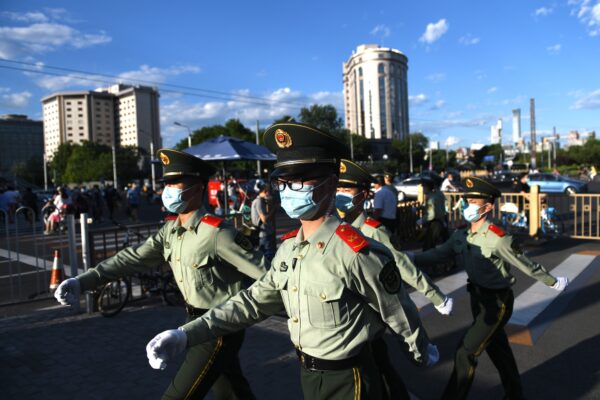 In 2014, Ding and about 60 of his colleagues went to the Shenzhen municipal office complex to request help from the government. Their employer owed them salaries for the past four months, and they were not able to obtain their payment through legal proceedings.
The government sent police to take them to police stations. Ding himself was beaten up by police in a toilet.
"There is no surveillance camera in the toilet," Ding said. "They punched my face and kicked my stomach, and I couldn't fight back," he said.
Ding said he came to learn that the CCP cracks down on ordinary people all the time to maintain its rule. He wanted to leave the country.
His chance came in September 2020, when Ding arrived in Los Angeles as a sailor working for another Chinese company.
"I saw American flags when the ship was approaching Los Angeles," Ding said he was filled with excitement to be in a free country again. "I know that in the United States, people enjoy the freedom of speech and won't be prosecuted for criticizing any party," Ding said.
When the ship was about to leave for China, Ding suddenly realized this might be the opportunity of a lifetime to escape to freedom.
He jumped into the sea at dawn and swam to freedom.
"If I went back to China, I would live in the CCP's demonic grip again and I couldn't even think freely," Ding said.
Threats from Home
Two days after the Chinese-language edition of The Epoch Times published the interview on Sept. 25, Ding received a phone call from his hometown. It was the top village official, who hadn't contacted him since the previous year.
Ding told The Epoch Times that the phone came at about 9 p.m. The village official talked for over eight minutes on the phone, conveying two messages to Ding.
The first message was that Ding is a traitor and he has betrayed the CCP and the motherland.
"The village chief said I had smeared the CCP in my interview," Ding said. "He told me that the Ministry of Public Security has listed me as a key target for monitoring and control."
The official said Ding wouldn't be as lucky this time as he was two years ago for posting the pro-democracy message; this time, it would be a dead-end for him.
The second message was that Ding must "eliminate the negative effect" of the interview.
Ding refused.
"I told him that I didn't smear the country or the CCP," Ding said. "I love China."
"What I have said about the CCP is what it has done."
Ding added that he felt sorry for his village chief. "He has been brainwashed by the CCP, mixing up the country with the CCP," Ding said. "What he said is something that the CCP has been instilling into Chinese people."
Ding said he was not the only Chinese-American that the CCP has threatened in this way.
"The CCP's purpose is to silence us," Ding said. "We shouldn't be afraid."
"We should tell the world the truth and let the world know the evil nature of the CCP."