Chinese film director Zhang Yimou has experienced health problems from the pressure involved in creating the Beijing Olympics opening and closing ceremonies, his wife posted on Feb. 13. She said she eagerly wished for the Feb 20 conclusion of the Games, when her husband can take a rest.
"He is completely unaware that he is spending his life shouldering the almost frantic workload and living an extremely unhealthy lifestyle," Chen Ting posted on Chinese social media platform Weibo. "In the last few months of the opening ceremony, [Zhang] relied on medicine to support him being able to speak."
"Every day, I'm afraid that he will suddenly fall down. But I have no solution," Chen wrote.
Chen's outpouring went viral in China, and prompted more criticism than sympathy.
"I really can't understand your words. Director Zhang Yimou likes to work hard for [the ceremonies], which is a duty and honor that our country gave him … This isn't a volunteer job. He gained both fame and money. You as a family member are saying these kinds of pretentious remarks," a Chinese netizen Mowu Xiaolang commented on Chen's post, which attracted over 30,000 likes in 24 hours.
Another comment, made by Meixinqing Fuhe that attracted 6,000 likes, said: "What's your purpose for posting at this moment? … Do you want the overseas media to criticize our homeland for having no human rights? [The games] haven't finished. Why are you in a rush?"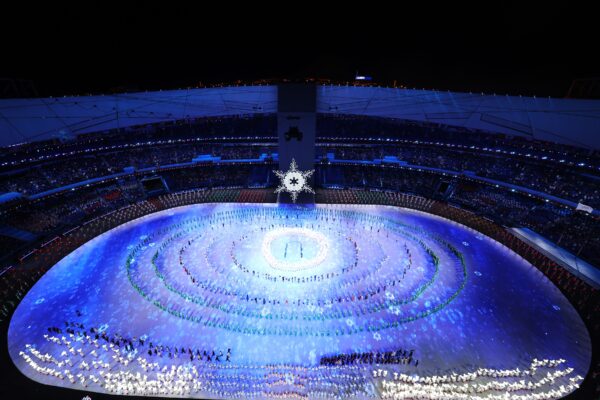 Pressure
Chen said that she wanted to show people the effect her husband's workload had on their family life because Zhang was respected by Chinese people as the director of the opening and closing ceremonies of both the 2008 Beijing Summer Olympics and 2022 Beijing Winter Olympics.
"The pressures and hardships in 2008 were unprecedented … He even made a joke [at that time] that all our family must flee [China] if the ceremonies aren't successful," Chen wrote in her post.
Chen complained that Zhang took the role again even though he is over 70 now.
"Everyday is fully occupied … I really can't stand his self-harming work rhythm," Chen wrote. "He had had a fever for several days. [In the nights], he used two layers of quilts, and sometimes felt cold and sometimes hot. During the day, he didn't reduce his workload."
Chen said that she couldn't support Zhang directing the ceremonies from the bottom of her heart because she only wants him to live with the family for a long time.
The viral post is unusual in China, given that the regime's censors rarely allow posts critical of Beijing's image to proliferate online.
By Feb. 14, the post gained 668,000 likes, 31,000 comments, and 8,930 shares.
Chen, 40, and Zhang married in 2011. The couple have three children, who were all born before their marriage.
Zhang's first marriage was in 1978 and from which he has a 38-year-old daughter. The marriage failed in 1988 when Zhang released his directorial debut, "Red Sorghum," starring actress Gong Li. The film won the Golden Bear Award at the Berlin Film Festival. Zhang and Gong's professional and personal relationship received media attention in the Chinese-speaking world for years.