Beijing's large diplomatic presence in Adelaide may be a serious "espionage threat" to South Australia's prominent defence industry, according to Senator Rex Patrick.
The senator from South Australia said the Defence Department acknowledged that foreign espionage posed an "extreme threat," particularly in connection to upcoming naval projects being developed in Adelaide.
"Defence's security assessment is a matter of deep concern," Patrick said. "In this context, it is not in Australia's national security interests for China to maintain its Consulate-General in Adelaide in close proximity to Australia's major naval construction projects …"
Adelaide is a central hub for Australia's defence industry with numerous precincts devoted to military research, development, and construction. Major defence contractors have offices there including Raytheon, Australian Submarine Corporation, and BAE Systems.

In fact, South Australia is known as the "defence state" and is home to $90 billion worth of Australian defence projects.
Australia's premier naval shipbuilding facility, the Osborne Naval Shipyard, is just 20 minutes' drive from Adelaide's Chinese Consulate-General.
Patrick said he made a Freedom of Information request to the Defence Department and received the following response:
"Foreign Intelligence Services are currently assessed as posing an extreme threat to Sovereign Capability and Commonwealth Strategic Interests," the statement read. "These adversaries are highly active in pursuing access to information relating to Australia's current and future maritime capabilities in order to advance their own interest and undermine Australian capabilities."

Patrick said the statement reflected "growing evidence of Chinese intelligence operations" conducted against Australian government entities, universities, and businesses.
On July 21, the U.S. Justice Department indicted two Chinese computer hackers for stealing millions of dollars' worth of trade secrets and sensitive information from businesses, government, and non-profit organisations. An Australian defence contractor is believed to have lost 320 gigabytes of documents to the hackers.
A day later the Chinese consulate in Houston was ordered to close by the U.S. government. Republican Senator Marco Rubio (R-Fla.) called the consulate a "massive spy centre" for the Chinese Communist Party.
Consular staff were also caught burning documents before officially leaving the building. It is alleged the documents contained details of spy operations.

Senator Patrick pointed to the "excessive" staffing levels at the Consulate-General in Adelaide, especially compared to the diplomatic corps of other countries.
For example, Greece and Italy have one or two staff on the ground, while major allies the United States and the United Kingdom have no staff at all—preferring to handle matters from their Melbourne office.
"It would be extremely naïve to think that the consulate does not support espionage directed against Australian defence and high technology activities in South Australia," Patrick said. Two weeks prior, the senator called for Chinese diplomatic staffing levels across Australia to be "radically reduced."
Michael Shoebridge of the Australian Strategic Policy Institute agreed the risks were real and told The Epoch Times on Aug. 18 that the defence department's assessment of extreme threat levels was a "sobering and accurate judgement."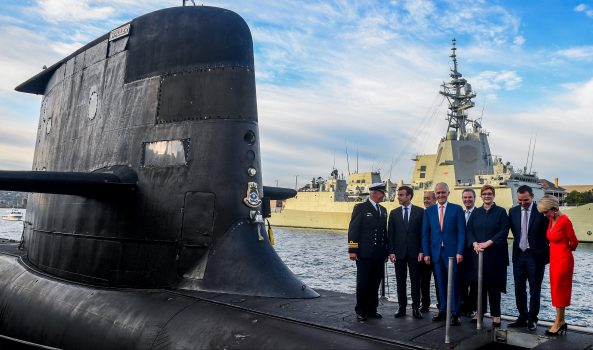 "These programs have technological crown jewels in the form of U.S. combat systems for both the frigate and submarines, world-leading Australian radar … for the frigates, and French stealth technology for the future submarine," Shoebridge said.
"Adelaide is a central point for these technologies to come together, and so is an obvious location for foreign intelligence services—like Russia's and China's—to target," he added.
Shoebridge also said the size of the Chinese consulate staff was "disproportionately" large for the level of business and engagement between South Australia and China.
"It's flattering to think this is about South Australian wine and resources, but the coincidence of the defence programs located in Adelaide is striking," he said.

Potential on-the-ground intelligence agents can be integral to overseas hacking or cyber syndicates, especially if the individuals assist with identifying key targets, obtaining access, or conduct espionage themselves.
According to Shoebridge, it was also likely that diplomatic staff were engaged in wider foreign interference activities beyond espionage, including engaging politicians and monitoring activities in dissident groups.
"Consulates can get high levels of access to state leaders and politicians, who are less aware than federal-level figures of national security information …" he said. "The current Victorian government's participation in China's Belt and Road Initiative, despite federal policy, shows this line of operation can be successful."
"Besides the consulate's role in monitoring Chinese students studying in Adelaide … Tibet, Falun Gong, Uighur communities—and now Hong Kong activists—are all likely to be monitored and reported on by Chinese embassies and consulates around the world, not just in Australia."