A proposed deal for the partially state-owned Chinese company Kaiwen Education to buy the prestigious U.S. music school Westminster Choir College (WCC) won't go forward, according to statements published by Kaiwen and WCC's owner, Rider University, on July 1.
WCC has regular performances with the Philadelphia Orchestra and the New York Philharmonic, and many of its alumni are renowned musicians, such as American composer Warren Martin, American mezzo-soprano opera singer Jennifer Larmore, and Canadian conductor and pianist Yannick Nézet-Séguin.
Rider didn't provide a reason for the deal cancellation, only noting that both parties "mutually agreed" to end it. The university stated on July 1 that beginning with the fall 2020 semester, it will integrate WCC into Rider's campus in Lawrenceville, New Jersey, which about a 15-minute drive from WCC's Princeton, New Jersey, campus.
Kaiwen stated on July 1 that the deal failed because it was taking "longer than expected" to get approval from New Jersey authorities, after Rider was sued by a group of alumni, donors, and faculty.
WCC merged with Rider University, a private institution, in 1992 for financial reasons. In 2017, Rider then announced plans to sell WCC after the university determined that it didn't have the financial means to operate the WCC campus anymore. Since then, Rider has contacted 281 potential suitors, and eventually signed a purchase and sale agreement with Kaiwen in June 2018, according to local media reports and previous statements by Rider.
In the agreement, Kaiwen agreed to pay $56 million: $40 million for the purchase, and the remaining $16 million for investments in WCC.
A small music college with a class of roughly 400 students, WCC trains students to become professional singers, music teachers, pianists, conductors, and other music professionals. WCC was founded in 1929 at Ithaca College in upstate New York, and, in 1932, moved to a campus in Princeton, where it's been located ever since.
After news of the agreement became public, many WCC alumni and faculty became concerned that its future owner could restrict academic freedom, in accordance with the Chinese regime's censorship rules. Some filed lawsuits to oppose the deal.
While the sale was abandoned, Rider said it would continue to collaborate with Kaiwen in the music education field through other means.
Kaiwen stated that WCC will send teachers to Kaiwen schools in China for short-term sharing in 2019 and 2020. Meanwhile, WCC will train two to three Kaiwen music teachers for a year in the United States.
From 2020, Kaiwen will help WCC recruit Chinese students, while WCC will arrange summer camp or winter camps in the United States for Kaiwen students.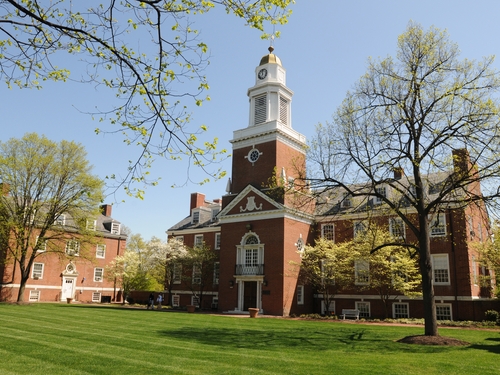 Beijing-Controlled Company
The party that represented Kaiwen in the sale was a newly registered company called Westminster Choir College Acquisition Corp. The corporation was founded by Beijing Wenhua Xuexin Education, a wholly owned subsidiary of Kaiwen.
The predecessor to Kaiwen was a company called Jiangsu Zhongtai Bridge Steel Structure Co. Founded in March 1999, it manufactured and installed steel products for bridge construction, according to its business registration information.
In 2016, the company founded two Kaiwen international schools in Beijing for grades K-12.
In December 2017, the company changed its name to Beijing Kaiwen Education Technology Co., and changed its registration address, explaining that the company would no longer operate the steel structure business, due to lack of profit.
In the name-changing statement, the company wrote: "The real controlling party of our company is the Beijing Haidian district branch of China's State-owned Assets Supervision and Administration Commission (SASAC)."
SASAC is a ministry-level agency under China's cabinet-like State Council. It manages all state assets, including all major central-government-owned enterprises.
Lawsuits
Worried that WCC would lose its academic freedom once it was owned by a Chinese company with government ties, a group of alumni, donors, and faculty founded the Westminster Foundation and filed a lawsuit against Rider in New Jersey state court in June 2017, in an effort to stop the deal. The foundation isn't affiliated with WCC; it's an independent organization established to oppose any efforts by Rider to sell or close WCC.
Bruce Afran, the lawyer for the plaintiffs, told Inside Higher Ed in October 2018: "This American college will be taken over by a corporation that is owned and controlled by the government of China, which does not recognize any degree of academic freedom and which has a state policy subordinating colleges to governmental and Communist Party principles. It is diametrically contrary to the understanding of an American institution of higher education."
The Insider Higher Ed report also cited WCC's choral director Joe Miller, who said he was informed before his 2018 China tour that he had to seek the Chinese government's approval of the choir's repertoire in advance. Afran said this action was "an unprecedented academic and cultural intrusion and interference, and this is before Westminster changes hands."
Afran cited other recent examples of Beijing pressuring international academia to go by its rules. In 2017, Cambridge University Press blocked online access in China to some 300 "politically sensitive" articles—including those that discussed the 1989 Tiananmen Square Massacre and the Cultural Revolution—following a request from the Chinese regime. The UK publisher eventually reversed its position and reposted these articles online after an outcry from the academic community.
Kaiwen was eager to seal the deal. It invited about 40 WCC students on an all-expenses-paid trip to Beijing in October 2018, and promised them future jobs at Beijing Kaiwen schools, according to an NPR report.
"It [Kaiwen] made us feel like celebrities," Rachel Woody, a junior majoring in music education, told NPR after the trip.
Kaiwen's actions made WCC alumni worry that "through Westminster, they're trying to actually gain full control of an American college," Afran said.
College Steward
Princeton Theological Seminary (PTS), a private school, originally donated the land where WCC's campus currently sits, in 1932. The land was donated by Sophia Strong Taylor, who named PTS as WCC's steward—with the condition that the land would belong to PTS if WCC ceased to operate as a choir college.
When PTS heard of Rider's plans to sell WCC to Kaiwen, the school filed a lawsuit against Rider, also in New Jersey state court, in February 2018. It claimed that such a deal disregarded WCC's obligations as stipulated when Taylor donated the land to the choir college.