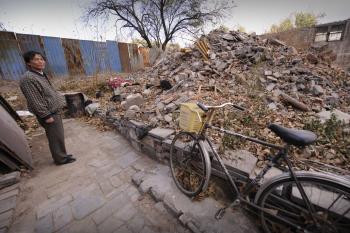 The Chinese Communist Party's response to a United Nations Committee's criticisms of human rights in the People's Republic was highly disappointing but at the same time totally predictable.
The UN Human rights Council has been widely criticized as having even less teeth than its predecessor, the old Human Rights Commission, but one of the positives of the new system is that members must undergo a periodic scrutiny of their own human rights situation. On November 21 the United Nations Committee Against Torture issued a statement of its findings following 10 days of deliberations by its panel of independent experts.
The panel expressed deep concern with regard to the "continued allegations, corroborated by numerous Chinese legal sources, of routine and widespread use of torture and ill-treatment of suspects in police custody", and stipulated that China "should conduct prompt, impartial and effective investigations into all allegations of torture and ill treatment and should ensure that those responsible are prosecuted".
More specifically, the 10 member panel stated that China "should immediately conduct or commission an independent investigation of the claims that some Falun Gong practitioners have been subjected to torture and used for organ transplants and take measures, as appropriate, to ensure that those responsible for such abuses are prosecuted and punished". It was additionally stipulated that failure to comply would put China in violation of its obligations under the Convention Against Torture which the regime signed and ratified in 1988.
No answers
Throughout the Committee's deliberations the 32 member Chinese delegation failed to offer a single meaningful response to any of the allegations of human rights abuses put to them, maintaining that the country has "strict laws" to prevent and punish such abuses, and that they were unable to give details about deaths in custody due to the state secrets law.
Unfortunately, as the UN committee members are no doubt aware, any legislation supposedly designed to safeguard human rights is utterly meaningless in a country with no independent judiciary or independent watchdogs, where the law is merely an instrument of state control.
So what was the Chinese Communist Party's official response to the Committee's findings? A grudging acknowledgement that there was at least room for improvement and that heavy handed police would be reprimanded, or that "black prisons" run by hired thugs would be done away with? Not a bit of it. The regime's spokesman Qin Gang accused the Committee of "prejudice" and basing their findings on "unconfirmed and even fabricated evidence".
Such a response begs the question as to how anyone can seriously do business with this sort of regime. Tibetan envoy Lodi Gyari returned from the last round of talks with Beijing saying that the Chinese had no interest in moving from their existing position and that: "the door is so closely shut we did not even ask for the next round".
It is these stone-faced uncompromising cadres in Beijing that some misguided politicians and business leaders in the west seem to think will rescue the world from the current financial crisis. A glance at the Party's history would reveal that the interests of the ruling elite will be put first each and every time. It is no surprise to hear of Chinese factory owners disappearing overnight leaving hundreds of unpaid workers in the lurch after the enterprise falls on hard times.
In fact huge numbers of Chinese factories are closing down as western demand for manufactured goods plummets, and millions of migrant workers are having to return to their rural homes with only subsistence living to look forward to if they are lucky.
The Chinese people may have been reluctant to demonstrate on the streets for political or human rights in recent times following the experience of theTiananmen massacre, but when their very livelihood is affected it may well be a different story. Just last week thousands of protesters in the Wudu area of Longnan (Gansu Province) fought a pitched battle with armed police over a botched relocation scheme.
If unemployment continues to spiral this pattern could be repeated in many other areas throughout China. Whether or not the CCP can ride out such a storm will depend on whether such uprisings remain adhoc and uncoordinated, or whether some group steps forward to bring together all the disaffected and present a viable alternative to communist dictatorship.
The CCP's profoundly insulting response to the UN should be enough to convince the world that this is not a regime that any right-thinking person would want to do business with in any way shape or form. China deserves a government worthy of its ancient and illustrious past, and the sooner the CCP is consigned to the annals of history the better for all concerned.
Views expressed in this article are the opinions of the author and do not necessarily reflect the views of The Epoch Times.